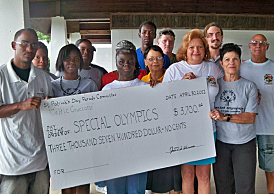 The St. Patrick's Day Parade committee of St. Croix donated $3,700 Saturday in proceeds from this year's parade to help V.I. Special Olympians get to Greece for the international competition.
Committee members donate to worthy causes on St. Croix every year. Members heard the Special Olympians from the territory were headed to compete in Greece this year for the Special Olympics World Summer Games so they chose Special Olympics as the 2011 beneficiary.
Tish Mercier, secretary of the committee, said this shows they aren't just about putting on a parade.
"It is important to us to give back to the community," Mercier said. "The more that participate the more we can give back."
John Scribner, parade board member, said this year's was the biggest parade in its 43-year history.
"I was absolutely astounded when they told me the amount," said Janice Lee, chapter director for V.I. Special Olympics. "I was hoping it was going to be at least $500." She said this helps them get closer to their goal of $27,000.
The chapter pays for the whole trip for the 14 young adults departing the territory on June 18 and returning July 5. There are eight athletes from St. Croix and six from St. Thomas traveling with coaches and chaperones.
Lee said the local group will be competing with 10,000 athletes from all over the world. Five competing are students at St. Croix Educational Complex.
Shamara Barnes, from Complex, said the competition was a great opportunity to show their talent to the whole world. "This proves to others we can do amazing things as special Olympians," Barnes said. Barnes competes in the 100 and 200 meter race and broad jump.
Danilo Miranda, claims he is the best bowler in the Virgin Islands. He said it feels great to be going to Greece and representing the Virgin Islands in competition.
"I just want to bring a gold medal to the Virgin Islands," Miranda said.
Lee said they need around $4,000 more to reach their goal. The athletes are selling raffle tickets and car air fresheners. To make a donation call Archie Jennings, board president, 776-4303 on St. Thomas or Lee at 772-2277 or 643-6557.