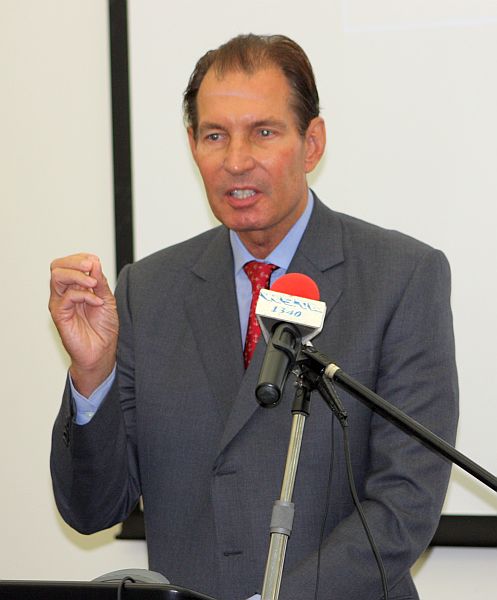 One of the largest donations in University of the Virgin Islands history will bring the territory one step closer to giving entrepreneurs an arena for promoting their ideas, speakers said at a press conference Monday.
The $5 million donation came from Kiril Sokoloff, founder of 13D Research LLC, which is an anchor tenant at UVI's Research and Technology Park. Sokoloff said Monday that he was inspired to make the gift after realizing that he and UVI President Dr. David Hall were on the same page about the future of the university, which includes the possible development of a program for a school of entrepreneurship that would help students throughout the territory.
The money will be distributed in $1 million installments over the next five years and will support two new initiatives at UVI. The first, the Kiril Sokoloff Distinguished Professorship in Entrepreneurship, will help the university recruit a renowned national expert to create a "culture of entrepreneurship" within the UVI community that speakers said includes developing and promoting new courses in entrepreneurship, and determining how they would fit into UVI's business programs.
The Kiril Sokoloff Distinguished Professorship will be the first endowed chair at UVI.
The second initiative, the 13D Entrepreneurship Student Competition, is a yearlong educational program that speakers said will give students a chance to "explore their business dreams."
Hall said after the press conference that the program has not been designed yet, but the hope is that the university will be publishing a set of rules in the fall that students entering the competition can use.
"We hope that there will be mentors for them, and that the competition will be a public event where they will present their ideas and new business plans to a panel of judges who will rank them and present them with monetary awards," Hall said. "And once those individuals are selected, we hope to have them go out and start those businesses."
Hall said it is also hoped that local and national entrepreneurs will be recruited for an advisory board that will mentor the students, give advice for the program and serve as judges during the competition, or even student lecturers afterward. The competition would be open to UVI students in both districts.
"These two programs together have the potential to transform how we educate our students, how we support their dreams and aspirations, and how we assist them in transforming the economy in which we live," Hall said during the press conference. "It will help create a generation of entrepreneurs who have emerged from these soils and who have been educated by this university."
Sokoloff said both during and after the press conference that he was honored to be able to make the investment into the university.
"I felt that I could make a difference here, and I understand what the needs are, and through Dr. Hall and UVI, there's a clear leadership to make this happen," he said. "He had this idea long before we met, and I had this idea long before he and I met; and we came together and we both had a passion for it, and it was a marriage made in heaven."
Sokoloff said during the press conference that his "heart and his instincts" told him that Hall's venture would succeed.
"And I knew one day I would contribute to that vision," he said. "That day has now come. If your motives are pure and your heart is honest, and you have no personal agenda, the universe listens and anything is possible."
For further information on the Kiril Sokoloff Distinguished Professorship or the 13D Entrepreneurship Competition, contact the University of the Virgin Islands Office of the President at (340) 693-1000.