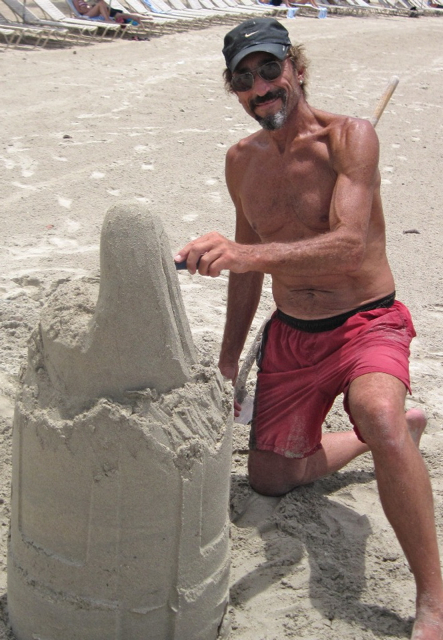 Larry Safady takes sand sculptures to a new level. As a professional, he goes way beyond the pail and sand projects seen wherever children play at the beach, creating huge sand sculptures of various designs.
"It's the perfect art for a place like this," he said.
He also teaches both children and adults the tricks of the trade and does sand sculptures for parties, weddings, proposals, corporate events, trade shows, team building, grand openings, and anywhere else.
Safady's work is not limited to the beach. He can bring in sand and remove it, which means he can build sand sculptures at villas and other locations around the island.
He said that lessons run $35 an hour, with sand sculptures starting at $100 for a basic one. The heart-based sculpture he created at Trunk Bay for the Valentine's Day Vow Renewal ceremony runs about $300 to $500, he said.
He gives high marks to St. John's sand, with Maho Bay Beach the best.
"The sand needs to be fine and silky," he said.
Building a sand sculpture involves piling up the sand using various containers.
"You have to step it up. It's kind of like making a birthday cake," he said.
Safady demonstrated his art by sculpting a pelican on the beach at the Westin Resort and Villas.
Locating the sand is easy. Carrying all those pails of water used in making the sculpture is not. Safady said he once carried 10,000 pounds of water to make a sculpture.
That said, he likes the physical part of the process even though it's taking its toll on his back. However, he also sees that making a sand sculpture is a Zen experience that takes "extreme" concentration.
"And it's the beach, and I've always been a beach person," he said.
He was part of a three-man team that twice won first place in a U.S. Open Competition for sand sculptures. And he was on a 10-man team that won once. He and his team placed "a bunch of times," and he has participated in world competitions.
He also does a cartoon published on the Internet – Iggy and Juana, a sometimes racy and irreverent tale about two iguanas.
"I just do it when I feel like it," he said.
Safady learned to use sand as an art medium while living in the Los Angeles area. After taking classes at California State University at Long Beach, he dabbled in sculpture and painting.
"But I had a kid and had to make money," he said, referring to daughter Melissa Safady, now 37.
His other two daughters are Rebecca Cuthbert, 35, and Lauren Safady, 24. He has one grandchild, Rachel Gardner, 16.
Safady, 59, spent much of his career working as an art director at such places as Disney Studios, 20th Century Fox and Mattel, where he worked on Hot Wheel packaging.
After leaving Mattel, he eventually moved to St. John to work on a local newspaper. He went back to the Los Angeles area but returned to St. John in February with a goal of devoting more time to creating fine art as well as sand sculptures.
"If the island wants me to stay, I'll be here," he said.
Safady can be reached at 310-251-1909 or at [email protected].