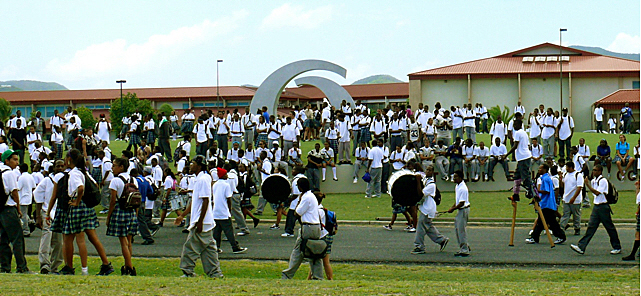 Rumors the V.I. Education Department has decided to move St. Croix Educational Complex Principal Kurt Vialet to another school are false, but they might move him nonetheless, top Education officials said Monday after two days of school-closing student protests last week to keep Vialet.
Vialet has been principal of Complex since it opened in 1995. Under his tenure, the school has outperformed the territory's other public high schools, prompting speculation he may be moved to help turn around a problem school.
The Complex campus was calm and quiet Monday morning, with students back in class and at their desks—a stark contrast to Thursday and Friday, when students, organized through text messages, staged a walkout and lined the highway with signs demanding Vialet stay.
But, protests notwithstanding, there has not been any decision on Vialet's possible transfer, Education Commissioner LaVerne Terry and St. Croix School Superintendent Gary Molloy insisted during a conference call with reporters Monday afternoon.
Molloy said "no official communication has been given to Mr. Vialet or any other principal as to whether or where they are moving."
Terry said Vialet may or may not be transferred.
"Let me be perfectly clear; I have not said if Mr. Vialet will or will not be moved," Terry said. "Everything is still on the table, and we cannot be put in a position where we make decisions based upon protests and disruptions…. No one individual can be taken out of consideration while every other one is considered."
Asked if there had been any communication of any kind, official or not, Terry said she had spoken with Vialet personally about two weeks ago, and he asked whether he was being transferred.
"I told him the same thing," Terry said. "That we were looking at who might go where, but that absolutely no decision had been made, there is no hidden list of people who will be moved."
Terry said she was glad to see classes return to normal and that shutting down classes at this time threatened students' chances of getting the grades and scores they need to advance to college or the next grade.
"In June, students will still be expected to take finals and move to the next level," she said. They need to study and prepare. "If they are not here, how can they do these things?" she said. Absenteeism rates also affect Annual Yearly Progress scores, affecting the school's standing under the federal No Child Left Behind Act, she said.
"There is nothing wrong with students being upset and passionate, but they need to learn there is a correct way to show it," she said. "It cannot be centered on Mr. Vialet."
Although students angrily insist the protest was initiated and organized by students, Molloy and Terry have said from the beginning and still maintain the protests had support from staff and teachers.
When asked why he was certain, Molloy said television news stories on the protests showed a student citing a teacher who helped by name. A review of Channel 8 News reports on the protests posted at its Youtube channel did not turn up a student giving such a name, but the report could have been elsewhere or not posted to the internet.
Molloy said someone on staff must have started the rumor of Vialet's impending transfer or else there would have been no protests. Also, students were grilling food outside with school equipment during the protests.
"We do know the grill belonged to the school, so access was needed from someone on staff to get it," Molloy said.
After the protests erupted Thursday, Vialet went home, saying he was not feeling well. Asked why Vialet did not direct the students to return to class, given the students were chanting about their support for him, Education spokeswoman Juel Anderson said Vialet did address the students briefly, but it had little effect.
Vialet did not return Friday or Monday and has not contacted the school to say what his situation is, according to Molloy.
"He did look like he needed a day off," Molloy said. "If someone is ill, I'm not going to question them, but we do need to speak to him and get to the bottom of what happened Thursday."
Some, including Sen. Terrence "Positive" Nelson, have publicly suggested Vialet is being transferred for "political reasons," possibly having to do with who Vialet supported in the gubernatorial election. Molloy and Terry dispute that a decision was made and also dispute that politics will play a role when it is.
Asked if a transfer could hurt Vialet's pay or benefits, Terry said no, the pay and benefits would be the same regardless of where he was posted.
Collective bargaining contracts with the management union normally require notice of transfers 30 days before the end of the school year, so decisions will probably be made and announced soon, Terry said.
When it is, there is no guarantee Vialet is staying, they said.
"We have to think of the best interest of all the schools and students, not just one," said Terry. "We are not going to veer from the norm here; we are not going to create a new guideline just for this situation."