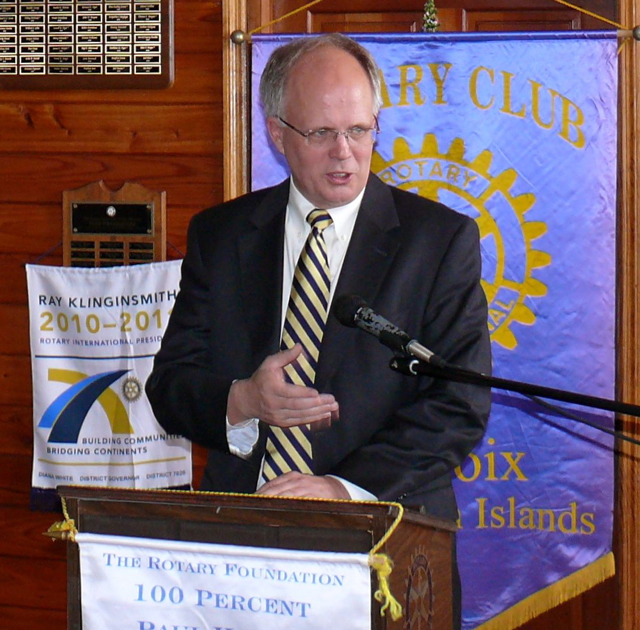 Though financial, certification and community trust challenges remain, Gov. Juan F. Luis has revamped its drug purchasing to eliminate shortages while saving money and overhauled its troubled kidney dialysis unit, showing concrete progress, Chief Executive Officer Jeff Nelson told Rotary Thursday.
Nelson, a turnaround specialist with a track record of bringing struggling hospitals to profitability while improving measures of quality care, was hired as CEO in January. Since then, he has been shaking things up internally at the hospital and pressing hard on a public relations campaign with a string of public meetings, press conferences and appearances at community organizations, such as Thursday's Rotary talk at Gertrude's Restaurant.
When he first arrived, Nelson said he asked a dozen people from all departments, from housekeeping to emergency room nurses, to help set the direction of the hospital and give their personal list of the hospital's biggest challenges.
"What came up again and again was trust," Nelson said.
With that in mind, employees set the goal for the hospital to become "the most trusted, patient/family-centered healthcare system in the Caribbean by 2020," he said.
"We recognize how far short of that goal we are today," Nelson said. "But just in the last 90 days we have made significant progress."
Asked for an example of how the hospital has not been trusted in the past but now should be, Nelson cited the overhaul of its pharmacy to meet six-sigma standards of effectiveness and efficiency. Named for a bit of statistical math describing the likelihood of a mistake, a six-sigma process will produce less than 3.4 errors per million procedures, actions or products, as the case may be.
"For a long time we had a problem with medication shortages," he said. By identifying the root causes of delays and unfilled prescriptions, the hospital determined nearly all of its shortages could be alleviated by pre-paying a vendor for drugs, putting it at the front of the line to get medicines that may be in short supply, he said. With permission from the government, the hospital reallocated $500,000 for emergency room improvements to prepay the vendor.
"We are now able to guarantee there will be no more shortages," Nelson said. Because pre-paying fetches better prices from vendors, "this will also save $1.5 million per year, allowing us to quickly pay back the $500,000," he said.
The dialysis unit is a second success story, he said.
The Centers for Medicare & Medicaid Services, which certifies the nation's hospitals, flagged the dialysis unit for procedural problems during an April 2009 survey and has been working with Juan Luis to bring that unit up to its standards since then.
"Regarding the dialysis unit, I am happy to tell you we have made tremendous progress," Nelson said. "We have injected almost half a million dollars into that unit so patients can be confident of the care they receive. A week from Sunday (May 8) we will be done and waiting for Medicare to come back and give their approval."
Meanwhile, the hospital has a serious cash-flow problem.
"Here is the bad news: we owe $24 million to vendors, of which we have $4 million in the bank," he said. "So we are going through it like anyone with trouble with their home finances would. We are talking to each vendor and working out payment plans."
Cutting back on the red ink in the hospital's accounts is paramount, but also one of the most difficult challenges he said.
"On our website you can look at our financial statements and see we have not been earning much," he said. "Historically, when that happens and the hospital can't change it, you will see less and less proper upgrading of equipment. But we need to make those investments. so the question is how to generate money to invest in that equipment."
Money-saving changes like those in the pharmacy are a big part of that answer, as is attracting more patients to the hospital for a growing menu of sophisticated procedures that have the potential to generate more income, he said.