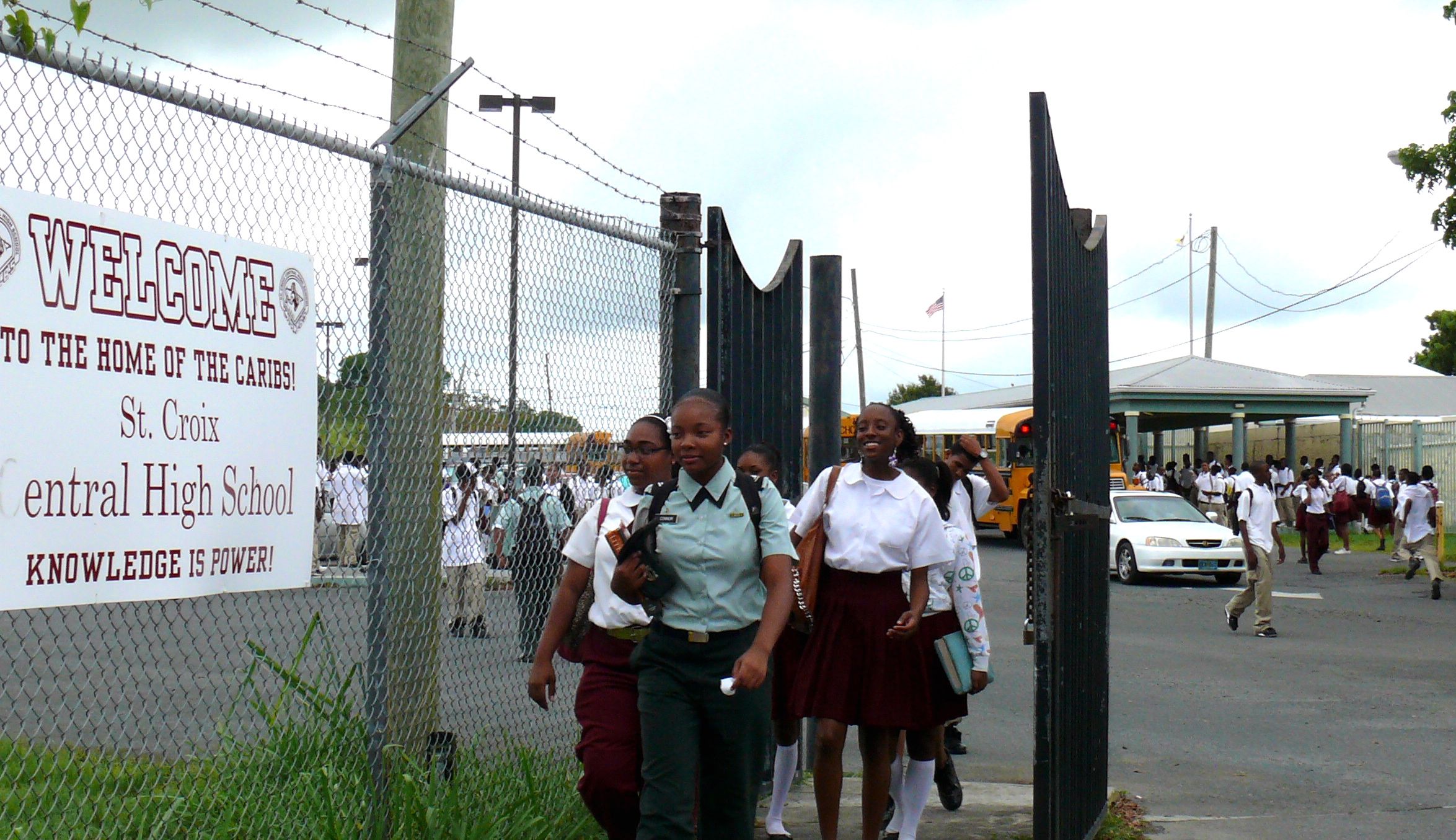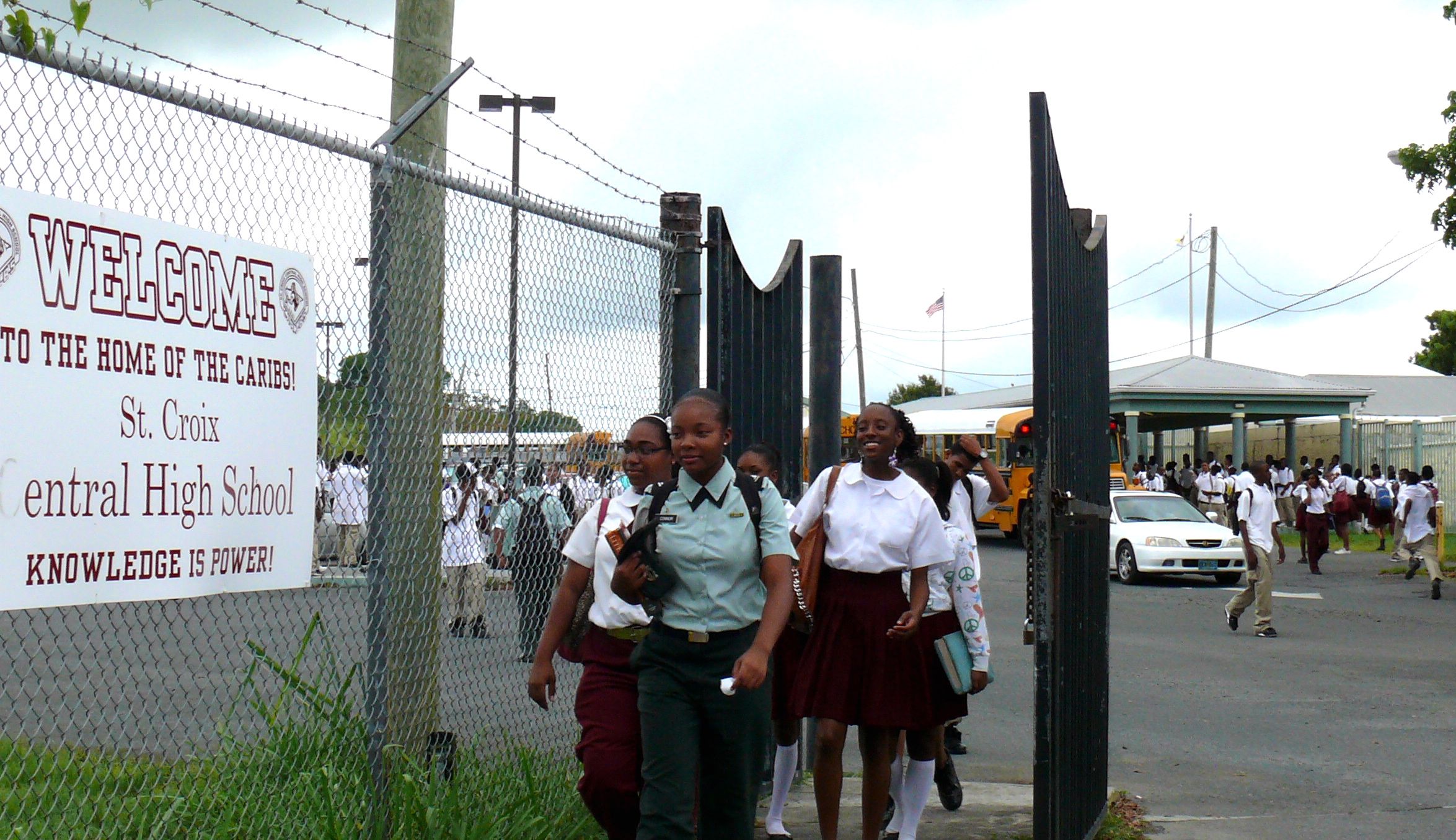 St. Croix Central High shut down and sent students home for a second day in a row Wednesday, after a foul, chemical odor again swept across the campus and low levels of sulfur dioxide were detected. Students were dismissed at 1 p.m.
St. Croix District Superintendent of Schools Gary Molloy said in a statement that classes began normally and no fumes or odors were present at first.
However, around 10 a.m. the situation changed.
"Unlike yesterday, there were no incidents of students becoming nauseous," Molloy said in the statement. "We immediately implemented the school's emergency plan closing all windows and turning off all air conditioning."
"Representatives from the departments of Planning and Natural Resources and Health, as well Hovensa, are on campus conducting air quality testing. It is apparent that the odor is emanating from only one side of the campus, but no conclusion has been made as to the exact source of the odor," Molloy said.
On Tuesday, four students sought treatment at Gov. Juan F. Luis Hospital for symptoms of nausea. On Wednesday, two students were taken to the ER for treatment of headaches and throat irritations, DPNR officials said in a joint statement with other regulatory agencies.
"The odor began around 10 a.m. and grew until it became really strong to the point of overpowering," said Central High Assistant Principal Vincent Gordon, Wednesday afternoon. "It may not be a serious health risk … but it is a really strong odor, it irritates the eyes and throat, and it seriously affects learning. How can students concentrate and study while breathing that?"
Gordon has been working at Central since the '90s and said, in his experience, the school has never had to close because of fumes before this year. But last September, there was one incident that caused a number of complaints; and in December there was a much more serious incident that closed the school for a day.
"In December, it was really profound. You could see the sulfur in the air like a mist. It was horrible," Gordon recalled.
Students leaving the campus confirmed official accounts, saying a strong smell swept across the campus. Most said it was unpleasant and that the school had to close.
But there were dissenters.
"I feel they are making too big deal about this, and we should still be in school," said Central High junior Renee Bermudez, to much razzing from her fellow students.
At 1 p.m., when students were boarding buses to leave, there was no detectable odor in the air outside the school. Inside, a U.S. Coast Guard Team working with the U.S. Environmental Protection Agency collected air quality samples on both days and initial readings detected very low concentrations of sulfur dioxide (SO2), a colorless gas with a pungent odor, according to a joint statement from V.I. government regulatory agencies.
The level of SO2 was too low to pose a public health threat, both Health and DPNR officials said.
In addition to the routine sampling, DPNR received authorization from the EPA to begin a 24-hour sampling run in order to determine the cause of the odor. DPNR staff also participated in field assessments conducted by the U.S. Coast Guard.
DPNR has shipped the air samples by express mail to the Eastern Research Group in North Carolina for more analysis and has asked EPA to expedite the tests because of the circumstances. Once the results from the air testing are completed, DPNR will provide that information to the community, according to the joint statement.
Based on these initial reports, V.I. Department of Education officials have made the decision to resume with Central High School's regular schedule on Thursday. However, parents are being asked to monitor news media for a possible announcement of early dismissal and to ensure they know their child's whereabouts, especially those who walk to and from school.
The Department of Health, as a precaution, is continuing to advise anyone who experience symptoms as a result of a strong odor to seek medical care.
VITEMA Director Elton Lewis briefed acting Gov. Gregory Francis on Tuesday and Gov. John deJongh Jr. Wednesday on the situation, according to the statement.
On a related topic, DPNR officials noted the EPA has commissioned a study of volatile organic compounds in the neighborhoods surrounding St. Croix's southern industrial complex in response to residents' complaints about poor air quality.
The study will help identify and quantify any volatile organic compounds in the nearby area, including Central High School because of its sensitive population and proximity to the industrial zone.