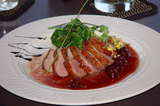 With tourist season ending, and with the economy taking a bite out of diners' eating out budgets, it is n
o surprise to see restaurants like Off the Hook closing and the Old Stone Farmhouse shutting down until the return of the tourists.
On the other hand, it is a pleasant surprise to see two new restaurants on the North Side as well as expanded hours for an existing venue.
Both new restaurants, Thirteen, in Estate Dorothea, and the North Side Bistro, overlooking Hull Bay, seek to offer diners a local dining experience whether they live on the North Side or are visiting the island.
In addition to the new restaurants, Indigo, at Magens Point Resort, has expanded its hours and menu to include breakfast from 7 to 10 a.m. Mondays through Fridays. Entrees are reasonably priced from $6 to $10 and can be ordered to take away. On the weekends, Indigo serves brunch from 10 am to 2:30 p.m.. Lunch is served from 11 a.m. to 3 p.m. and bar snacks are offered from 3 to 5:30 p.m. Happy Hour, from 4 to 6 p.m., features $2 domestic beers and $3.50 for well drinks. Dinner is served between 5:30 and 10 p.m. Dinner entrees range from $11 to $35. Reservations are preferred; those interested can call 340-776-0474.
The dining room at Thirteen, which has previously housed the restaurants Dino's and Ferrari, is decorated in dark hues. It would look like any stateside dining room, with the exception of two large cut out windows which make for a nearly open-air experience and allow diners to enjoy a view to the Atlantic.
Thirteen is open only for dinner Tuesday through Saturday and reservations are recommended. Call 340-774-6800. The cuisine is eclectic with a southwestern flair and prices for appetizers start at $9 and range up to $14. Entrees range from $23 to $29.
The recently renovated space which used to be the North Drop is now the North Side Bistro. With its screened porches and airy ambience, it feels like one of those breezy large cafes found in South Carolina's low country. The Bistro's menu boasts a large neighborhood menu, with items up to $28, and one of the largest wine lists on the island. The restaurant is open from 5 to 10 p.m. Monday through Thursday and 5 to 11 p.m. Friday and Saturday. The restaurant is closed Sundays. Happy Hour is from 4 to 6 p.m. Monday through Saturday and features 50-cents off all beer. Further information can be obtained by calling the restaurant at 340-775-5098.
The Bistro also has a special space devoted to wine tasting and education, able to seat as many as 40 people at a time.
One of the first in the industry on St. Thomas to employ solar technology, the Bistro will use the hot water it generates from solar power to wash dishes and for other applications.
The Old Stone Farmhouse, which shares management with Indigo, is scheduled for renovations this summer. Reopening is slated for sometime in September or October, according to owner Trudie Prior.
Off the Hook closed its doors April 30 and it is unlikely another restaurant will go into that space. Wednesday afternoon the restaurant was empty of furniture, and workers were steadily piling debris into two dumpsters outside.
Instead of the seafood restaurant, the space next to the entrance to the Red Hook ferry terminal is rumored to be up for a redesign as retail and a small eatery.