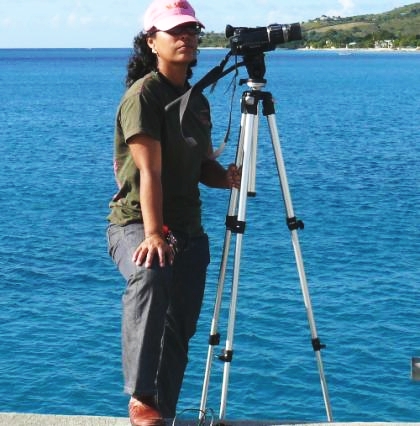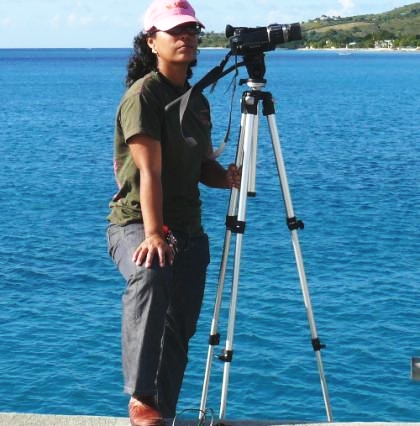 Sunny Isles Theater will showcase award-winning St. Croix filmmaker Johanna Bermúdez-Ruiz's documentary "Sugar Pathways" starting Thursday as part of this month's Hispanic Heritage Month and Virgin Islands-Puerto Rico Friendship celebrations.
This 80-minute feature film by a local filmmaker documents the migration of families from the Puerto Rican island of Vieques to the U.S. Virgin Islands over the past century, growing to become an integral part of Crucian and V.I. society.
"It's a film about bringing people together," Bermúdez-Ruiz said Monday, just back on island from showings in New York and St. Thomas. "It's about diversity and people of all cultures and backgrounds coming together to become one. It is for people to see how two cultures, the black and Latino culture, became one in the Virgin Islands."
"Sugar Pathways" was featured Oct. 9 at New York's famed Tribeca Cinemas as part of national Hispanic Heritage Month celebrations, with well over 200 people in attendance.
"This was a non-Virgin Islands community seeing the film — Latinos, whites, blacks, a very diverse crowd — and the people got it, they were happy, laughing and cheering throughout the film," said Bermúdez-Ruiz.
After an introduction by Michael Roth, CEO of InterPublic, one of the world's largest advertising firms, Bermúdez-Ruiz spoke to attendees before the screening. SOMOS, InterPublic's Hispanic resource group, sponsored the Tribeca screening.
From New York, she flew to St. Thomas for a Sunday showing of the film to an audience of 300 at the Reichhold Center Sunday. Bermúdez-Ruiz came home to St. Croix Monday.
The filmmaker will appear for a question-and-answer session Thursday evening after the Sunny Isles premiere. She will be at Sunny Isles Theater most nights with the exception of this Friday. That night the film is also showing at the Caribbean Diaspora Symposium at the University of Puerto Rico in Mayaguez, and at Peru International Film Festival, DOCUPERU, in Peru, she said. She will speak at the Mayaguez screening.
Bermúdez-Ruiz said she's very happy the film is playing at the local St. Croix cinemas.
"It's in the spirit both of Hispanic Heritage Month and our Virgin Islands-Puerto Rico Friendship celebration, as the Sunny Isles Theater is very accessible to the whole community," she said. "Come show your support by watching documentaries by a local filmmakers like myself in the local theater."
Born and raised on St. Croix, Bermudez-Ruiz is herself a descendant of the families who migrated to St. Croix.
"Young people need to know the history of why we came here," Bermudez-Ruiz said at the film's premiere in March. "This is an educational film preserving the culture of Puerto Ricans and Virgin Islanders. I put a lot of passion in the film, with scenes that really move me and touch me."
The film features extensive archival footage of St Thomas, St. Croix and St. John, photographs and interviews with local historians, elder Puerto Ricans on St. Croix and other cultural figures, set to music by Danny I and Stanley and the Ten Sleepless Knights, and an original soundtrack composed by Laurent "Tippy" Alfred. Actress Lauren Vélez of the Emmy Award-winning Showtime series "Dexter" narrates.
Bermudez-Ruiz is an award-winning documentary filmmaker, past winner of the MAAFA Film Festival Best Short Documentary, San Juan Film Festival Hummingbird Best Short Documentary and the ImageNation Special Award. One of her films, "Vieques: An Island Forging Futures," documents the protests on Vieques that led to the closure of military bases and cessation of bombing practice there.
She is the executive director and owner of Cane Bay Films, dedicated to the preservation of the stories of ordinary citizens.
What people are saying about Sugar Pathways:
Jorge Capetillo, profesor of sociology and chair of Latino Studies, University of Massachusetts, Boston: "Sugar Pathways is not only a documentary based on rigorous and detailed research of the Vieques-St Croix connection in the past half century, but is also a beautifully crafted art piece that vividly projects to the viewer the origins of the cultural diversity that we find in the Caribbean, as well as the human struggle to survive, adapt to a new socio-cultural environment, and create a new society. These components give Sugar Pathways its complexity and beauty."
V.I. Sen.Wayne James: Sugar Pathways explores "… the cultural contributions of Puerto Ricans to St. Croix, their migration process from the 1920s to the 1950s, and the resulting cultural synthesis that marked the inevitable path to the multicultural world of the 21st century."
Delegate Donna M. Christensen: "This film preserves history and culture and raises public awareness, portraying the blending of Crucian and Puerto Rican traditions."