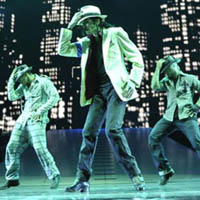 Unless you've just crawled out from a mine shaft, you know that Michael Jackson died mysteriously June 25. But, all is not lost: we already have a documentary of the rehearsals for what would have been his comeback tour.
Filmed at the Staples Center in Los Angeles between March and June, "This Is It" captures Jackson and company rehearsing for a 50-night run at London's O2 Arena. It offers Jackson fans and music lovers worldwide a rare, behind-the-scenes look at the performer as he developed, created and rehearsed for his sold-out concerts, according to the film's publicity release.
The critics are mostly approving, if not ecstatic, none of which will affect his millions of fans who will doubtless be crawling over each other, neglecting popcorn and other amenities, for a last glimpse at the King of Pop.
"Despite the grotesque and unceasing curiosity over his private life," says Andrew Barker in Variety, "Jackson's working procedure was scarcely documented, and his intense perfectionism is breathtaking to see here. He corrects his dancers while in the midst of striking poses himself, pores over video footage and auditions, works out with a vocal coach and gives his band instructions that are alternately brilliant ('Play it like you're dragging yourself out of bed') and Kafka-esque in their impenetrability."
Barker speaks for many critics, when he says, "There's an incredible amount to enjoy here … Though Jackson looks painfully thin at times, his vocal prowess and dancing ability seem to have scarcely ebbed at all in the decade he spent offstage."
Chris Richards in the Washington post wonders, "Must the show really go on? At best, 'This Is It' is a mere sketch of what Jackson seemed capable of delivering in London, with the King of Pop only half-singing, half-dancing through his most rousing hits. Stiff and frail, he paces the stage, during 'Wanna Be Starting Something,' as if mulling things over in his mind. At times, he appears almost lost inside himself."
This is, of course, a rehearsal, and it must be noted that Jackson is said to have been conserving his voice for the real thing.
"Dramatic pauses abound during rehearsal (imagine roaring fans here, here and here), but when the singer flicks his wrist, his band best not miss it," Richards says. "Jackson tut-tuts over a few missed cues, but otherwise, his direction is fussy and inarticulate."
Richards, and several other critics, take issue with Kenny Orgeta's direction, calling him, basically, sycophantic. "He's the director of both the concert and the film, and he shepherds Jackson through these rehearsals with a true yes-man's adulation."
Tony Long in the Detroit News loves everything about the movie: "The only bad thing about 'This Is It' is that Michael Jackson isn't around to see the movie," he says. "Because what might have been some cheesy attempt to capitalize on Jackson's death, pumped up with cheap fan testimonies and biographical highlights, instead turns out to be a fun and fascinating look at how the pop singer was building his biggest live show ever."
He says, "The movie is crammed full of songs — everything from 'Thriller' to 'Smooth Criminal' to 'Jam' and 'Black or White' — but it also serves up a clear picture of Jackson as an artist, a bit volatile and sort of weird at times, but filled with energy and passion and always in control."
Long takes a kind view of Ortega's role. "This was Jackson's show, no doubt about it, although artistic director Kenny Ortega … was obviously there to hold his hand every step of the way — interpreting, consoling, safeguarding and working with the singer."
The 115-minute film is rated PG for some suggestive choreography and scary images.
It starts at Market Square East Wednesday.