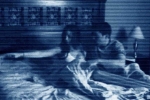 Looks like we may have another "Blair Witch Project" with "Paranormal Activity"—if we are to believe the hype, which includes a story about scaring Steven Spielberg, a tiny budget, a "found" tape, and an unknown film maker.
Time magazine's Richard Corliss says, "The campaign to bring 'Paranormal Activity' to the public is already a movie-industry legend. Shot three years ago by Peli, an Israeli-born video maker, for $11,000 in a week in his house, the picture played a few fright festivals in 2007. While DreamWorks considered buying the rights to do a remake with stars, Steven Spielberg took a copy of PA home to watch it; when he finished his screening, he found his bathroom door inexplicably locked. (He thought the DVD was haunted.)"
So much for background; now about the movie: A haunted house, supernatural horror … oh, oh. Katie Featherson and Micah Sloat, (their real names) are a 20-something couple who've just moved into a new home in San Diego. Katie has an interest in the paranormal and believes that malevolent spirits have been following her since childhood, though Micah is not so easily convinced. However, after several nights of loud noises and strange happenings, Micah starts to agree with Katie that some sort of ghost may have followed them to the new home.
Offhand, that doesn't sound too frightening, but, listen to what the critics have to say.
John Larsen, LarsonOnFilm: "The time counter clicks away in the bottom right-hand corner of the screen, and you'll find your eyes clinging to it like a life preserver."
Charles Koplinski, Illinois Times: "Believe the Hype—Paranormal a True Bone-Rattler."
Gary Wolcott, atomictown.com: "Want to be scared? Want to see the real deal? Bag the 'ew'-inducing killing and maiming and catch the real deal. The movie is a creepy, make the skin crawl, heebie-jeebie producing scare fest. Done with a super-low budget, it pretends to be a true story and is shot entirely inside a modern house in sunny Southern California."
Wolcott says, "Something is bugging a couple. At night, it moves things, stomps up and down hallways, opens and closes doors. Deciding to catch the thing in the act, the boyfriend buys a state-of-the-art camera and records everything that happens in the home. It's the best horror flick in years, and nothing beats a good horror flick, when you can find one."
Or, on the other hand: Justin Elias in the Boston Globe: "It's like watching a YouTube clip of your irritating neighbors, knee deep in muck, as they argue the effectiveness of plumbers."
Corliss says, "Oh, sweet Jesus, that nice couple Katie and Micah are about to go to sleep again! They already suspect that their house is haunted. Micah has propped up his video camera in their bedroom to record any unusual phenomena, so they'll know what awful thing happened the previous night, while they were sleeping. The bedroom door moved a couple of inches and then … moved back!"
That, evidently, was enough for Spielberg. Will it be enough for you, you strong-hearted survivors of "The Blair Witch Project"?
Grab your best playmate, drag him or her to Market Square East, don't get popcorn—you'll only spill it—and get scared to death. Then stay in a hotel.
"Paranormal Activity" is rated R, runs 90 minutes and starts Wednesday.