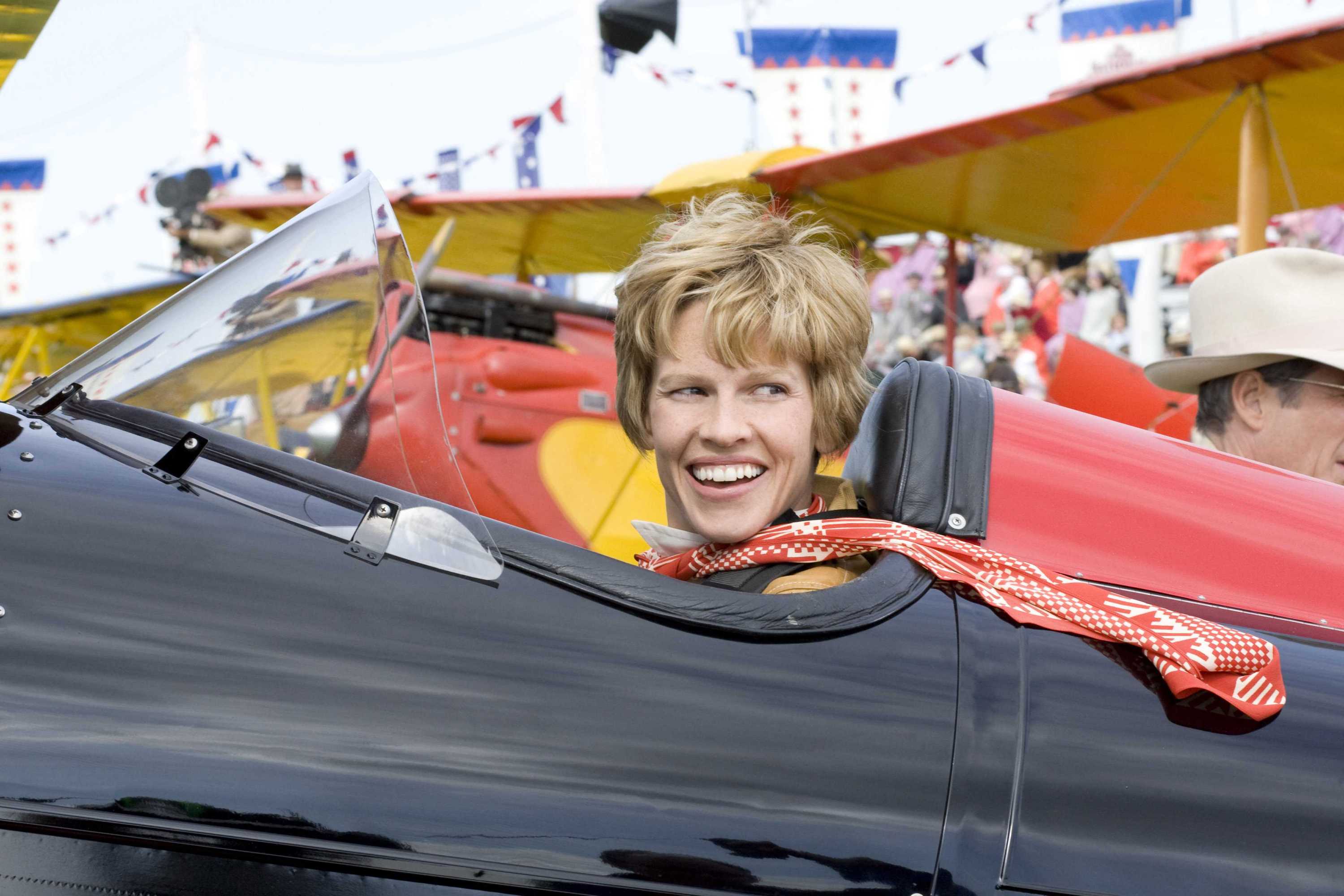 On July 2, 1937, Amelia Earhart and navigator Fred Noonan disappeared over the Pacific Ocean on the final leg of their circumnavigation of the globe.
Ever since that fateful day, movie makers, historians, aviation buffs and who knows who else, have been tossing around ideas about where in the world she wound up. Her story has remained compelling. In fact, the current "Amelia" is the seventh film on her life.
With her global fame, Earhart (Hillary Swank) lived with danger while standing up as her own outspoken woman. She was an inspiration to everyone, including first lady Eleanor Roosevelt (who took a flight with her), and the men in her life: husband and publisher George P. Putnam (Richard Gere) and her longtime friend and lover, pilot Gene Vidal (Ewan McGregor).
The critics are divided on the current "Amelia." The criticism is mainly not of the acting, but the script and Mira Nair's direction. The reviews run from: "A fresh, but sorrowful journey" (Linda Cook, Quad City Times) to "Why does such an exciting life make such a dull movie?" (A. O. Scott, At the Movies).
Boston Globe critic Ty Burr says, "Though 'Amelia' strains to build suspense in its last 20 minutes, since we all know what's going to happen, the scenes feel both inevitable and cruel. The film's actual climax may have come earlier and more quietly, when Earhart is asked by a reporter, 'Are you a better celebrity than a pilot?' She doesn't come up with a convincing answer and neither does the movie. It asks the question, though, and that's a start."
Burr says the film definitely has its moments: "'Amelia' is a sharp idea struggling to get out: How does a woman marketed to the public as a star turn herself back into a human being? And at what cost?"
He also lauds the film's honesty. "It's a question for our times," he says, "and the one novelty of Nair's film is that it sets the conundrum in an earlier era, when celebrity branding wasn't yet a national way of life. 'Amelia' is unexpectedly frank about how Earhart's public persona—'Lady Lindy,' the dashing flying flapper—was an invention of, among others, her husband, publisher Putnam. Her first Atlantic crossing, in 1928, was a blatant fraud: Earhart sat in the back while Wilmer Stutz (Joe Anderson) and Louis Gordon (Aaron Abrams) piloted the plane."
One thing Burr and other critics agree on is Swank's rightness for the role. "Swank rides the thematic turbulence like the star she is. The rawboned self-confidence that's her hallmark dovetails nicely with her subject, and if Swank's bleached eyebrows don't convince you, her gumption does," Burr says.
He continues, "I bought her not as Amelia but as this movie's Amelia, understanding that the performance is a glossy approximation of the real thing—Kansas with a dash of Kate Hepburn—and that expecting the real real thing from Hollywood is foolish."
David Denby, in the New Yorker, says, "Swank has a big, toothy smile, high cheekbones, and short hair that seems to have been chopped with a knife. Earhart's clothes—men's pants, shirts, and leather flying jackets—perfectly suit Swank's lean, small-hipped body. The actress carries herself with an endearing mixture of boldness and shyness—the Earhart lope and the Earhart wave, with the arm sharply bent, have the right degree of awkward casualness."
Denby says, "Again and again, as Earhart soars around the world, Stuart Dryburgh's cinematography captures the landscapes below, filled with scampering animals and native children. The overall visual style is pretty, even luscious, in a familiar, National Geographic sort of way."
No matter. The movie looks to be a fun, if not emotionally demanding, hour and 51 minutes. And for some, a blessed break from horror, exploding universes and other fare guaranteed to send you home biting your nails.
Starting Thursday at Market Square East, "Amelia" is rated PG for some sensuality, language, thematic elements and smoking. Smoking? This must have crept into the ratings when no one was looking.