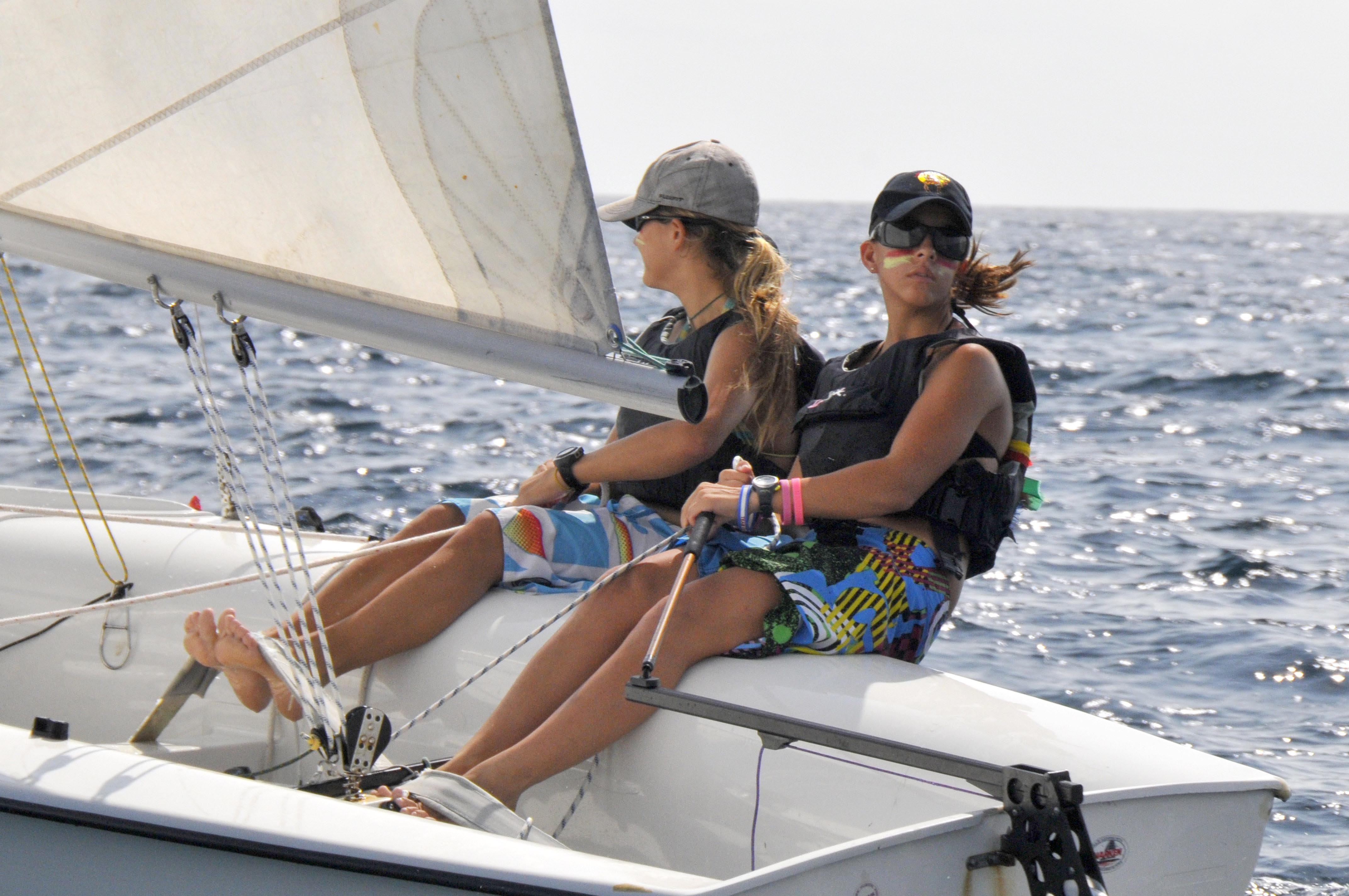 Light winds worked to the benefit of U.S. Sailing Team AlphaGraphics (USSTAG) member Genny Tulloch (San Francisco, Calif.) on the final day of US SAILING's 2009 U.S. Women's Match Racing Championship (USWMRC), hosted by the St. Thomas Yacht Club and sailed in Cowpet Bay. Tulloch was joined by crew Chafee Emory (Newport, R.I.), Elizabeth Hall (Chevy Chase, Md.) and Elizabeth Kratzig (Miami Beach, Fla.).
Tulloch upset fellow USSTAG teammate Anna Tunnicliffe (Plantation, Fla.) and her crew of Molly O'Bryan Vandemoer (Redwood City, Calif.), Liz Bower (Rochester, N.Y.) and Alice Manard (Charleston, S.C.) in the finals. Manard and Vandemoer are both members of USSTAG. Team Tunnicliffe had dominated the first three days of the championship, losing just one match.
Shifty conditions and a breeze barely reaching six knots set the scene for the final two matches of the semifinals and for the four match finals. In the semifinals, Tunnicliffe, the 2008 Olympic Gold Medalist in the Laser Radial, defeated Annie Gardner-Nelson (San Diego, Calif.) in three matches. Tulloch bested USSTAG member, Katie Pilley-Lovell (New Orleans, La.), in three matches to force a Tunnicliffe-Tulloch face off in the finals. Team Tunnicliffe had gone 3-0 against Team Tulloch in their first three round-robin matches.
In the finals, she won the first and third match. Tunnicliffe won the second match, leaving her no choice but to win the fourth match in order to stay in the game. In the fourth match, Tunnicliffe won the start, but lost ground to Tulloch when the two split tacks and Tulloch got a brisker breeze. Tulloch continued to lead in the match until reaching the second rounding of the weather mark where she took a penalty after not giving Tunnicliffe room. The two teams then sailed downwind towards the finish changing leads a few times. Four to five boat lengths from the finish, Tunnicliffe and Tulloch were one boat length apart when Tunnicliffe jibed to port thinking she could cross Tulloch's bow, but found she couldn't and picked up a penalty. They were only three boat lengths from the finish and both teams were on a beam reach for the finish. The two teams both jibed, and Tulloch came out of the jibe with better boat speed and held it straight to the finish line.
"We had a good time and a lot of fun," says Tulloch. "We're about 30 pounds lighter than Anna's team and I think that helped us in the light winds today."
The win for Tulloch is especially sweet after losing to Tunnicliffe in the finals of last year's USWMRC. "It feels great to win this championship," Tulloch says. "We enjoy racing in St. Thomas. The conditions are great."
In the petit finals, Pilley-Lovell beat Annie Gardner-Nelson (San Diego, Calif.) to finish third.
"This is the first time the USWMRC has been sailed outside of the U.S.," said regatta director Ruth Miller, "and we're excited to have hosted this event and this level of sailors."
The 4th annual St. Thomas Radiology Women's Regatta and Tennis Tournament was held concurrently with the USWMRC.
St. Thomas' Nikki Barnes and St. John's Agustina Barbuto won the regatta
portion of the event with a flawless string of first-place finishes over eight races.
"After every race we went over what we did wrong, figured out how to do it right and put this into practice for the next race," said Barnes, a 10th grade student at Antilles School. "Even though we won each race, we were always on the move and forming new strategies to account for the ever changing conditions."
St. Croix's Sydney Jones and Krista Siino finished in second place, while fellow Crucian sailors, Challis Diaz and Genevieve "Genna" Keller finished third. Twenty-eight sailors competed in the regatta.
In the tennis portion of the 4th Annual St. Thomas Radiology Women's Regatta & Tennis Tournament, Joyce Bailey won the C Division Singles. "I enjoyed participating and playing against girls who were just starting as well as those who were more experienced."
Joyce Whitaker and Carolyn Tyson won the B Division Doubles. "We've played together for years," said Whitaker. "I've had such a good time playing against the other girls. Tournaments are something we definitely need more of. Tennis is a great way to get an aerobic workout."
In the B Division Singles, Kerri Clifford won. "My goal was to focus and hit the ball," said Clifford. "I had a lot of fun."
Twenty-six women competed in this tournament.
The 2009 U.S. Women's Match Racing Championship for the Allegra Knapp Mertz Trophy is sponsored locally by St. Thomas Radiology Associates, which also sponsored the 4th Annual St. Thomas Radiology Women's Regatta & Tennis Tournament, and by Rolex Watch U.S.A., Dry Creek Vineyard, Predict Wind and Sail Proud. This event is part of US SAILING's National Championship series.