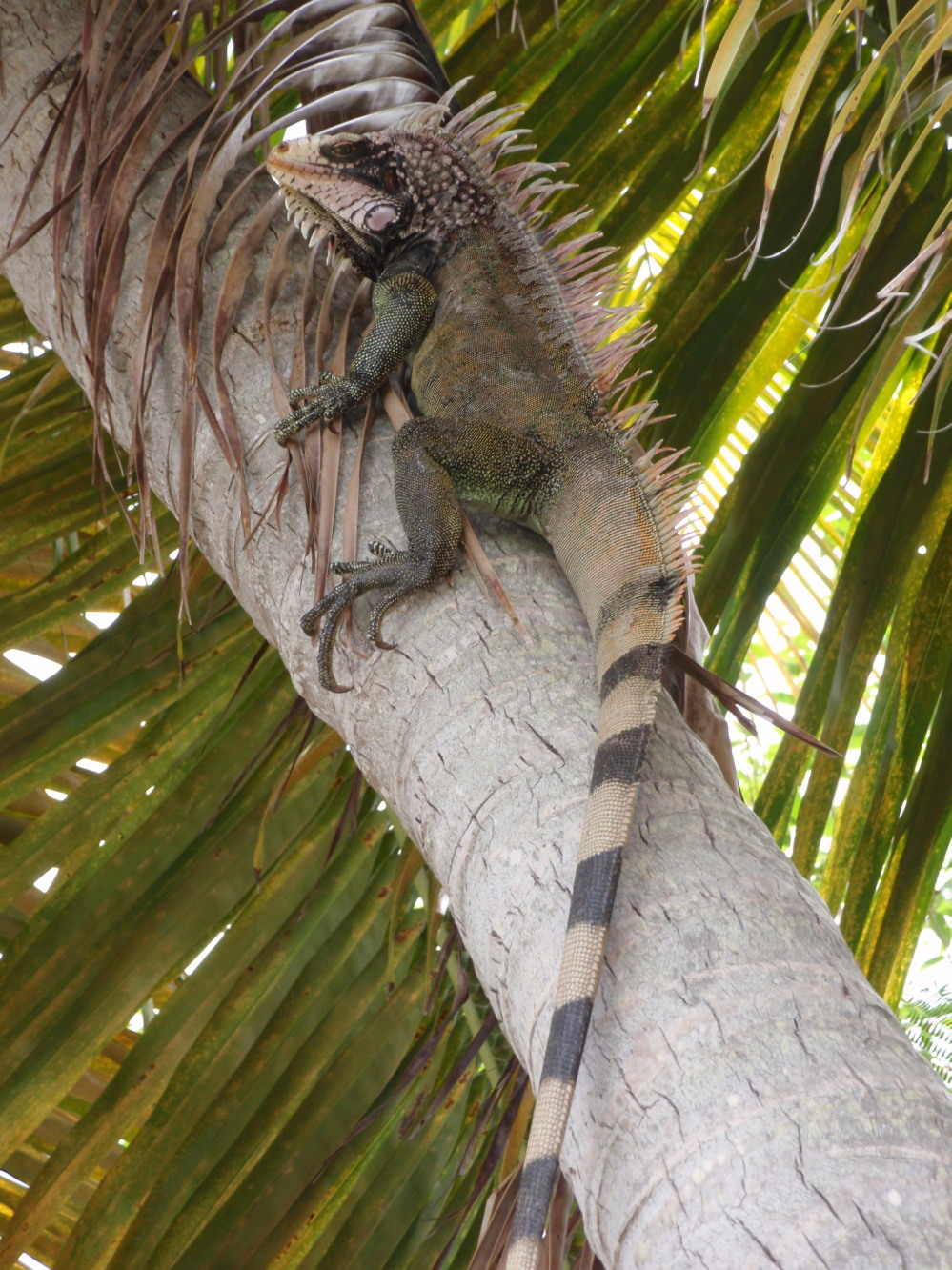 After starting out 2009 feeling pretty groovy about the future, Idle the Iguana fell right out of his perch high in the sea grape tree —- "knocked down to da ground," as he put it, by some major bummers of the year.
As he climbs back up for a better view, Idle hopes to rise above what got him down before and has set his sights on some better things to come in 2010.
Idle wishes:
for a quieter place to live, sans zip-line, among the trees and other creatures at Magens Bay;
for more jobs for idle young men (for lizards, idle is okay!);
for more respect for the environment —- air, land and sea;
for a fresh paint job and fresh pride in St. Croix's historic towns;
for a security team for Adlah "Foncie" Donastorg (with or without fencing);
for the long-promised planner to finally arrive on St. John;
for Stefan Larsen to install wind turbines in everyone's yards;
for more prosecutions of animal cruelty … and of people cruelty, too;
for permission to sun himself on Legislature Beach with Lolo;
for more excitement and less incitement about our multi-cultural community;
for instant karma;
for human beings to stop trashing paradise;
for a meaningful recycling program;
for a hotel to break ground on St. Croix;
for an end to the bloodshed;
for enforcement of animal and child cruelty laws and more prosecutions of both;
for swift, cosmic justice for whomever poisoned five Frenchtown pelicans;
for public officials who do the people's business and are not for sale;
for more drivers who recognize the red octagonal signs are not "stoptionals," and who slow down for Iguanas crossing the road;
for kids to be able to go to public schools and not worry about gangs or random violence;
for a solution to the parking fiasco that is Cruz Bay;
for men who call themselves men, to act like it;
for women to demand that they do (no more fatherless pregnancies, domestic and other violence, bullying and false bravado);
for someone to harness all the political hot air for energy this election year;
for tourists who will stay here a while and enjoy the people as they do the land and sea;
for more long-term beds and care for V.I. seniors in need;
for more love and less noise;
for hurricanes to pass safely far away;
for fewer rumors on the radio, and the streets;
for a constitutional V.I. Constitution that we can all be proud of at day's end;
for an end to anyone saying "those people," "you people," "us" or "them";
and for heaps of healthy hibiscus and a nice-looking lady lizard to ring in the New Year.
As he reaches the top fronds and the sunshine, Idle says he can see it all right now. Can you?