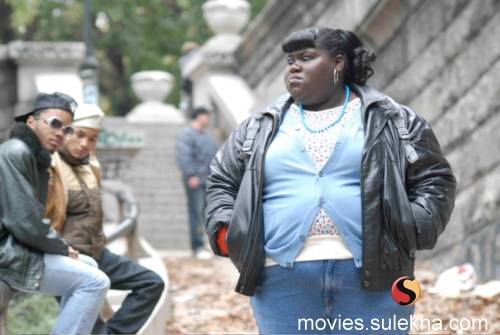 "Part of the great power of movies is that they can take us perilously close to the life of someone we might otherwise feel perilously far from," says Owen Gleiberman in EW.com, speaking of Precious, the title character in "Precious: Based on the Novel 'Push' by Sapphire."
The movie has won the praise of the critics across the board.
"Director Lee Daniels knows what he's selling: his films combine street-smart bravado with an art-house sensibility," says Lynn Hirschberg in the New York Times. "'Precious,' the harrowing story of a 350-pound illiterate teenage girl who is pregnant for the second time by her father and horribly abused by her mother, is shot in an almost-documentary style interspersed with fantasy sequences."
Gleiberman says, "It's a potent and moving experience, because by the end you feel you've witnessed nothing less than the birth of a soul. Precious is a hushed, damaged, morbidly obese 16-year-old African-American girl from the lower depths of Harlem. It's 1987, and Claireece Precious Jones is poor and ignorant, a depressed, withdrawn shell of a human being, with a face so inexpressive it might be a visor clamped down over her features."
However, Gleiberman says, "Gabourey Sidibe, the startling newcomer who plays Precious, is actually softly pretty, with catlike eyes that narrow into a tensely focused glare. Precious speaks to us in voice-over (we hear her flowery notions of running off with a math teacher to suburban Westchester).
"Outside those fantasies," Gleiberman says, "Precious can't imagine a life. She rarely talks, never smiles, and hardly even frowns; she looks like it would take too much effort. Sidibe plays her with barely visible tremors of feeling that cue us to what this arrested girl is holding back. She's an almost totally passive protagonist, cut off from everyone, including us."
Roger Ebert in the Chicago Sun-Times says, "There's one element in the film that redeems this landscape of despair. That element is hope."
Ebert says, while "Sidibe is heartbreaking as Precious, three other actresses perform so powerfully in the film that academy voters will be hard-pressed to choose among them. Audiences may be hard-pressed to recognize them. The comedian Mo 'Nique plays Mary, Precious' chain-smoking couch-potato of a mother, treating her daughter like a domestic servant and turning a blind eye on years of abuse. Paula Patton is Ms. Rain, Precious' teacher, who is able to see through the girl's sullen withdrawal and her vulgarities, and wonder what pain it may be masking. Mariah Carey is Ms. Weiss, a social worker.
"This casting looks almost cynical on paper, as if reflecting old Hollywood days when stars were slipped into 'character roles' with a wink," Ebert says. "But Daniels didn't cast them for their names, and actually doesn't use any of their star qualities. He requires them to act. Somehow he was able to see beneath the surface and trust that they had within the emotional resources to play these women, and he was right."
At Cannes, the film received a 15-minute standing ovation.
Written by Geoffrey Fletcher, based on Sapphire's book, it runs 109 minutes and is rated R for child abuse, including sexual assault and pervasive language.
It starts Friday at Market Square East on St. Thomas.