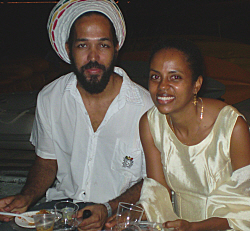 A Taste of St. Croix, the centerpiece in the week-long St. Croix Food and Wine Experience, was a huge community affair, bringing people together to chow down and help local culinary students train in the restaurant industry.
The proceeds from the 1000 tickets that sold out in minutes — at $85 each — help in culinary and hospitality training programs for students at St. Croix Central High School and St. Croix Career and Technical Education Center. The funds also help with travel expenses for the U.S.V.I. Culinary Team competitions. Funds are given to the Pat Henry Hospitality Scholarship fund and the St. Croix Foundation for education initiatives.
Katherine Pugliese, original owner of Bacchus and now owner of eat @ cane bay, and Kelly Odom, owner of Tutto Bene, started The Taste of St. Croix culinary competition in 2001. Since its inception it has grown into a week-long food and wine experience in many venues, such as Wine in the Warehouse, Twin City Krawls and Cork and Fork Dinners. Forbes Travel.com ranked the St. Croix Food and Wine Experience as one of the Ten Best International Food and Wine Festivals.
"There is a love of the industry that is an integral reason there are so many dedicated to the event," Pugliese said, adding it was everything she hoped it would be. "Restaurateurs and volunteers make it all happen."
The affair Thursday evening was a social experience for attendees poolside at the beach at Divi Carina Bay Beach Resort. Locals and tourists alike in trendy fashions walked from tent to tent socializing and sampling food and beverages.
"This is a wonderful event with great food," Lucinda Dariah said as she strolled the walkways.
The 56 participants provided their time and donations of food and beverages for a real experience for the taste buds.
For local flavor, Pizza Gusto served samples of saltfish pizza and Le'Khaime Health Food Store had colorful vegetarian salads and drinks. Creque Dam Farm had a kaffir lime-infused papaya in a citrus honey bath, all raised on the farm.
The Department of Agriculture served a roasted sweet ginger and rum flavored whole pork. Making a debut was Miss Anna's latest hot sauce, "Classic Caribbean," served up by part owner Omer UrSelcuk and Claire Burke. Salud Bistro served paella and rabbit in little plastic cups and escargot and chorizo.
Sue Lakos of Sweet Sue's Cakes gave samples of a delectable lime cheesecake. Lakos was having a time dealing with the wind that was gusty at times on the pier, blowing the light cheesecake plates over.
The competition was judged by local chefs, returning judges and chefs from the food network.
Kevin Rathbun, Iron Chef Winner and restaurateur in Atlanta, returned for the third time to judge.
"The participants come out and show their best," Rathbun said. "And they do it from the heart, for a good cause."
Winners were as follows:
Appetizers – Blue Moon, Dashi, Bacchus;
Entrees – Salud Bistro, Galangal, Galleon;
Soups and stews – Elizabeth's at H20, Bacchus, Shanti Shawa Vital Ital Experience;
Desserts – Dashi, Ales and Others, Mama Ptah's Cuisine;
Vegetarian – Top Class Catering, South Shore Cafe, Tutto Bene;
Local food – Corrine's Food Service, eat @ cane bay, J & W Grocery;
Beverages – Country Snack Stand, Le'Khaime Health Food Store, Empress Fresh Foods;
Best Presentation – Dashi, runner up Tutto Bene;
Peoples Choice – Rum Runners.
The attendees got to experience a dance party from 9 to midnight with Isle 95 D.J. Poppy Pops playing reggae rock and more.
Some of the many sponsors were the Department of Tourism, H. Douglas and Jeannine Schrock, Hovensa, Divi Carina Bay Beach Resort and Casino, FirstBank, and Banco Popular.