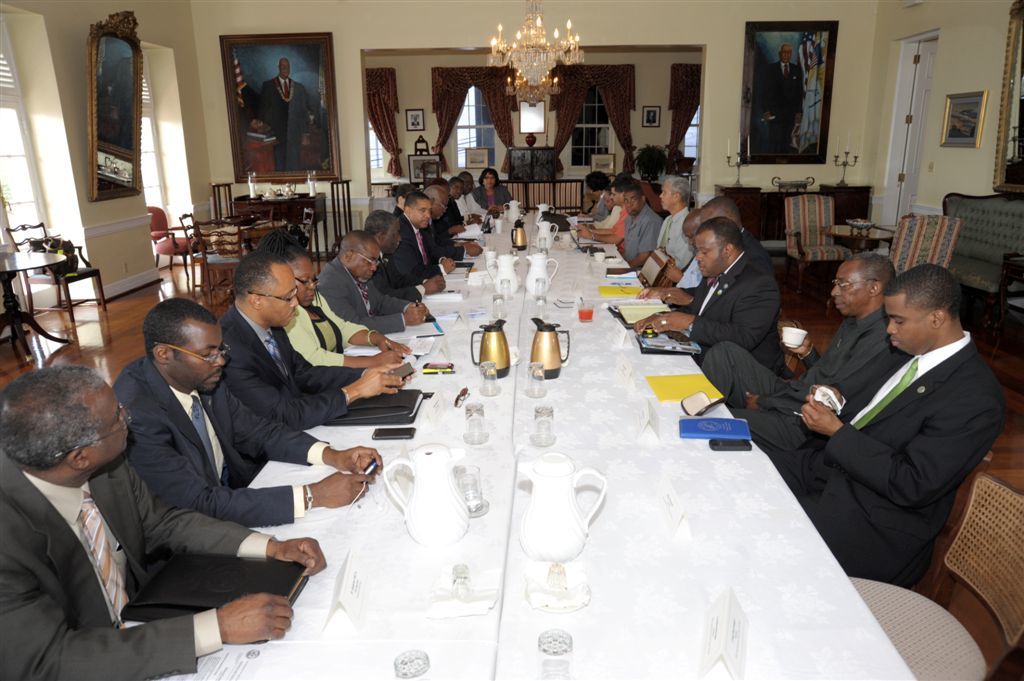 Gov. John deJongh Jr. and his financial team met with members of the 29th Legislature Tuesday at Government House on St. Thomas to delve deeper into possible solutions to the territory's dire short-term fiscal outlook.
The government is facing a projected shortfall of $75.1 million for 2011 and $131.5 million for 2012, according to Government House. In his recent State of the Territory address, deJongh proposed a series of austerity measures, such as laying off per-diem and part-time employees, combined with tax increases, to help close the gap. And since then, his administration has formally submitted legislation to put those measures into effect.
Until now the territory has resisted severe austerity measures that almost all other governments across the country were forced to take in order to reduce expenditure levels and stay afloat, deJongh said in a statement about the meeting.
"We instead chose other avenues to reduce the overall burden on our workforce and local economy; and while our borrowing efforts did lessen the overall impact, we all now recognize that additional cost-saving measures are needed in order to ensure the delivery of critical services, avoid massive layoffs, and keep us on the road to recovery," deJongh said.
The administration has proposed legislation implementing a two-year freeze on salaries and instituting three unpaid holidays; increasing the Hotel Room Tax, from 8 percent to 10 percent; a cell phone tax targeted to the operations of the territory's emergency management apparatus; a temporary increase of one cent per dollar to the Gross Receipts Tax; consolidating the departments of Health and Human Services, and bringing the V.I. Waste Management Authority back under the central government.
DeJongh said he felt the meeting was productive.
"I believe that the cooperative spirit of today's dialogue truly enabled each senator to further reflect on the reality of the fiscal situation brought on by one of the most debilitating economic recessions our generation has ever seen," deJongh said. "Each of the legislative members provided ideas in recognition of the need to bridge the gap this fiscal year (FY) and in order to lay a foundation for FY 2012 and thereafter. We simply cannot evade the difficult decisions needed to reduce spending and increase revenue within the territory."
All 15 senators attended the meeting, along with members of the central legislative staff, according to Government House.
At a recent Finance Committee hearing, several senators said they would oppose layoffs, but were less critical of other budget cuts and tax hikes.
Calls made to several senators after regular business hours seeking comment on the meeting were not returned by press time.
DeJongh was upbeat about the prospects of finding common ground and workable solutions.
"The only way we will emerge from this recession better and stronger is by working together as a government and as a community. I think today was a positive step in that direction," he said.