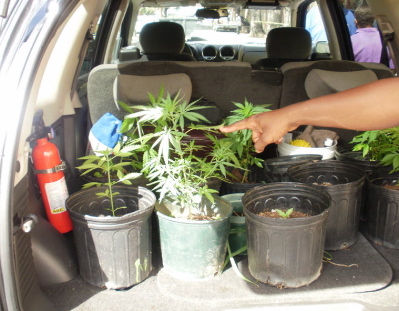 Police on St. Thomas confiscated marijuana, drugs and drug paraphernalia Friday as they continued pre-carnival cleanup in high crime areas, focusing on the Lionel Roberts Stadium area.
The Department of Public Works partnered with police in this initiative which was held between 9 a.m. and 1:30 p.m. Friday.
A saturated patrol confiscated 11 marijuana plants in Hospital Ground and more drugs and paraphernalia were seized in Savan and the Fireburn Hill area on Friday.
Officers responding to a disturbance in Hospital Ground confiscated the marijuana plants. Later, officers patrolling Savan and the Fireburn Hill area, observed several men loitering. The men ran when they saw police. Officers searched the area and confiscated a small amount of marijuana and drug paraphernalia.
The plants and drugs were turned over to the property unit for destruction. Officers tagged eight abandoned vehicles and one boat for removal. Trees were trimmed so light can shine brighter on the area.
Officers assigned to the Deputy Chief's office and Special Operations Bureau assisted with the initiatives along with VI Waste Management Authority and Department of Health.
Police continue to urge residents to call Crime Stoppers USVI at 1-800-222-TIPS when they see any suspicious individuals in high crime areas.