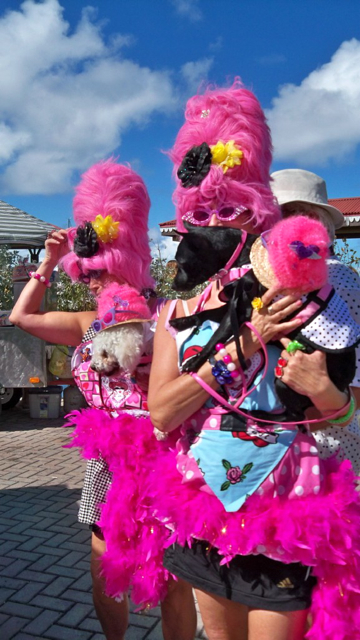 People often socialize on Christiansted's boardwalk, but Saturday local canines were the ones hanging out and socializing. The dogs were all well behaved and no dog fights broke out at the fifth annual Krewe De Barkus Parade.
More than 50 dogs strutted their stuff, showing off their costumes before a couple of hundred people. They padded around Caravel Arcade and down the boardwalk to Angry Nates, where prizes were awarded.
The theme was You Ain't Nothing But a Hound Dog and owners dressed their dogs accordingly.
The five homeless dogs up for adoption from the St. Croix Animal Welfare Center were dressed simply in white T-shirts with the sleeves rolled up.
Gloria Powell said her Lhasa Apso loves to dress up. She was dressed as "Ginger Presley" in a white satin jumpsuit. The dogs were in wigs, beards, feathers, tutus, hats, bows and barrettes. Promise, the bulldog, was batting fake eyelashes and its fat little rump was poured into red fishnet pantyhose. Some owners were in outlandish costumes matching their dogs'.
A life-size, gold plush Disney Pluto Pup was walking around greeting children and posing for pictures.
Val Stiles, media representative for the Mardi Croix organization, said the parade is a family-oriented affair and something fun for people and their pets to do.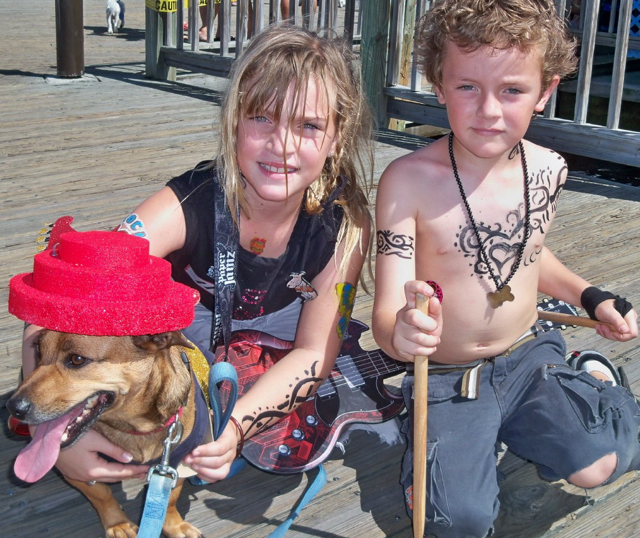 Participants paid $10, which will go toward such events as the annual Mardi Croix parade in Cane Bay.
Organizers said the attendance was down a bit from last year, probably because the annual Agriculture Fair also opened that day.
Trophies were awarded and the best over-all winner got a $100 dollar gift certificate from the Sunshine Foundation. Children received such prizes as jewelry, perfume, dolls and toys.
Donna Emanuel, a judge, said she loved all the creativity and effort owners put into the costumes.
The parade was sponsored by businesses on the boardwalk.