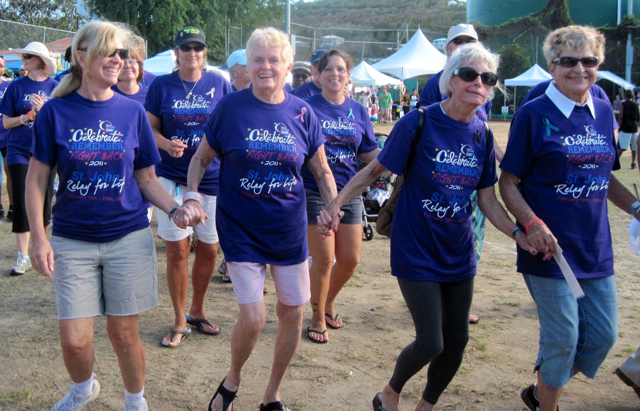 Wearing deep purple T-shirts, almost three dozen cancer survivors took the initial lap around Winston Wells Ballfield in St. John's first Relay for Life.
The event began Saturday afternoon and is scheduled to run through the night until 10 a.m. Sunday, because cancer never sleeps.
Relay for Life raises money for the St. Thomas/St. John chapter of the American Cancer Society. Early Saturday evening, organizer Mary Bartolucci said so far participants raised $60,000.
"My goal is $100, 000," she said.
The money will be used on St. Thomas and St. John to help people with cancer get treatment and if need be, travel off island for treatment or to where they have a support system.
Many cancer survivors said they were there to provide hope to others that cancer is survivable.
"I still live. You can't get rid of me," colon cancer survivor Paula Savel said.
Others came to support loved ones or friends who with cancer or who have survived. Many said they came to remember people who died of the disease.
"My father passed away from lung cancer nine years ago," Maria Davis said.
Karla Shatzer and Lee Morris are both cancer survivors. Shatzer survivied both breast and colon cancer and Morris, breast cancer. Morris also lost her daughter and her husband to cancer.
Both said they were inspired by the turnout at the event.
About 36 teams signed up to have one of their members walking the track at all times throughout the night. Many were selling items from the tents that ringed the field.
Team Live Strong's members were busy selling chicken roti. Debbie Schnell said they bought the roti filling and the wrappers from the Soggy Dollar restaurant on Jost Van Dyke, assembled them on St. John and are selling them to raise money for the American Cancer Society.
Guy Benjamin School sent a team to participate.
"It's for a good cause and I do have a lot of family members who had cancer," Claudine Daniels, a paraprofessional at the school, said.
The cancer survivors were treated to a dinner served under a tent on the ballfield.
Relay for Life also includes games, music, and a lumineria ceremony to honor people who survived or died of cancer.
In the opening ceremony, Beverly Biziewski talked about the banner with patterns of hands signed by the survivors that will be quilted and hung at next year's Relay for Life.
"Every hand overlaps another hand," Biziewski said, speaking about the symbolism of those hands and the help that comes to cancer sufferers in St. John's small community.