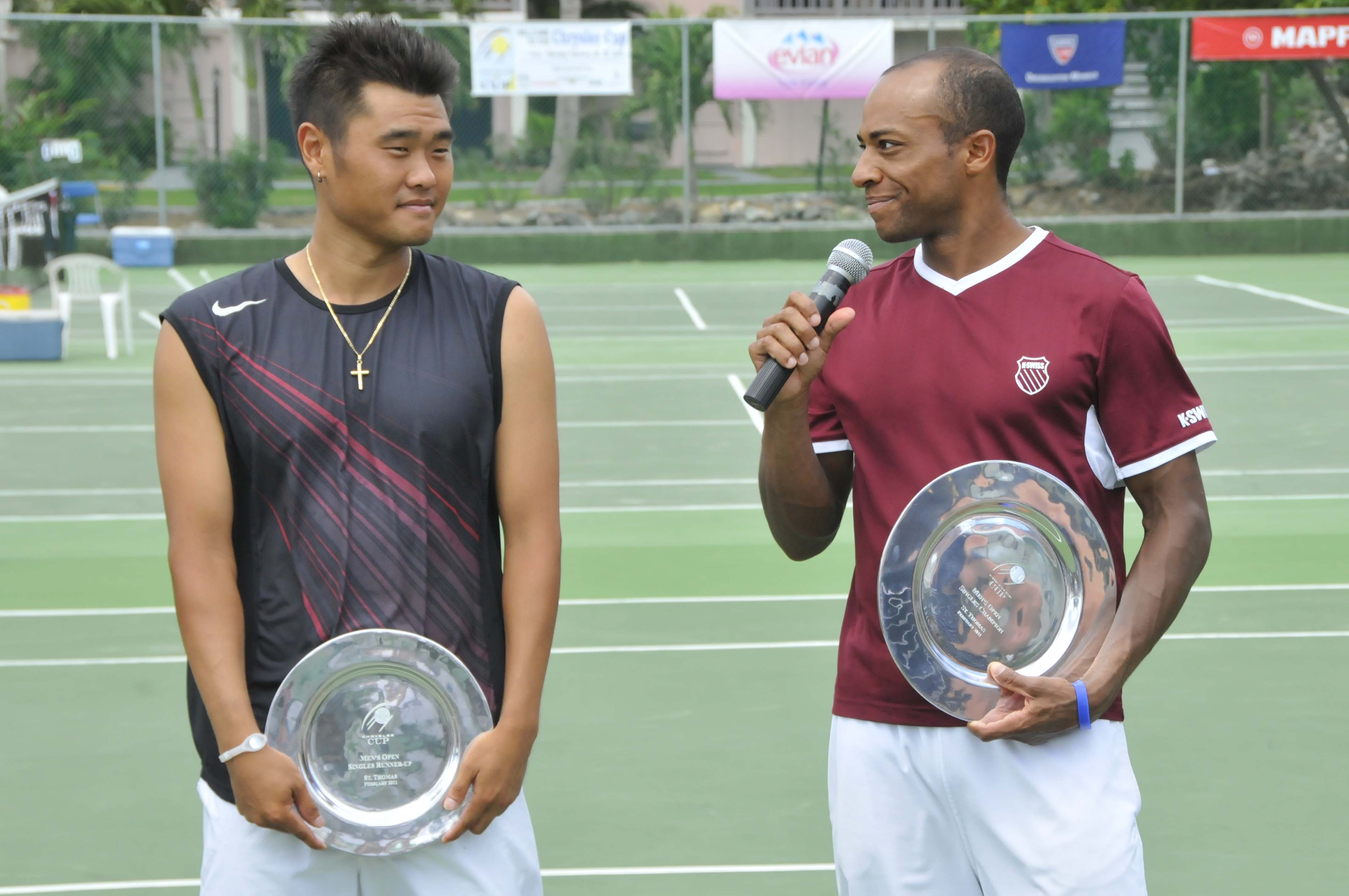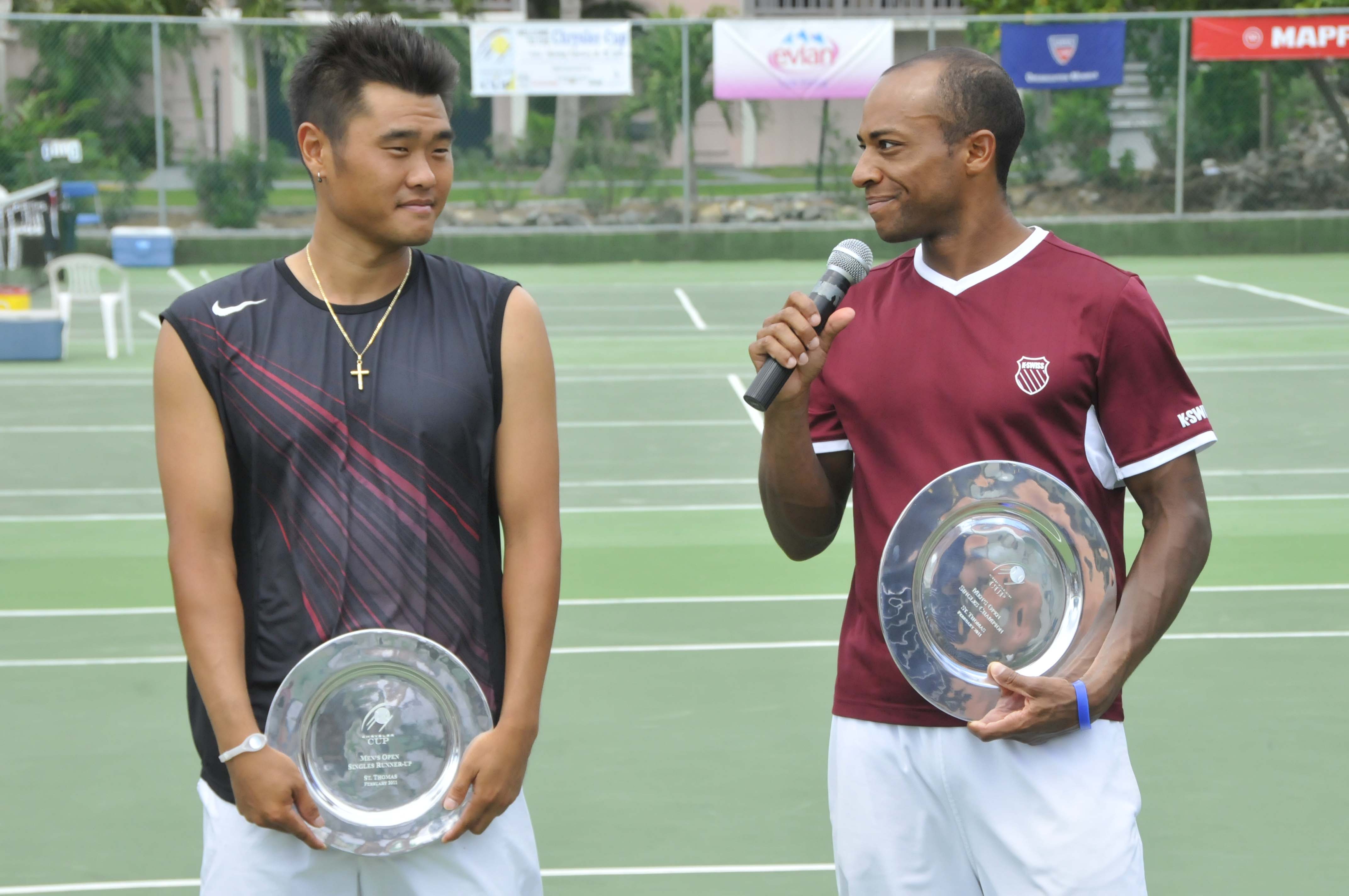 There might not have been grass courts and fresh strawberries and cream, but the breathe and depth of competitors at the 5th Annual Chrysler Cup tennis tournament, hosted at the St. Thomas Yacht Club, February 18 to 21, easily earned this event the nickname 'Wimbledon of the Virgin Islands.' A record 114 players from the Caribbean, U.S. and Europe competed and there was a strong B division as well as the first-time participation of eight ATP ranked players.
The favorite in Men's Open Singles, Nick Monroe, 28, from Austin, Texas, won this division (6-3, 6-2) beating Chris Kwon, 24, from Sarasota, Florida.
"It was a tough match," said Monroe, who is currently ATP ranked at 335 in Singles. "I tried to stay in point longer than he (Kwon) did, but it was windy and that was a factor. In the end, it was survival of the fittest."
Monroe won again in Men's Open Doubles, this time with partner, Oystein Steiro, 19, a member of the Norwegian Davis Cup Team. The dynamic duo beat the team of Kwon and Chris Welte from the U.S.A. (6-3, 6-7(5), 1-0(8)).
The competition was also keen in the B division. St. Thomas' Denzil Caines proved his prowess in Men's B Singles by winning this division three years in a row, beating Mabubiyah Richards (6-4, 6-4), this year for the honors. "Experience," is what Caines credits for his success.
In Women's B Singles, Darlene Queen from Maryland triumphed over Lesley Broadbelt who hails from St. Kitts (6-1, 6-4). "We both played with strategy rather than just hitting the ball," said Queen, who enjoyed her vacation to the Virgin Islands and away from the snow. "I tried to hit short or keep it real deep. I knew she (Broadbelt) would be tough and I had to keep my concentration."
The Philadelphia-based team of Michele Avery and Connie Foreman won the Women's B Doubles (6-0, 6-2), over Sharlene Peters and Queen. In Mixed B Doubles, Avery and St. Thomas' George Newton, beat Fenella Cooper andSt. Croix's Stan Myrie-G (6-3, 6-4), while in Men's B Doubles, it was St. Thomas' Darryl Donovan, Sr. and Rudolph Chapman who won over Newton and Myrie-G (6-3, 2-6, 1-0(8)).
Finally, in Men's Doubles 60-plus, Mario Foy and George Sledge, both of St. Thomas, beat the Maryland-based team of Erik Jensen and Earl Kelly (6-4,3-6, 1-0(5)).
Jensen, a native of St. Thomas who learned to play tennis as a teenager while caddying for pro Vic Ebbesen brought down a contingent of nearly a dozen of his friends from Maryland.
Over $12,000 in prize money was awarded in addition to engraved pewter plates.
The 5th Annual Chrysler Cup Tennis Tournament is the only tennis tournament in the U.S. Virgin Islands sanctioned by the USTA's Caribbean District.
The event is sponsored by sponsored by the Chrysler Group, the U.S.V.I. Department of Tourism and St. Thomas Yacht Club.