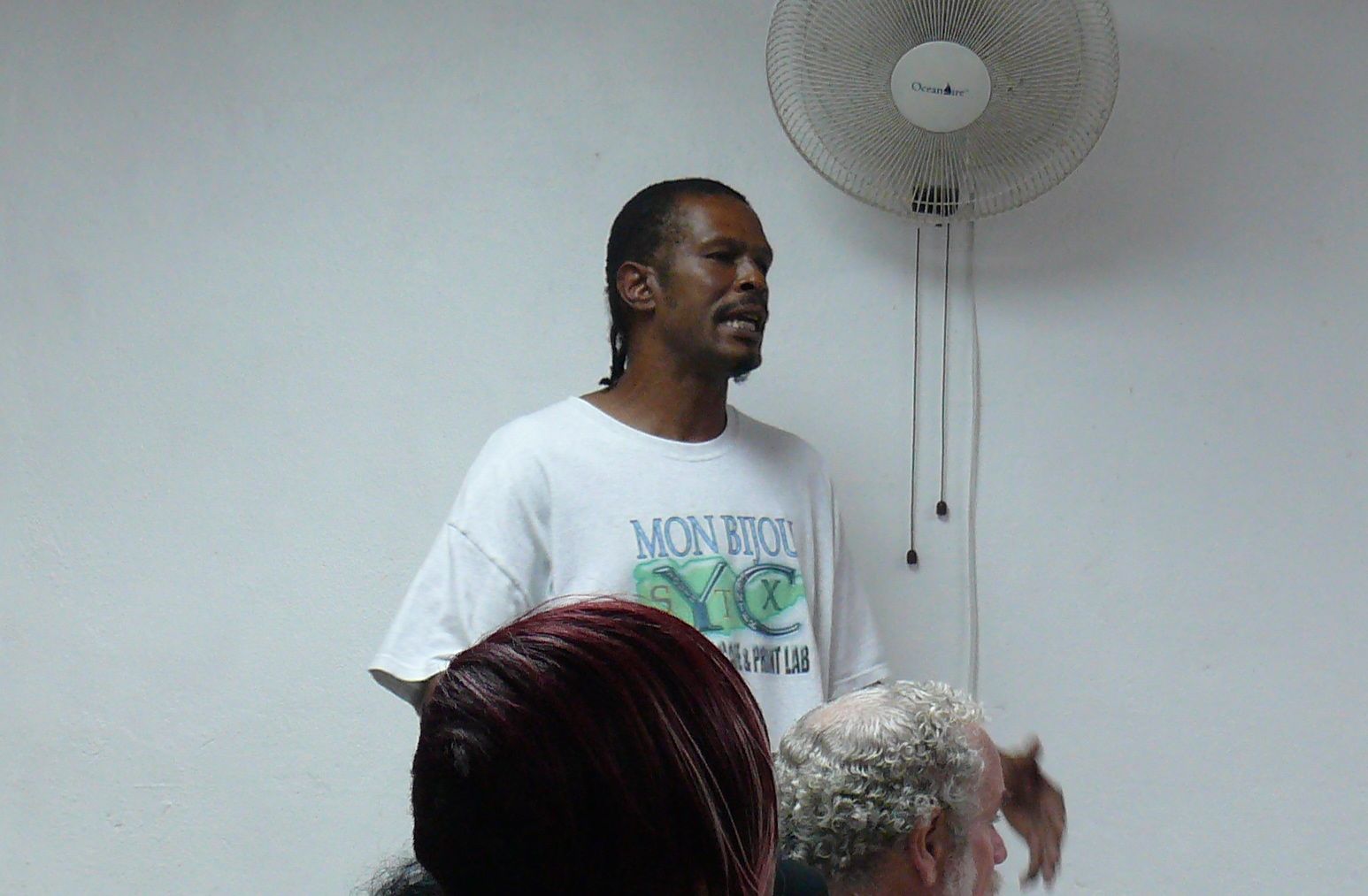 With major sewer repair work starting next week, Mon Bijou homeowners urged Waste Management Authority officials Wednesday to get abandoned cars off the neighborhood streets—for everyone's sake.
During the town meeting at the Mon Bijou Community Center, engineers from the authority and Public Works met with about a dozen homeowners about the upcoming work. Also on hand were WMA Executive Director May Adams Cornwall, and WMA Board Chairman and St. Croix Administrator Dodson James.
Samuel Jonas, a Mon Bijou resident since 1976, said he has been trying to get abandoned cars hauled away for several years, to no avail.
"Everyone is trying to upgrade their properties, and these cars keep coming up," said Jonas. "All these vehicles, some of them on blocks, is absolutely ridiculous to me," he said.
In 2005 the government hauled away many of the abandoned vehicles, but they just accumulated again, he said.
Mon Bijou Homeowners Association President Craig Lloyd said he was asked some time back to notify residents that crews were coming to first mark the cars, then haul them away; but very little happened, making it harder for him to return with the same message and be taken seriously.
WMA Chief Engineer Jim Grum said cars would have to be hauled away to clear the way for the road and sewer work to come. James and Lloyd talked about ways to ensure people did not remove tags or markers showing which cars were slated for hauling.
"We are just as frustrated as you are," James said. "Now, we are hoping to do everything in tandem." Craig asked how long it should take from when the cars are tagged and they are removed.
"It should be removed right away, within 48 hours," James said.
Homeowner Agnes Isaac said her sewer regularly backed up and partly flooded her property, leaving an unwholesome sewer smell and asked if the work would relieve her difficulty.
"They even replaced the cast iron pipe with PVC, but it still backed up," Isaac said.
WMA Staff Engineer Lyan Rivera said the slope of the line running by Isaac's house was incorrect, forcing the sewage to flow uphill to the pump station; a major design flaw that was not corrected when the PVC pipe was installed.
"We have to look at the elevations on your property and, depending on the location of the manhole, we will design it so it doesn't back up at your house anymore," said Rivera.
Sen. Sammuel Sanes came to the meeting and raised a question about the time the work might take. He pointed out that GEC, the contractor awarded the work, also had contracts for work in Anna's Hope and for major work in Williams Delight.
"Do they have the manpower and equipment to really do this now, or do we have to wait for them to finish their other projects or hire new manpower?
Grum said GEC had assured him they were ready to start. "They gave us their manpower list along with their bid, and they do appear to be able," he said.
Many residents took the opportunity to speak with the St. Croix Administrator and other government officials to raise an array of other concerns and infrastructure needs of the neighborhood—from fixing up and adding an entrance to the neighborhood's park to fencing off some empty fields to discourage dumping.
The work scheduled to start Monday will include the Mon Bijou "Y" from the southern intersection of Genip Drive by Soursop Lane, heading north to WMA's nearby pump station. It also includes all of Cashew Drive to the intersection of Genip Drive.
WMA plans to replace and install about 1,250 feet of eight-inch diameter sewer pipe, build or repair manholes along the sewer route, and repave and repair roads and sidewalks disturbed by the work.
The first phase of the work should take about a month, then Public Works will come in to repave the roads that were dug up, officials said.
The second phase of work includes Mon Bijou and Frangipani that runs the perimeter of the nearby ballpark and adjacent gut area, including a portion of Guavaberry Street and Croton Lane. The plan is to replace about 1,185 feet of six-inch iron pipe with eight-inch PVC gravity line along the upper portion of the existing gut along Frangipani, adjacent to the neighborhood park.
WMA's contractor will also install another 566 feet of 4-inch lateral pipes leading to residences, and connect them to the sewer system; replace five manholes and repair several others. That phase will be put out to bid while the first phase is completed. The goal is to wrap up the entire project by around mid-September, according to Grum.
All of the funding comes from the federal government, in the form of a grant through last year's American Recovery and Reinvestment Act stimulus package and a second grant through the U.S. Department of Interior, Adams Cornwall said.