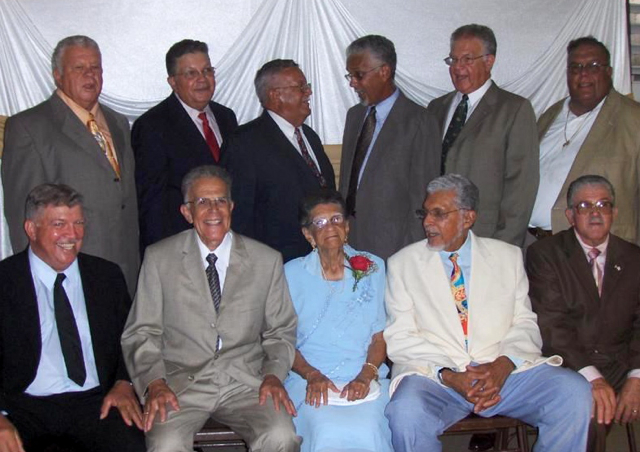 Josephine "Fifine" Marie Richardson's death Feb. 21 at 98 signals the end of an era in Frenchtown, but not the end of the dynasty. The diminutive matriarch's 10 sons and their progeny keep alive the always growing legacy.
In fact, said son Herman Richardson, another great grandchild was born last week, raising that total alone to 46.
Josephine and her husband of 66 years, Gaston "Nell" Richardson, who died in 2001, created one of Frenchtown's oldest, most prolific and most service-oriented families. In the home almost catty-corner from the old Bar Normandie, they raised 10 sons – Herman, Celeste, Marius, Elmo, Allan, William "Woopsie" Leslie, Henry, Raymond "Nookie," Gerald and Stephen.
Without the Richardson clan, the Frenchtown community would be bereft of much of its character, its spirit, and, it's safe to say, a goodly portion of its residents. That is to say nothing of the creation of the Frenchtown Heritage Museum, the annual Bastille celebrations, Christmas tree lighting, New Years fish trap ball drops and more, led by family showman Allan Richardson. Until just a few years ago, Josephine Richardson never missed a celebration.
"And she was the first woman on the island to be Mother of the Year," Herman Richardson said. "That happened twice. I remember she just smiled and said, 'I did my best; God did the rest.""
All 10 sons are here to bid farewell to their mother. They had gathered on her 90th and 95th birthday parties, celebrated at the Frenchtown Community Center, with about 100 family, dignitaries from Gov. John deJongh Jr. and Lt. Gov. Gregory Francis and their wives, Agnes King, widow of the later Gov. Cyril King, and daughter Lillia, and what was determined to be "at least 100 Richardsons.
The morning after her 90th, Richardson said, "I really danced last night, you know. They just passed me from one to the other, and I got out and shook it with all of them."
Tributes to Richardson are pouring in.
In a statement, deJongh called Richardson, "A true matriarch in every sense of the word. She instilled firm values and religious beliefs within her family. Raised by such an extraordinary woman, it is no wonder that her sons are some of our community's most respected citizens and some of my closest friends.
"Mrs. Richardson was a master of 'making do.' since family resources were limited. She insisted that her sons attend Sts. Peter and Paul Cathedral School and receive a proper Catholic education, and she handmade their uniforms of white shirts and blue pants. She raised her sons with a firm but loving hand, and emphasized responsible behavior, hard work and steadfastness.
"Her husband Nel had served in the U.S. Army during World War II and seven of the Richardson sons followed in his footsteps and joined the Army. Five of them served during the Vietnam War, a very stressful time for their mother. Between Nel and his seven sons, the Richardson family has given over 100 years of military service to our country.
"She lived a challenging but loving life, and her legacy will be the remarkable family she created and nurtured,: the governor concluded.
Veteran newsman Lee Carle remembered Richardson this week. Speaking from New York, where he is hospitalized awaiting foot surgery, Carle said, "Mrs. Richardson was not only the mother of so many boys, she was the mother of Frenchtown. The Richardsons have made a big footprint in French heritage and in the Frenchtown culture."
Other condolences came from Congresswoman Donna Christiansen, the Frenchtown Community Organization, of which the Richardson familywaspart and parcel for the last 40 or so years; the Committee for the Betterment of Carenage, the Frenchtown Community Center, and more – hailing Josephine and Nel Richardson as "icons of the French community," extolling Josephine Richardson's spirit, praising her strength and compassion in raising her 10 sons with "an iron fist."
The warm and welcoming Richardson household held forth this week with all the sons and their families – some coming from as far away as Hawaii – sharing memories and welcoming the almost constant line of friends and neighbors at the back gate, while putting their grief in their back pockets to mind the task at hand; creating a fitting tribute to their mother.
Speaking for all 10 brothers, Raymond "Nookie" Richardson said, "We have five to hug five."
A viewing will be held from 5 to 7 p.m. Tuesday, March 1, at the Davis Funeral Home Chapel. A funeral service will take place at 10 a.m. March 2, at St. Anne's Church, preceded by a 9 a.m. viewing, and followed by interment at Western Cemetery No. 2.