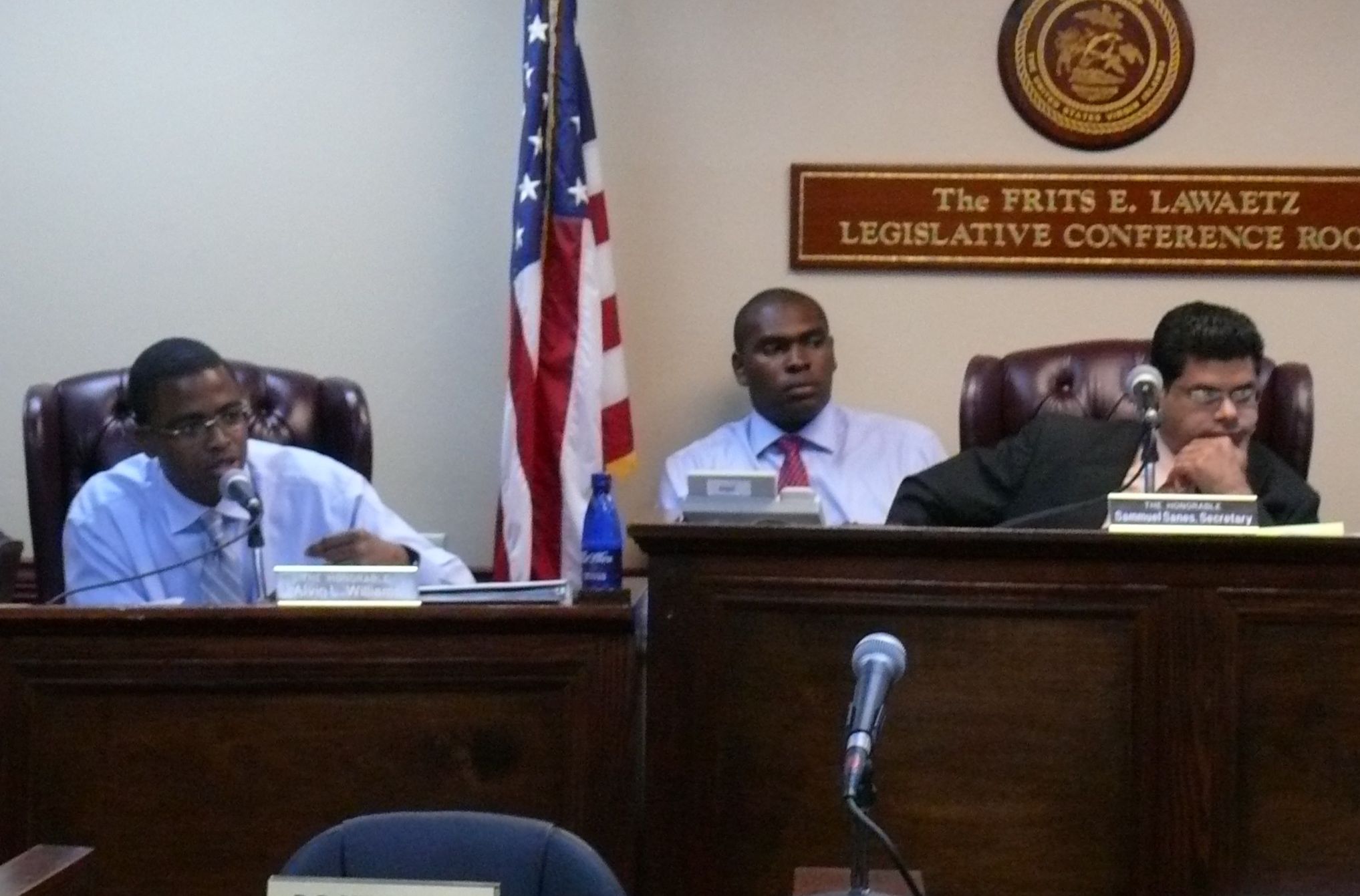 Law enforcement, Education and Human Services heads praised a bill to create new penalties and felony status for gang crimes, but raised constitutional questions and concerns about treating juveniles as adults, prompting the committee to hold it for amendment Monday.
Proposed by Sen. Sammuel Sanes, the bill: the V.I. Criminal Street Gang Prevention Act, broadly criminalizes gang activity. The bill would make it unlawful for a gang member to engage in a crime committed to benefit a street gang, setting a penalty of up to 10 years and $100,000 in fines. It also would criminalize joining a gang or become a gang "associate," to start, finance, run or recruit for a gang.
All of these are listed as felonies in the draft of the bill. Many crimes, from arson to people trafficking, are subject to an extra one to three years in prison at the discretion of the court.
The bill also would require the V.I. Police Department to set up a gang violence unit, work with Education to develop gang prevention programs and direct the V.I. Department of Justice to establish a street gang database. To pay for it, the bill creates a fund, which the Legislature would fill with periodic appropriations.
Human Services Commissioner Chris Finch said the bill was unclear on whether the same penalties – and felony status – applied to juveniles as to adults.
"For many of the penalties to be enacted, a minor would have to be tried and convicted as an adult," Finch said. But V.I. law already lists all the reasons a minor can be tried as an adult, so the bill would need to take those existing laws into account, he said.
Finch suggested a separate section with separate penalties for minors.
The schools could really benefit from police help with anti-gang initiatives, said Education Commissioner LaVerne Terry, before she partly echoed Finch's concerns about making wayward juveniles into felons, saying being exposed to the criminal justice system at ages as young as 10 or 11 would "likely do them far more harm than good."
"I am not suggesting that there should not be consequences for those, even the youngest, who participate in or commit heinous acts," Terry said. "However, we must also understand the lifetime implications of convicting a juvenile of a felony."
While also supporting the overall thrust of the bill, Attorney General Vincent Frazer too raised concerns over treating juveniles and adults the same. He also suggested provisions criminalizing gang membership may run afoul of the constitutionally protected right to freedom of assembly and may also be challenged on grounds of vagueness when cases come to trial.
Sanes asked Frazer to submit some alternative text to address his legal concerns, saying the purpose of hearings was to get this sort of feedback in order to craft a better bill.
"We will put forward several amendments, and I will make sure the attorney general's suggestions are seriously discussed," Sanes said.
Currently, the V.I. Government projects a 2011 budget shortfall of over $75 million, and Gov. John deJongh Jr. recently sent the Legislature a package of austerity measures, calling into question the immediate availability of funding for the bill.
After the hearing, Sanes, who chairs the committee, said one possible source for short-term funding might be some $258,000 in asset forfeiture funds the Police Department recently received from the U.S. Department of Justice. The money comes from proceeds from the sale of property seized by the U.S. Drug Enforcement Administration with VIPD help, according to the VIPD.
The committee voted to hold the bill in committee for amendment. Voting yea were Sanes, Sens. Alvin Williams, Celestino White, Usie Richards, Nereida "Nellie" O'Reilly and Ronald Russell. Sen. Carlton "Ital" Dowe was absent for the vote, but was present earlier in the hearing.