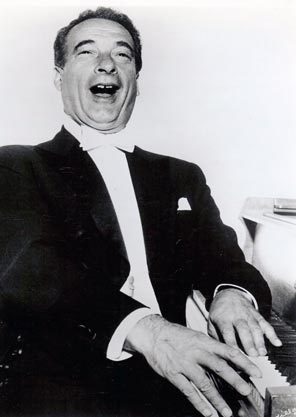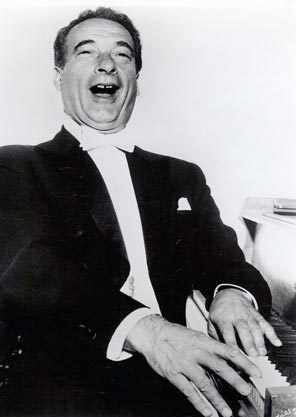 A touring exhibition on famed Danish-American entertainer and concert pianist Victor Borge opens Saturday at Christiansted's Top Hat Gallery, a few blocks from where the Borges had a winter residence for three decades.
The exhibit, entitled "A Smile is the Shortest Distance…" was created in cooperation with the Borge family, following his death in 2000, and by the Danish Immigrant Museum in Elk Horn, Iowa, to commemorate his hundredth birthday in 2009.
The show has been on display from New York to Seattle and is now being brought to St. Croix by the St. Croix Friends of Denmark Society to be shown in Christiansted, where Borge and his family had a winter residence from 1961 to 1989 at the Bjerget House on 56 Hill Street.
Danish-born St. Croix resident Nina York arranged to bring the exhibit here, where it will be joined with personal mementos from local residents reflecting moments and connections from Borge's long connection to St. Croix.
Also added to the exhibit of 13 panels of photos and text are video clips of Borge's world-famous performances. Borge's former personal assistant James Colias contributed a number of display items—photographs, letters, newspaper clippings, etc.—relating to Borge's life on St. Croix, too.
"I remember very fondly walking by his house on Queen Street and hearing the music, the tones coming from his house as he was practicing," York recalled Tuesday in a phone call. "He combined a great talent in classical music with an incredible sense of humor. … Nobody has mastered that combination to the extent he did."
The kindness of Bent and Hanne Rasmussen of Top Hat, who knew Borge and whose former restaurant often saw the Borges' presence, made the reception possible.
Upon his passing in 2000, the Source noted his show, "Comedy in Music," ran for 849 performances at the Golden Theater on Broadway in the 1950s, a record for a one-man engagement. Once called the funniest man in the world, he blended sight gags, ad libs and fond satire of serious music to amuse and charm his audiences.

Borge and his wife, Sanna, worked to help the St. Croix community during their time on the island. They helped found St. Croix Country Day School and set up college scholarships. A 1979 concert by Borge at the Island Center raised thousands of dollars for the St. Croix Boys Club, the Source reported in 2000.
The exhibition will start with an opening reception from 5 to 7 p.m. March 5, at the Top Hat Gallery on Company Street in Christiansted. After the opening, hours will be 4 to 6 p.m. on March 9, 10, and 11; 1 to 4 p.m. on March 12; and 5 to 8 p.m. for the March 17 Art Walk. On March 18, the exhibit will be moved to the exhibit room at Estate Whim Plantation Museum, where it will remain until April 1.
For additional information, call 718-7017.
Admission is free, although donations to the Friends of Denmark Society are appreciated.