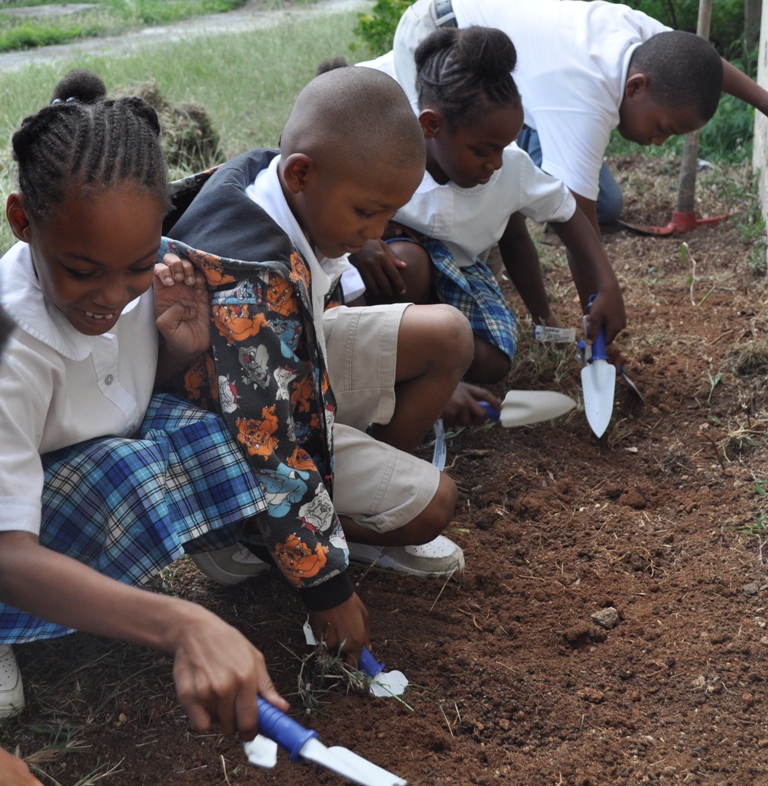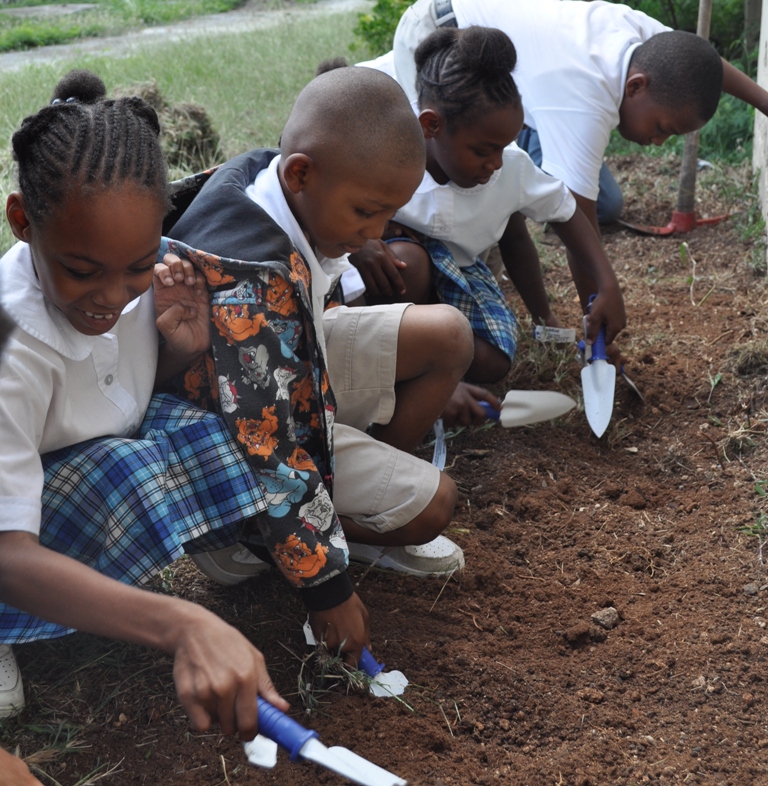 Squeals of jubilation rang throughout the halls of Claude O. Markoe Elementary School in Frederiksted on Wednesday morning as children began breaking ground for a brand new garden for K–3 students.
The garden is a partnership between the school's administration and Ridge to Reef Farm and CHANT (Crucian Heritage and Nature Tourism).
Rosedanie Cadet and Dey Hernandez, who attended the Ridge to Reef Beneficial Farmer Training course at the V.I. Sustainable Farm Institute (VISFI), got together with advisors and came up with the plan for the garden.
Cadet, who resides in Washington State, plans to take her newly learned skills to her hometown in Haiti, where she hopes to improve the lives of people affected by the earthquake. Hernandez, who lives in Puerto Rico and is an architect, wants to use her skills for sustainable land use design.
According to Cadet, the garden will help students with reading and arithmetic. For example, students must be able to do measurements for the planting boxes and will need to be able to read the seed packets to complete the work.
"They will be able to see the process [of growing a garden of food] from start to finish," she said.
The students raised their hands in excitement when asked by Cadet what their favorite fruits were. One student loved bananas, another jumped up for apples, and one wanted to know if it was possible to grow strawberries at the school (unfortunately it isn't).
Cadet and Hernandez then gathered in a group with VISFI volunteer farmers and four student mentors, who were in older grades. They divided the group up to manage and maintain four stations: Seeding, Art/Visioning, Labor, and Storytelling. Then students were divided into groups of 10 and allowed 15 minutes at each station.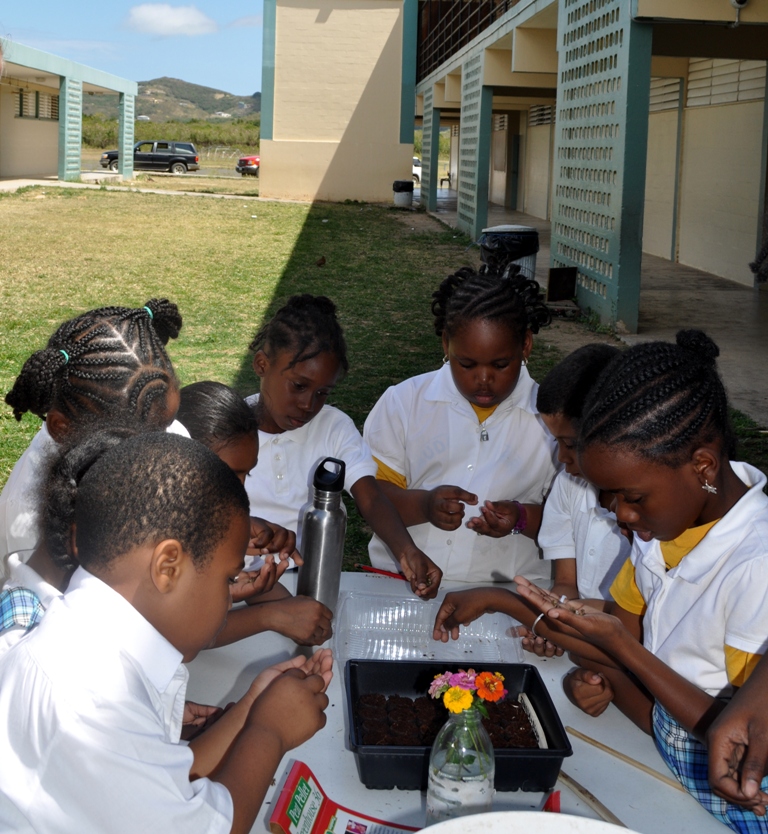 The students seemed to be enthralled with lessons at each station. At the seeding station, a group gathered around VISFI volunteers Liz Canal and Jessica Ewer to learn about planting seeds. Fifth-grade mentor Jahnyra smiled as she helped kids plant flower snap bean seeds.
At the storytelling station, volunteer Steven Snowbear set up shop with student mentor Jahzion to show youngsters about storytelling with the art of music by using a Djembe – a West African-style drum.
Student mentor Jaylon, who has a garden at his house, helped at the labor station, where kids raked, tilled soil, and then sprinkled top soil on top of the bed to plant Malabar Spinach.
"Gardens are important because they give us food; me and my stepfather plant fruits and vegetables for the whole family," Jaylon said.
Kids busied themselves at the art station, where they used their talents to draw flowers, plants, and other gardening items on a huge white sheet of paper taped to the wall. Fourth-grade mentor Israel said he was there because he loved planting and he wanted to help nature.
Assistant Principal Faith George was happy to be given the opportunity to do the garden.
"This will help incorporate reading, so our scores can continue to improve, while also teaching students about maintaining a healthy lifestyle," she said.
Nate Olive, program director and owner of Ridge to Reef Farm, runs the training program that Cadet and Hernandez participated in and was pleased that they chose the school as their project. The course is a two-month residential program that teaches students ways to live holistically and with sustainable agriculture.
"It's important that we are stewards to our environment, and we teach hands-on skills to students who seek to create productive agriculture and community systems," Olive said.
For more information visit Ridge to Reef Farm at VISFI, visit, http://www.visfi.org/programs/ridge-to-reef/, or contact CHANT at 340-719-5455.