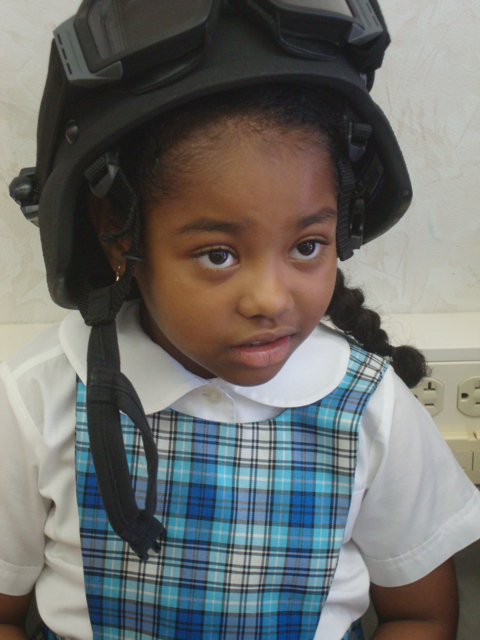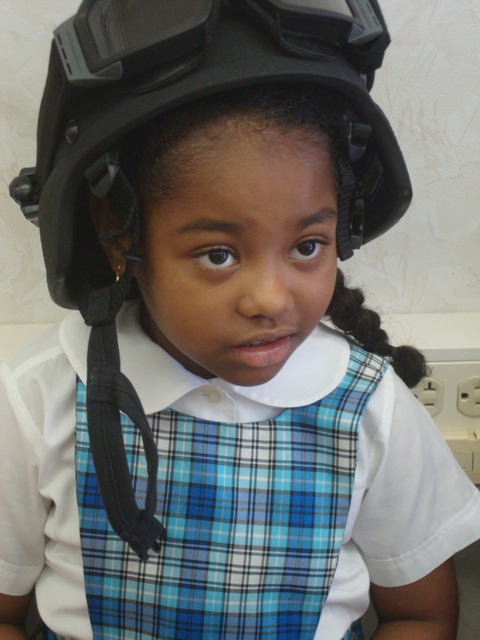 Ten little faces at Claude O. Markoe Elementary looked up at the imposing police figures standing above them. One of the officers asked, "What should you do if you see a gun?"
The first-graders looked thoughtful. They had heard this but couldn't quite recall. Then one hand shot in the air, and the policewoman called on him.
"Stop, drop and roll?" he said hopefully.
Just like that, the surrounding police officers busted up laughing.
And that was part of why the V.I. Police Department's Special Operations Bureau had brought its new mobile unit to visit the students at Markoe Elementary Wednesday morning. They were there to show that they are just regular people.
"We're just like your mom and dad or your teacher," St. Croix Police Chief Christopher Howell told the kids. "We're normal people."
The correct answer to the gun question, as the kids were reminded, is that if they see a gun they should: Stop – Do Not Touch It! – Run – and Tell a Responsible Adult.
And they got the message. A half-hour later, when a visitor to their classroom quizzed them, first-grade teacher Xiomara H. Aquino's class eagerly rattled off the answer. And they were enthralled by a lot more, like the bulletproof vests that two of the kids got to put on, and the helmet that protects a policeman's head, and the bulletproof shields. Oh, they all wanted to talk about the shields.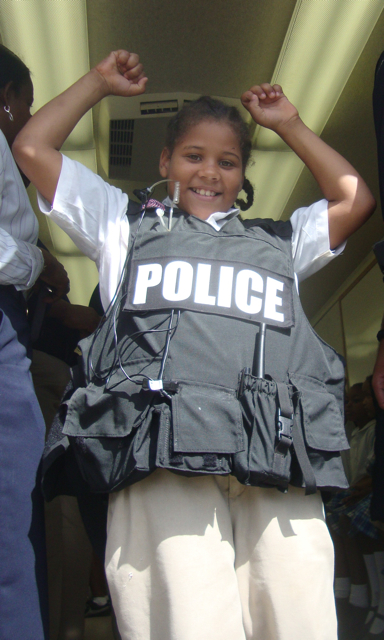 But maybe their favorite piece of equipment they saw in the police vehicle was the red box.
"If you're dead they can put the wires from the box on you and make you alive again!" one boy said.
Actually, that was pretty much right on. The box was a portable defibrillator, part of the equipment in the 40-foot mobile center the police department took possession of last week.
The 40-foot vehicle will be used mainly to hold suspects who have been detained or arrested during saturated patrols. According to Howell, using the vehicle to hold suspects is more efficient. Without it, officers need to be taken off patrol for an hour or more to book suspects.
At last week's unveiling, Police Commissioner Novelle E. Francis Jr. said the unit will also be used to strengthen community relations by going into communities, schools, and be present at special events. Hence Wednesday's visit to Markoe. And more visits are planned, to other schools and public events, Howell said.
Too often, children only see police in adverse circumstances, when there's an accident, or a crime, or when an officer has to come to a home in an official capacity, the chief said Wednesday between escorting group of children through the vehicle.
"This let's them see police officers in a positive light," he said.
By the time the officers closed up the vehicle and drove it away, about 70 children—first- and second-graders, in groups of about 10—had climbed aboard for the tour. As they were lifted down from the back, each clutched a juice box and a small notebook and pen they had been given by the police.