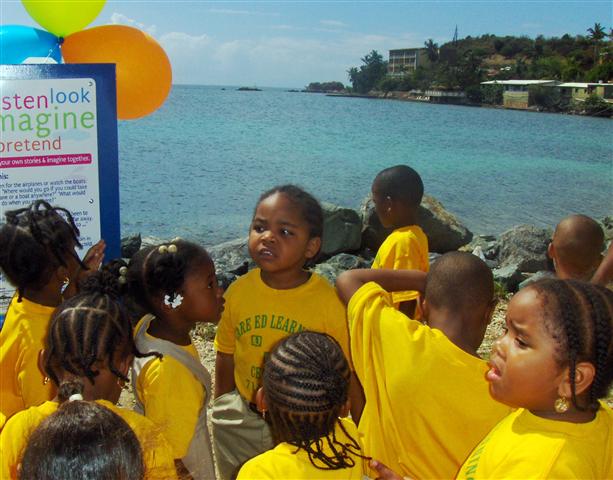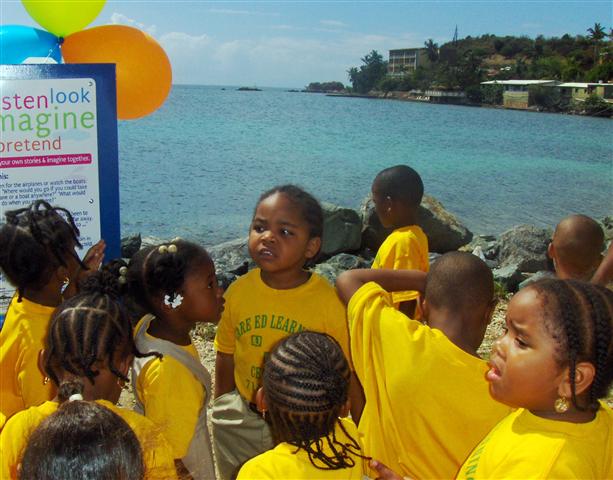 About 20 preschoolers waddled like an iguana, swam like a fish, and flapped their wings like a pelican following instructions on the beginning sign on the Born Learning Trail at Lindbergh Bay Park and Water Playground this week.
The children were taking the first steps on what Ellie Hirsh, executive director of the Family Connection, hopes will awaken their curiosity, and, equally important, that of their families. The excited youngsters were jumping up anxious to be the first to explore the trail. Hirsh had the 3 to 5-year-olds will in hand.
She is a pro. "Now, you've seen how iguanas walk," she said, squatting down to imitate an iguana walk. "They crawl, now you can do that."
With that encouragement, the Care Ed Learning preschoolers squatted down, waddling and laughing. "Look, I'm a pelican," said one youngster, who thought flapping his wings was more fun than squatting like the lowly iguana.
Hirsh said, "Sometimes parents don't really know what to talk about with their children. This experience offers them an opportunity to communicate, be creative, to learn about nature along with the children."
The goal of the Family Connection is to strengthen community child care and early education infrastructure by building awareness of the importance of early learning and development.
The trail was given a proper and festive opening with a ribbon-cutting ceremony overseen by Josephine and Chester Hodge of the Nigel Hodge Foundation, which sponsored the trail, and Ricardo J. Charaf, chairman of the Community Foundation of the Virgin Islands (CFVI), while the youngsters looked on politely. Their eyes were all geared to a table of treats they had spotted at the ceremony where Hirsh, Josephine Hodge and CFVI Board President Dee Baecher-Brown spoke about the initiative.
The trail is part of Born Learning, a national campaign designed to help parents, care givers and other community members create early learning opportunities for young children. The trails use outdoor learning and interactive games to build everything from literacy to early math skills that prepare children for school.
Lindbergh is the third in the series of trails, with others at Magens Bay (sponsored by Standard Pacific Capital Holdings) and at Winston Raymo Recreation Center & Playground (sponsored by Foresters).
The signs along the way suggest opportunities for parents and care givers to have fun with the youngsters. At first, they might sound silly – "See, Say, Point" – for instance, until you see how the youngsters react, pointing to all sorts of things. "Do you see an airplane in the sky?" asks Hirsh.
Nothing doing. The children, by this time fully into the project and oblivious to Hirsh's query, are pointing at two colorful jets skis anchored nearby.
Other signs encourage the children to "Talk, Listen, Sing – listen to the birds." The sign continues, "Ask, 'What are they singing? Can you sing like them?"
"The best thing you can spend on your child is your time," is the working philosophy the Family Connection, backed by scientific studies, which prove that a child's experiences from birth to 5, lay the foundation for all future learning.
Another endeavor of the Family Connection is the Virtues Project, an international initiative focused on building peaceful and caring communities aligned to 52 virtues – running the alphabet from assertiveness to unity.
The goal of the project is to practice these virtues in your daily life, so your child will learn to practice them, too. (The Source supports the project, publishing one each week, providing a prominent place for these ideals to be seen and hopefully discussed and, more importantly, lived.)
This week's virtue is Truthfulness: "Being honest in your words and actions. You don't tell lies even to defend yourself. Don't listen to gossip or prejudice. See the truth for yourself. Don't try to be more than you are to impress others. Be yourself, your true self." See link for more info.
Established in 1990 with a $540,000 endowment from Henry and Charlotte Kimelman, CFVI today has more than $7 million in assets and provides more than $1.7 million in annual grants, awards and scholarships across St. Croix, St. Thomas, St. John and Water Island.
CFVI manages more than 100 named funds, administers scholarships and award programs, and coordinates the establishment of memorial funds. Donors can make contributions—indicating a general field of interest (the arts, education, early child care, the environment)—or direct the foundation's board to use its judgment for awarding the funds.
For additional information about CFVI, phone 774-6031; or write P.O. Box 11790, St. Thomas, VI, 00801; or visit the website at www.cfvi.net.