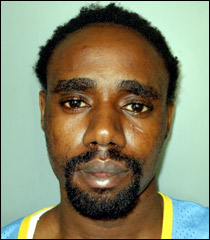 On the stand Tuesday, one eyewitness identified accused double murderer Neville Potter Jr. as the man who killed Marvis Chamaro and a second testified that he saw Potter running with a gun seconds after next-door neighbor Jack Diehl was gunned down, in the first day of Potter's murder trial in V.I. Superior Court.
But defense attorney Leslie Payton pushed back hard, pointing out incongruities in witnesses' testimony about Potter's facial hair and whether the car was black or dark blue.
Potter, 32, was arrested Feb. 13, 2009 and charged for the Feb. 8, 2009 murders of Chamaro and Diehl.
While no evidence for any motive was presented, Assistant Attorney General Claude Walker suggested Chamaro and Kyle Gumbs, a lifelong friend of Chamaro, may have been targeted simply because they lived in Contant while Potter lived in Kirwan Terrace and the two are "rival areas, unfortunately."
Gumbs testified the two were sitting in Chamaro's car in Mandahl by an abandoned restaurant rolling a joint when "a blue Camry" pulled up.
Two people were in the vehicle, Gumbs said, with Potter in the driver's seat. The person in the passenger seat had a hat pulled over his or her face, he said during questioning by Walker.
According to Gumbs' testimony, Potter shouted from inside the car for Chamaro and Gumbs to get out of the car. Then Potter got out of the car holding a "machine gun" that "had a long clip," he said.
"I put up my hands and said there's no need for all of this," Gumbs said. "I thought it was a robbery."
Right after that, the shots started, he said. Chamaro and Gumbs started to run down the hill through thick acacia and other brush, with Potter chasing and shooting.
"I could hear the bullets go past my head," he said. Gumbs fell and when he got up, he and Chamaro ran in different directions.
Gumbs slashed his upper thigh while sliding down the hill and was scratched up by acacia and other thorns, but was otherwise unhurt. He ran to the first house he could find and banged on the door.
Soon after the shooting, Gumbs gave a statement to police, saying the shooter wore three-quarter length jean shorts and a black shirt and had short dreadlocks He was looking through photo books of criminals when police presented him with an array of six photos of similar looking individuals with short dreadlocks, one of whom was Potter.
On the stand Gumbs said he recognized Potter immediately and signed and dated the picture. Gumbs also directly identified Potter as the shooter, face to face in court on Monday.
A short way down the road the day of the murders, Jack Diehl and his family were at their home in Mandahl, down a long cul de sac from the scene of Chamaro's murder.
Jack Diehl's son, Cullen, testified his family heard what sounded like gunshots.
"My father came out of the other room and said he was going down to check on it and told us to stay home," Cullen testified.
A few minutes later, there was noise by the house and Cullen saw two men run by—one in a black shirt and dreadlocks—but he did not get a good look at the face, he said. Cullen heard a second round of gunshots and moments later was told his father had been shot.
Neighbor James John was at home right behind the Diehl's residence. He testified he saw some of the activity through a bathroom window, including a good look at Potter's face.
"He slipped going up the hill and put his left hand down to catch himself. That's when I saw he had a gun in his right hand," said John. When he slipped, Potter turned his way, letting him get a good look at his face, said John.
When police arrived, John was shown a number of pictures, including the same array of six photos of somewhat similar black men, with short dreadlocks that Gumbs saw. John recognized Potter's photo, signing and dating it that same night, just as Gumbs did. John, too, pointed out Potter in court as the man he saw.
Cross-examining Gumbs and John, Payton pointed out that neither mentioned facial hair in their original statements to police, yet Potter has a goatee in the photo Gumbs and John each separately identified as the shooter in 2009.
"You never told (the detectives) about a goatee, correct?" Payton asked Gumbs. Gumbs said he did not remember saying anything about a goatee, saying he focused more on the clothing. To similar questions, John said he thought he had mentioned the goatee to police and they may not have written it down. He said the police statement was accurate as far as it went but did not include every detail.
Payton also noted that all the descriptions of the vehicle say it was dark blue, while the vehicle police say Potter drove is actually black.
Nicole Potter, sister to the accused, took the stand. She testified she lent Neville her black 2007 Toyota Corolla that day—but after the murders, around 3 p.m.
Walker then had her read aloud a passage from her original police report from Feb. 13, 2009, in which she is quoted saying her brother had the car from around 1 to 3 p.m. on the day of the murders.
"That was not the time I told the officers," she protested.
Walker then asked her if it was her signature at the bottom of the page, beneath a passage saying the account above was a true and accurate representation of her statement. Several times she said it "looks like my signature," until Judge Brenda Hollar instructed her to answer that it was or was not her own signature, at which point she quietly said it was in fact her signature.
Potter is charged with two counts of first-degree murder, which each carry potential sentences of life without parole. He is also charged with two counts of second-degree murder and an array of assault and weapons charges.
Testimony continues Wednesday.