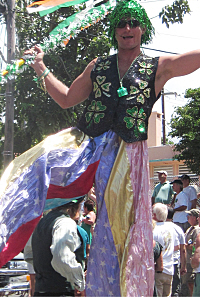 Just a shade under 15 minutes long, St. John's wee St. Patrick's Day parade is a must-do on the lists of many visitors, and Saturday's event was no different. Several of those in the crowd said they planned their vacation around it or made a big effort to get to Cruz Bay in time for the parade.
"We said if we could hitch a ride, we'd go," Bonnie Nuendel of Eastham, Mass., said.
She and her husband, Don Nuendel, got a lift from Cinnamon Bay Campground. Nuendel said they tried to do the same during a previous trip to St. John, but didn't make it to Cruz Bay until after the parade was over.
Wayne King of Sioux Falls, S.D., visited St. John in April 2010. He said he heard so much about the parade, he made sure his visit this year coincided with the parade.
Ron Coffman of Clear Lake, Iowa, was hanging out at Woody's Seafood Saloon with a handful of friends, most of them wearing green.
"I like to see all the people getting dressed up. I've never been to a parade quite like it," Coffman said.
This being St. John, where strangers are quick to exchange their life stories, Coffman went on to explain that his home town was where musicians Buddy Holly, the Big Bopper, and Ritchie Valens died in a plane crash on Feb. 3, 1959. Many Americans of a certain age will remember that date as the "day the music died," as singer-songwriter Don McLean so eloquently put it in the song "American Pie."
St. John residents were also on hand to watch the handful of participants make their way from near the roundabout to the intersection by First Bank. A few cars and trucks with people wearing green carried groups from the Quiet Mon Pub, which sponsors the parade, parade marshal Bannon Beaty and his family, and an ad hoc collection of residents who called themselves Island Hoopla. They had several participants twirling hoola hoops.
With the Middle Age Majorettes twirling, and a slew of kids bouncing basketballs from Just Play Day along with a fire truck, St. John Rescue truck and a police car rounded out the parade.
And this being the Caribbean, there was mocko jumbie Casey Craig of St. John. Although he towered over the crowd on his stilts, his costume looked more Ireland than West Indian as his vest sported sequined shamrocks.
Part-time resident Barbara Achzet has seen her share of St. John St. Patrick's Day parades. She's a big fan, and came decked out in a green t-shirt dated March 15, 1987 — one of the earliest of the numerous St. Patrick's Day parades held in the ensuing decades.
"It's so short, and it's something you've got to experience," she said.