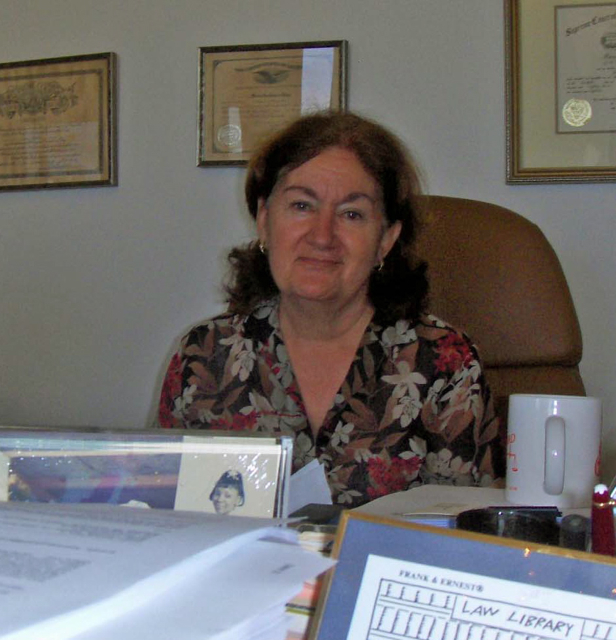 Sitting in the offices of the Honorary Consul of Sweden, U.S. Virgin Islands – aka the law offices of Hodge & Francois, attorney Maria Tankenson Hodge peers over the neat stacks of paper which virtually cover her entire desk like tidy little paper pyramids. Each pile bears a pink note identifying it.
"I know what each pile is," says Hodge, ending any speculation. "Nobody comes in and tries to neaten it up."
She is much more expansive about her designation as honorary consul. Minister Counselor Magnus Ryden of the Foreign Ministry of Sweden presented Hodge with the Commander of the Polar Star medal during an intimate reception Wednesday at her office.
"It is the Swedish king's recognition of the service of people who are not Swedish citizens," Hodge says. "I've been an honorary consul for about 15years." She added, "I was presented the Order of the Polar Star medal by King Carl Gustaf in Sweden in 2003."
Hodge was named to the honorary post on the recommendation of the West Indian Co., a firm she has represented for more than 30 years.
Even as a child, Hodge says she knew where she was headed.
"I remember when I was in elementary school I told my parents I wanted to be a lawyer, and they said, 'You should, you argue so much.'"
Hodge cut a determined road toward her goal. She came from a working-class family in Los Angeles and was the first in her family to attend college. After undergraduate work at the University of California, Los Angeles, she headed to the prestigious UC Berkeley Boalt Hall School of Law, where she graduated in 1971.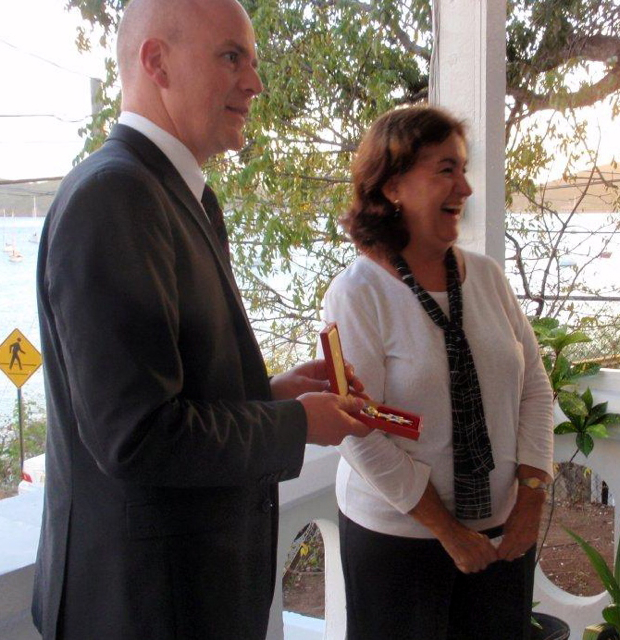 "It was still a fight for women in those days," Hodge says. "My graduating class was only 10 percent women."
Nonetheless, Hodge was editor on the California Law Review. A review colleague who was headed for a federal post in Puerto Rico encouraged Hodge's to apply to a post the Virgin Islands.
Hodge took her up on the idea, and came up with a plum – clerking for District Court Judge Almeric L. Christian. It turned out to be a propitious beginning, the first step in a distinguished 39-year legal career.
Within five years, the 1971 law school graduate had her own law practice, thousands of miles from California, on an island she had barely heard of before.
With Christian, Hodge spent two years receiving another education in integrity, justice and Virgin Islands culture.
Hodge calls her experience working for Christian, the revered judicial icon, "a gift."
"In law school you learn law. With Judge Christian, I learned to find the balance between the rules and justice," she says. "He was a great mentor, a great jurist."
She says with a smile, "My husband, Larry (Hodge) likes to say I first fell in love with the Virgin Islands, then with a Virgin Islander."
After clerking for two years, Hodge left to work as an assistant attorney general in the V.I. Justice Department, before leaving in 1976 to hang out her own shingle. In 1991, Denise Francois joined the firm as a partner. The firm now has five attorneys, including Hodge's son Mark.
Hodge may be best known for her association with the V.I. Public Utilities Commission, first as its attorney for 15 or so years, a post she resigned in 1997 after a dispute with the agency's commissioners regarding Vitelco, (later Innovative Communications,) later representing an individual Innovative ratepayer, Justine Flashman. Hodge was a lone voice speaking out for the ratepayer for years.
"I'm glad I spoke out," she says today.
Another high-water make in Hodge's career was winning a multimillion dollar class-action suit on behalf of 2,950 retired V. I. Government employees against Blue Cross Insurance Company in 2002.
Hodge can be contemplative when considering her life and career, occasionally lawyerly, occasionally showing frank enjoyment in the professional recognition she has received, and again, motherly, when speaking of her two sons.
She recalls with obvious joy a trip the family took in 1992.
"I call it our roots trip," she says. "Larry and I and our two boys, Mark and Matthew spent a month exploring our ethnic backgrounds, from Africa to Portugal, the Azores, and Ireland. We met my Portugese grandfather in the Azores. It was a revelation to the boys; it opened their eyes to where they came from."
Hodge recalls one "thrilling" professional experience: appearing before the U.S. Supreme Court.
"I was a member of the V.I. Committee of Bar Examiners, along with Attorney Joel Holt and Magistrate Judge Geoffrey Barnard. We went to the Washington to defend the right of the V. I. District Court to require attorneys appearing before the court be residents of the Virgin Islands.
"We felt it was important," she says. "This was about 20 years ago. In those days it could take an outside attorney weeks to get here, to get airline reservations. We got a split decision 3-6. We didn't win, but we made our case. That was very important."
Hodge is a member of many prestigious professional organizations including the American Law Institute, American Bar Association (she is a member of its Committee on International Law,) the Association of Trial Lawyers of America and the American Law Institute. But she relishes talking about her 2007 selection to serve on the board of governors of the International Society of Barristers. Only two other Virgin Islands lawyers are members of the prestigious honor society which advocates for excellence in trial litigation. Hodge is the first Virgin Islander to serve on the society's board of governors.
"It has been quite thrilling for me," she says.
Hodge is poised and comfortable as she takes time to reflect in her handsome and historic Danish offices, overlooking Charlotte Amalie harbor.
She and her husband bought the property from the West Indian Company.
"Larry, renovated the whole property. He is a wonderful builder," she says with family pride.