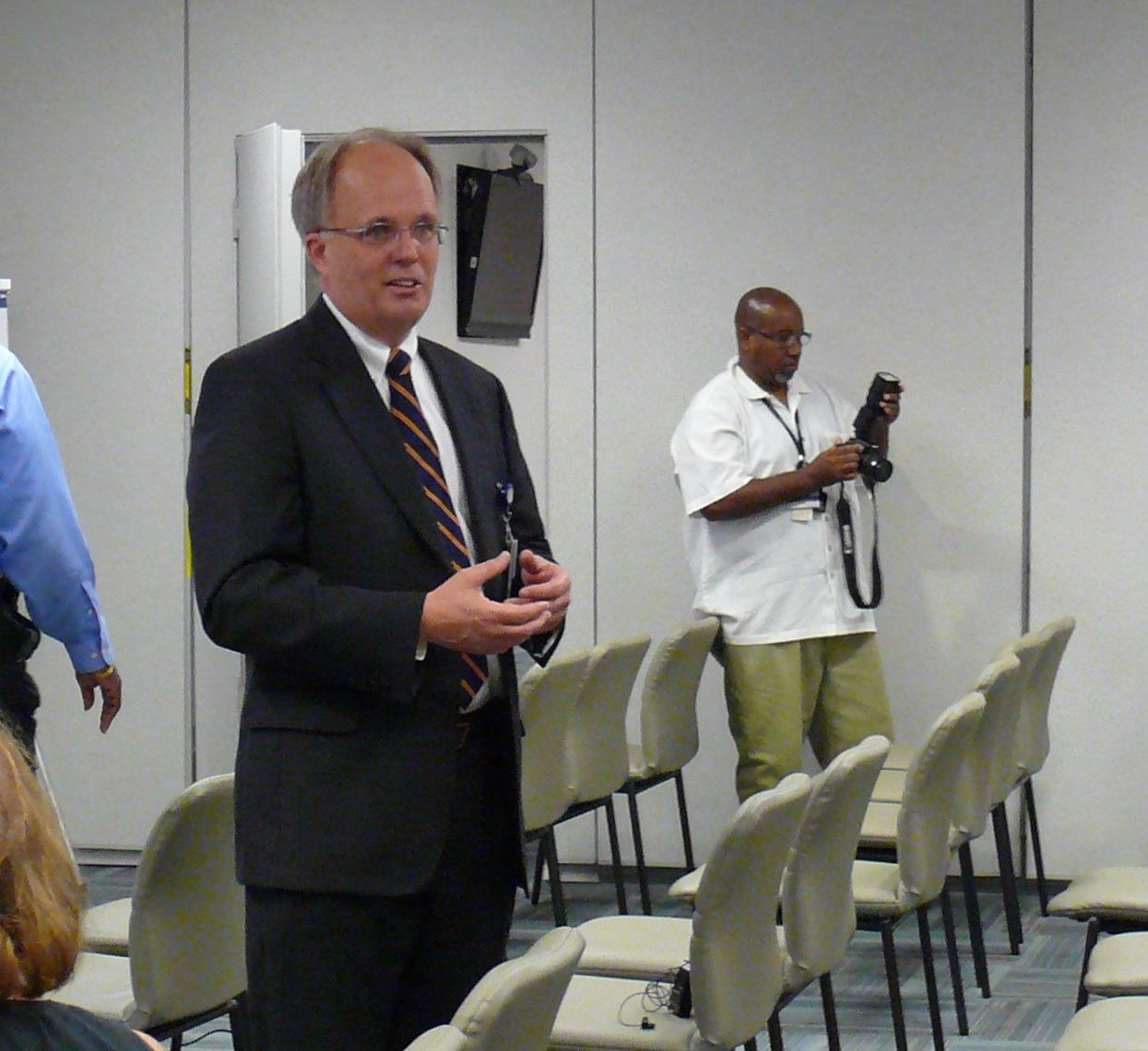 Building trust between Gov. Juan F. Luis Hospital, its patients and vendors, and attracting patients for its expanding menu of state-of-the-art surgical care will be central to the hospital's renaissance, its new chief executive officer Jeff Nelson, told St. Croix residents Tuesday evening.
Nelson, a turnaround specialist with a track record of bringing struggling hospitals to profitability while improving measures of quality care, was hired to head Juan Luis in January.
In recent years, the hospital has been going through financial and certification struggles. Earlier this month, the hospital declared a fiscal emergency, pointing to mounting unpaid bills and a growing divide between incoming revenues and costs. Meanwhile the hospital has been working with the Centers for Medicare and Medicaid Services to correct some procedural and training issues within its kidney dialysis unit.
Tuesday evening Nelson took questions from St. Croix residents, in turn asking them what they want to see in their hospital. But first, Nelson's team showed a glossy, short promotional video, featuring Nelson and the hospital's top physicians and surgeons talking about advanced cardiac procedures being performed, working to attract Virgin Islanders working in the medical field stateside into returning to the territory
"We are listening to the people," Nelson said in the video. "This is the people's hospital. … Our job is not to make ourselves rich, but to make the people healthy."
The goal is to become "the most trusted, patient/family-centered healthcare system in the Caribbean by 2020," Nelson said in the video.
One of the first steps in that direction will be to regain the trust of vendors by working out—and sticking with—epayment plans with the hospital's vendors, Nelson himself said to the crowd in the hospital's V.I. Cardiac Center conference room after the video.
Some residents in the audience were concerned the video might have too rosy a depiction of the hospital's situation.
"The problem of trust is not imaginary," said Bruce Spector, an attorney representing unionized hospital workers, who said he was at the meeting as a private citizen. "It is not because people are distrustful. It is because people have had bad experiences."
A woman who declined to give her name said she just wanted to see the hospital become a solid community hospital, without trying to perform more and more complicated procedures locally.
Sen. Sammuel Sanes, in the audience as a private citizen, said he had the opposite view and would like to see the hospital expand services "so people don't have to leave."
"Many Hispanics, when they need medical care, have traditionally jumped on a plane to Puerto Rico, but more and more are staying here now," Sanes said. His father was one of those who used the local hospital for care in recent years, said Sanes. "My father felt he had great care. The hospital did a wonderful job," he said.
Nelson said there were two routes to bringing costs and revenues in line: one would be to pare back services and the other would be to attract more patients for more complex treatments, bringing in more revenue for the hospital while providing more care.
Meanwhile, there is an array of measures that may save the hospital millions of dollars, helping to move it toward the right path, he said, offering several examples, such as monitoring congestive heart failure patients electronically from home. Checking into the hospital will cost at least $5,000, while the patient can get the same treatment, faster and more conveniently, at only 50 cents a day, he said.
Nelson and Juan Luis Hospital will hold another town meeting 6 p.m. April 4, at Villa Morales Restaurant in Frederiksted.