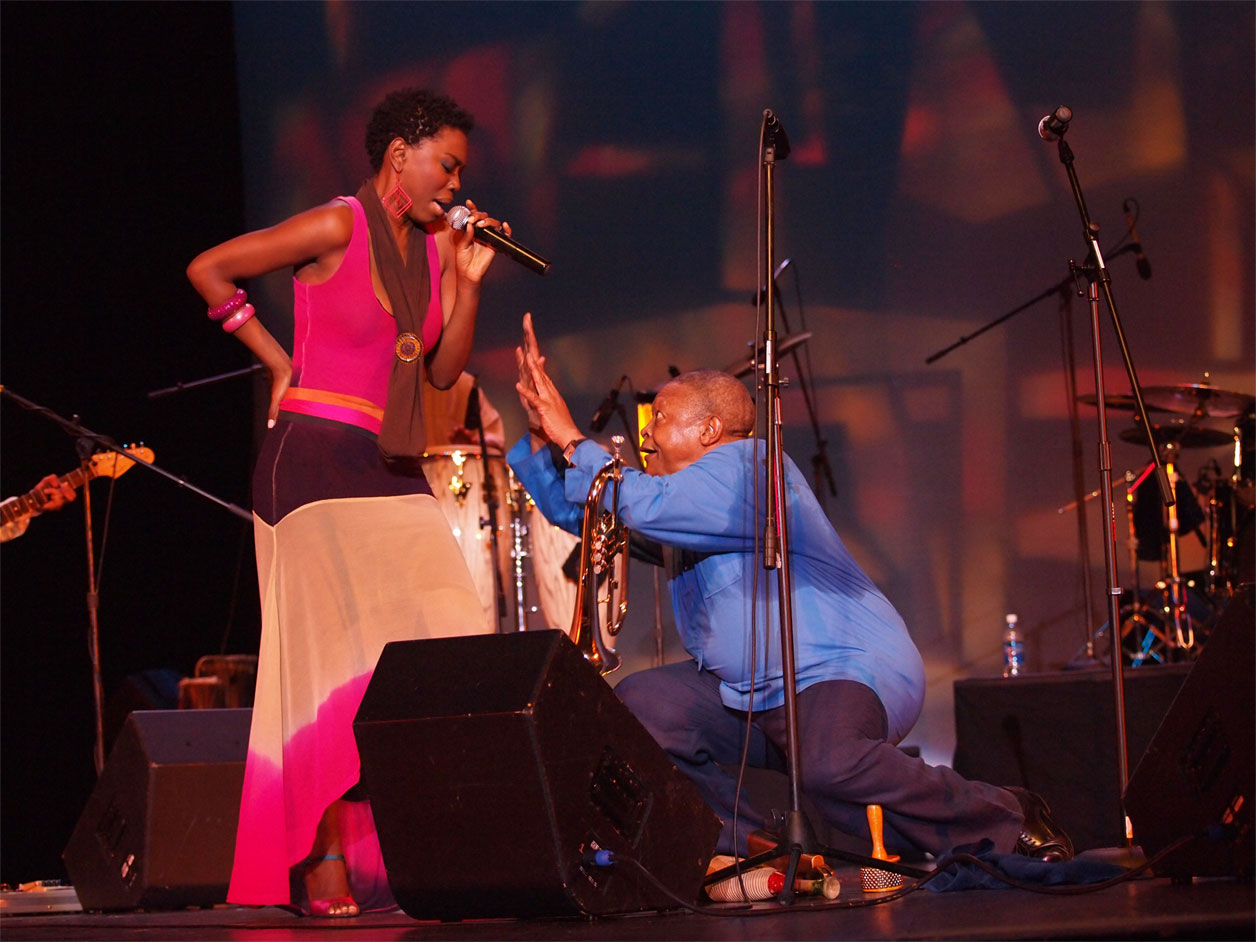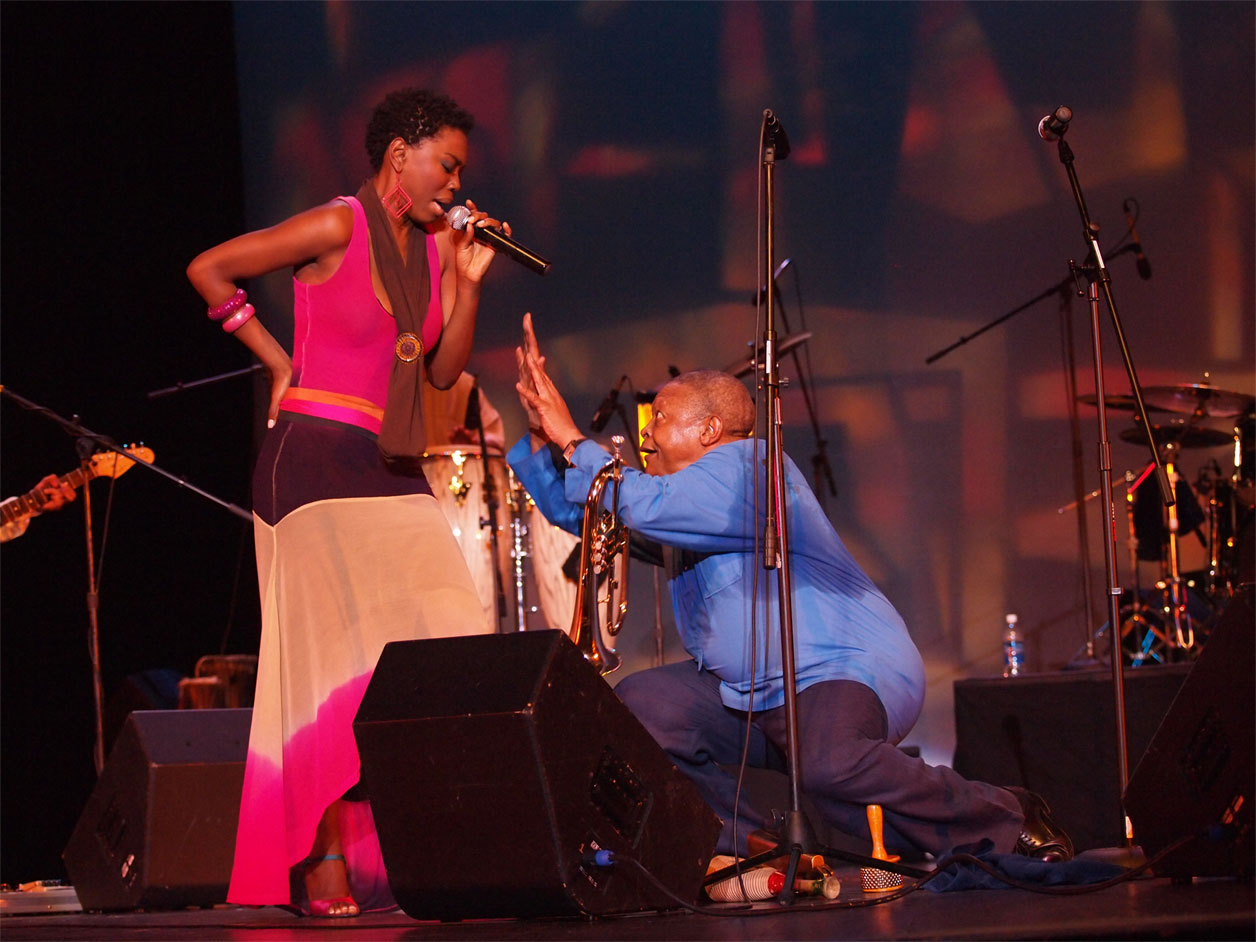 The sun has moved from Pisces to Aries but not before we gathered in honor of my BFF Robert Chen at Casa Carrillo. I got a chance to exercise my culinary skills and had great fun doing so to the enjoyment of my other BFF Raul Carrillo, Felipe Ayala, Robert's aunt Millie Bough, his cousin Mark Chung, Charles Moorhead and my longtime BFF Elba McIntosh, who was in town from the west coast for a stick of fire.
The culmination of a week of birthday celebrating was the awesome concert featuring jazz trumpeter extraordinaire and super entertainer South African Hugh Masekela and his protégé, vocalist Lira. Concert goers got their money's worth at the Reichhold Center performances and then some.
The first notes floated from his trumpet to our ears in what seemed like a series of the warmest of hellos from an old and trusted friend. For years Masekela's "Free Nelson Mandela" was what greeted anyone who called my home phone in New York, North Carolina, and subsequently here in St. Thomas.
That is until Mandela was released from prison. In the ensuing years Masekela has gained some weight and become a well-seasoned senior who remarkably still has his moves. How does he get down so low so smoothly?? His sexy foot and body movements had us all transfixed.
Known as a great horn player, we had forgotten about Masekela's vocals. What was particularly sweet about his performance was his delivery of lyrics that may have been in a foreign tongue but somehow he conveyed their meaning. He held his audience in the palm of his hands all the way through to the end of the encore performance.
His protégé Lira was a strikingly svelte vocalist with a wonderful range but whose songs were more rhythm and repetition than songs with lyrical content. Nonetheless, her time on stage was thoroughly enjoyed by all in attendance. And when she joined Masekela on stage for a duet of the well known classic, "Pata Pata", it was quite special.
Although we overheard several audience members remark about how much they missed the late Miriam Makeba, who was Masekela's former spouse and who will always be associated with this particular song.
Among those enjoying the evening were, Eric and Madonia Blake, Angie Boschulte, Erie Matthias with her husband, Angel, fellow Piscean, Tulip Fleming enjoying a birthday outing with her sister, Tracy Johnson, Sue Herzog, Carla Sarauw with her daughter Janelle, Ron and Angie Belfon, Leonard "Beegs" Bonnelli, with his wife Kim, Lorraine Cranston, Danielle Cole, Julie and Orville Kean, Betty Mahoney, Yvette Finch, Sen. Louis Hill, former Judge Verne Hodge, Louis Hughes, Dee and Richard Brown, Yvette McBean and Ron Nimmo.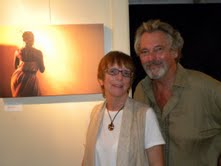 Next up at the Reichhold Center will be more World Music. The April 2nd show will feature reggae headliner Jimmy Cliff, who will be joined by Gramps Morgan. Most will remember Cliff from "The Harder They Come," which was one of the first Caribbean films that received critical acclaim on a wide scale and which still enjoys quite a following. Hope to see you all there. And we don't promise to remain in our seats either.
In one evening recently we were hosted by one very bold artist to two major events in two very different locations. Photographer Steve Rockstein opened a retrospective of his work spanning nearly 40 years—1971 to the present. The first reception was held at Oceana restaurant in Frenchtown in its elegant gallery upstairs of the dining hall.
Some of the more intriguing works on display were those in which Steve allowed the lens of his camera to be opened for a longer period of time than normal and thus he was able to create very unique effects on canvas. One such photo was taken at a recent Sunset Jazz concert. It features a saxophone being played and it seems to be surrounded by a myriad of swirls and colored bubbles of light. Fascinating!
The second event held later that evening was at Seven Minus Seven, a relatively new and rather avant-garde gallery in the Sub Base area. Here attendees were treated to a fire dancer twirling various objects set ablaze. In addition to more of Steve's work, we were also entertained by his talents as a rock musician. Pretty awesome!
One of the photographs that jumped off the wall for us at Seven Minus Seven was one which featured Chef Tony Romano who is also an artist. The split-screen effect created by the double portrait of the chef in his kitchen juxtaposed with the artist's visage in front of one of his large canvasses was intriguing.
We chatted with Oceana owner, chef Patricia La Cort, Steve's wife, Leslie, also Ellen Maclean, Mary Rush, Lisa Schmid with Kris, Barbara Cassaza Young, Doreen Walsh, Priscilla Hintz and Chinwe Osaze who enjoyed a very special place in the evening's celebrations.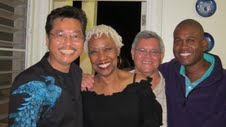 One of the photographs of Chinwe taken during her participation in the Carol Male fashion show has prominent placement not only on the wall of the gallery but is also the final image in Steve's remarkable book of photography. Just gorgeous!
Among those who came out to support Steve were his daughter and her family, as well as many of his current and former students, also Henry and Penny Feuerzeig, John Cahill, Eric and Dawn Dobson, Harry and Yvonne Freeman, Denise Kurg, Amalie Parrot, Seven Minus Seven manager Clay Jones, and Ted and Rebecca Luscz.
The shows in both venues will remain up through mid-April. Many of the works that were on display are also featured in the great coffee table book which is available for sale. SCENE……!!
Invitations to private and public events may be sent to [email protected] or [email protected]