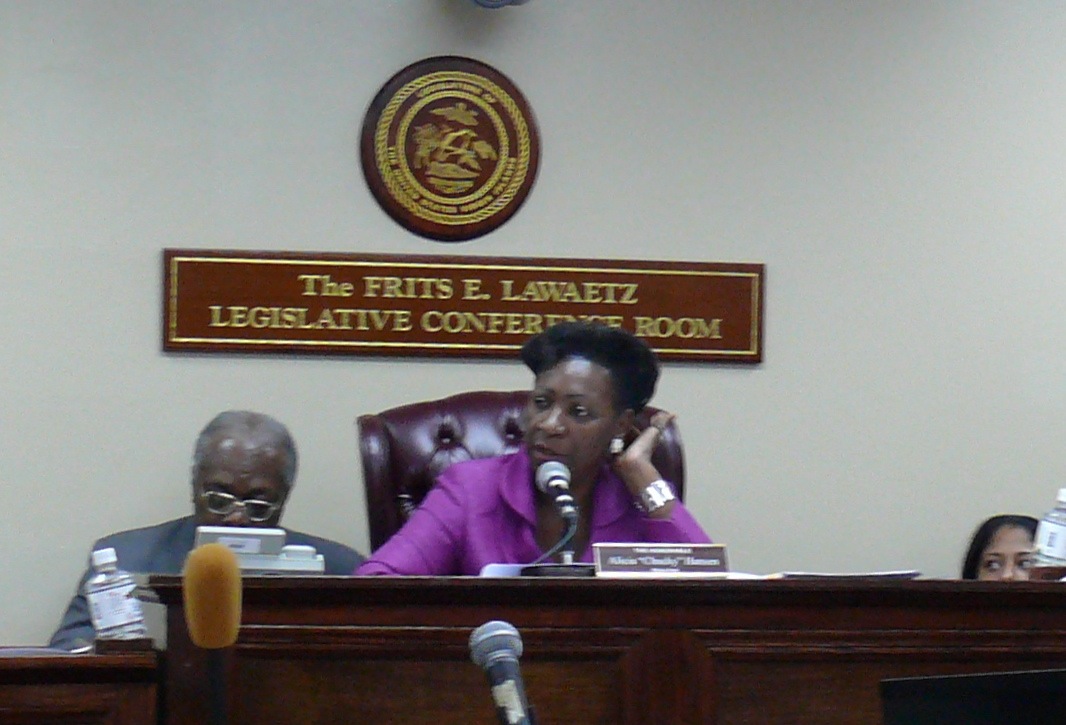 Bills capping utility reconnection fees, expanding veteran's death benefits and exempting veterans from sticker fees moved out of the Committee on Government Operations with strong support from senators Wednesday.
The three otherwise dissimilar bills cut expenses or extend benefits to some V.I. residents at the expense of public institutions, without funding the changes.
Bill 29-0015 would extend burial death benefits to veterans who resided outside of the Virgin Islands at their time of death. The commanders of St. Croix's several American Legion posts and V.I. Veterans Affairs Office Director Morris Moorehead testified the bill's measures could be expensive and difficult to carry out without more money.
Curtis Williams, commander of American Legion Post 133 on St. Croix, said the bill was not what he had anticipated. "We were concerned about people who left and returned," Williams said, not those still living in the states.
American Legion Post 90 Commander Haroldo Todman said the bill "would have to be heavily funded," but he would support it "if a sufficient funding source is identified."
V.I. Veterans Affairs provides up to $3,500 in burial benefits, including a burial plot, a headstone and funeral honors; while a typical burial costs about $6,000 on St. Croix and $8,000 on St. Thomas, Moorehead said.
Many veterans relocate to the mainland in their later years for medical care and other reasons, he said.
"Increasing the scope of this benefit will have a tremendous impact on available funding," he said.
To offset the increased cost, Moorehead suggested limiting the expanded benefit, so veterans would have to maintain a home in the Virgin Islands for 15 years after military service and cutting off the benefit 10 years after they cease to maintain a local residence.
Voting yea were Sens. Janette Millin-Young, Terrence "Positive" Nelson, Alvin Williams, Celestino White and Alicia "Chucky" Hansen. Sen. Ronald Russell was absent.
Bill 29-0016 would prohibit the V.I. Water and Power Authority from charging more than $25 to reconnect accounts after customers are cut off for nonpayment.
WAPA Executive Director Hugo Hodge Jr. testified against the bill, saying the fee has not been changed for over 30 years and reflects the utility's actual costs.
"The fee for this disconnection/reconnection effort is derived by taking into consideration all costs associated with sending notices, coordinating scheduling, and performing the disconnection and eventual reconnection of customer accounts," Hodge said.
Reconnection before physical disconnection is $30; at the meter $55, and at the pole or after hours $110, according to Hodge. Since 2006, revenues generated from reconnections have varied from $602,000 to $868,000 per year, territory-wide, according to data in Hodge's written testimony.
Hansen and other proponents of the bill argued charging high fees to people who are having trouble paying their bills causes hardship.
Voting yea were: Hansen, Millin-Young, Nelson, White and Williams. Richards voted nay. Russell was absent.
Bill 29-0014 would exempt disabled veterans from paying for any required handicapped window decals issued by the V.I. Bureau of Motor Vehicles. Jerris Browne, director of the bureau, testified in support of the bill, saying it will "ease the financial burden on disabled veterans, many of whom are unable to care for themselves and need some type of financial relief."
In fiscal 2010, the BMV processed 1,400 applications for disabled parking stickers, with 818 on St. Croix, 539 on St. Thomas and 43 on St. John, but the bureau does not have figures on how many are veterans, Browne said.
After adding an amendment clarifying that vehicles with disabled veterans decals from the U.S. Veterans Administration do not need local stickers from the BMV, the committee unanimously passed the sticker fee exemption.
All three bills will now be forwarded to the Rules and Judiciary Committee for further consideration and amendment.