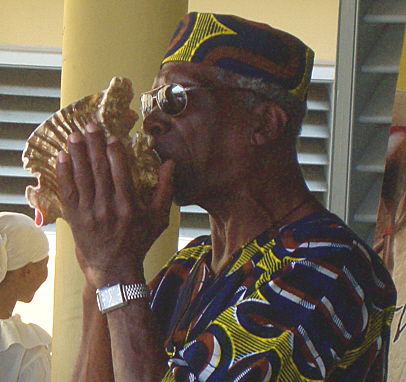 The hills, the beach and pretty much everything else on the island were alive with the sound of music Friday, as elementary school students joined with cultural groups to celebrate the fifth annual Virgin Islands History Month music series.
This year's theme, of course, was "The Sound of Music," and it came in all kinds of styles, from ancient drums through Cariso, quelbe and calypso all the way up to show tunes by Irving Berlin and Harold Arlen.
And there was plenty of energy — students from Alfredo Andrews Elementary, St. Mary's, St. Patrick's, Claude O. Markoe Elementary, Per Ankh Academy and Lew Muckle Elementary saw to that.
The music series was held Friday morning at the Frederick Dorsch Cultural Center, adjacent to the Athalie McFarlane Petersen Public Library in Frederiksted. It was put on by the Virgin Islands Cultural Heritage Institute and the Department of Planning and Natural Resources.
The program honored three St. Croix figures who have worked throughout their careers to keep Crucian culture alive: Bradley Christian, longtime member of Crucian Heritage Dancers; Charita Schuster, founder and director of the dance group Music in Motion; and Norman Bailey, a longtime singer from St. Croix.
The program opened with the Alfredo Andrews Choir singing Irving Berlin's "Counting Your Blessings" and "Over the Rainbow" by Harold Arlen. Then Wilfred "Junie Bomba" Allick Jr. called the gathering to order by blowing a call on a conch, followed by a demonstration of drumming by Allick and a history of bamboula presented by Chenzira Kahina.
The Per Ankh students gave a dance demonstration, followed by "La Bomba," presented by the students from Lew Muckle. Cedelle Petersen-Christopher told of the history of Cariso, followed by a presentation of that cultural song form.
Dimitri "Pikey" Copemann related the history of quelbe, and the St. Croix Heritage Dancers gave a quadrille demonstration. Then, after Copemann told of the history of the steel pan, steel bands from St. Patrick's and Claude O. Markoe gave a demonstration of that classic Caribbean form.
The program ended with a song by the choir from St. Mary's School.