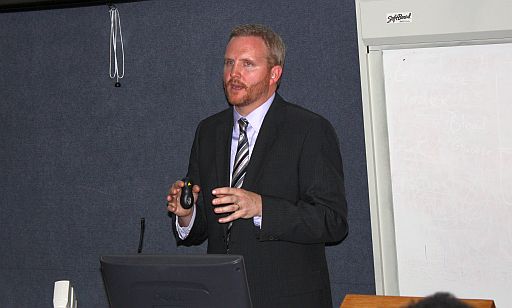 Moving closer to the governor's goal of reducing local fossil fuel consumption 60 percent by 2025 means bringing the topic of "waste to energy" back to the forefront of discussion.
That's according to local and national experts, who spoke Thursday at UVI's St. Thomas campus as they outlined their "energy roadmap" for the territory.
And not only waste to energy — according to one expert, it also means supplementing with every possible renewable energy source, including wind, solar, biomass and landfill gas. It also means two out of every five homes having solar water heaters, and four out of every five government buildings reducing its energy consumption by 25 percent.
How the territory gets that done is all part of the ongoing Energy Development in Island Nations (EDIN) program, an international partnership focused on the unique power-generation problems and opportunities of island nations, which traditionally rely heavily on petroleum.
In late 2009, the United States decided to make the U.S. Virgin Islands its EDIN pilot project, giving technical and some financial assistance to help meet the governor's 2025 goal and to create a comprehensive energy standard that other island nations can follow.
Working in tandem, representatives and officials from the V.I. Energy Office, V.I. Water and Power Authority, U.S. Interior Department and the U.S. Energy Department's National Renewable Energy Laboratory (NREL), have been meeting in biannual workshops since last February designed to put their strategies together and identify the challenges going forward.
How far the project and the territory have come was the focus of Thursday's workshop.
Speaking on the realities of the governor's goal, NREL's Adam Warren said the 2025 timeline was reachable, and discussed an "energy roadmap" that broke up consumption into 35 percent renewable energy and 65 percent fossil fuel.
To achieve the 35-percent marker, Warren spoke about bringing 22 megawatts of wind energy, 16.5 megawatts of waste to energy and 8 megawatts of utility scale photovoltaics into the mix.
Along with government buildings, one out of every four homes needs to reduce its energy consumption by 25 percent for the territory to meet the deadline, while WAPA has to lead the charge by improving its generation efficiency at both the power and desalinization plants, Warren said.
The 2025 deadline is also not such a lofty goal because the territory has already been "aggressive" in its energy efforts, he added. While WAPA has sought to reduce consumption through its LED street lighting project on St. John and the new heat recovery steam generator on St. Croix, a joint project of the V.I. Energy Office and V.I. Port Authority has allowed for the installation of 448 kilowatts worth of solar panels at the St. Thomas airport, which is expected to significantly reduce costs.
And along with the V.I. Energy Office bringing in millions in economic stimulus grants to help with local energy rebates and loans, WAPA officials also said Thursday that plans to boost efficiency by interconnecting St. Thomas and Puerto Rico through an undersea cable has attracted national attention and was recently mentioned in a speech by U.S. Secretary of State Hilary Clinton.
WAPA Executive Director Hugo Hodge Jr. said he is working on a request for proposals to bring in at least 10 megawatts of solar energy, most likely to St. Croix, but is waiting for land needed to begin the project. There is also technology being installed so the territory can have its first set of wind data, which is needed before a request for proposals to bring in that kind of technology can be sent out, Hodge said.
V.I. Energy Office Director Bevan Smith said that his agency has come up with its own strategy to reduce consumption, use clean energy and diversify, which is being used as a model for the community. And the community, he said, has taken the bait, nearly wiping out the funding set aside for the rebate program.
"Prior to EDIN, we had to beg people to buy the proper appliances," Smith said. "Now funding for the rebate program is going to run out in a few months."
Gov. John deJongh Jr. also spoke Thursday about efforts to retrofit 11 of the territory's schools with more efficient lighting and plumbing.
"There is a mind change that's taking place in our community," deJongh said, as he spoke about the creating an energy industry in the U.S. Virgin Islands that would get more young people involved in green jobs and more money into the economy for green construction.
"We can't continue to do what we've always done," he said. "This clearly is a revolution. It's going to be driven by those we really have a vested interest and by those who do things differently."
Interior Department Assistant Secretary for Insular Affairs Anthony Babauta also spoke Thursday, saying that the governor's call for a 60-percent reduction was a "bold but necessary goal" that will enable the territory to become a leader in the Caribbean with the deployment of renewable energy. EDIN's goal is to develop an energy strategy for the U.S. Virgin Islands that can be used in populations to scale all over the world, experts said.
The workshop continues Friday on St. Thomas.