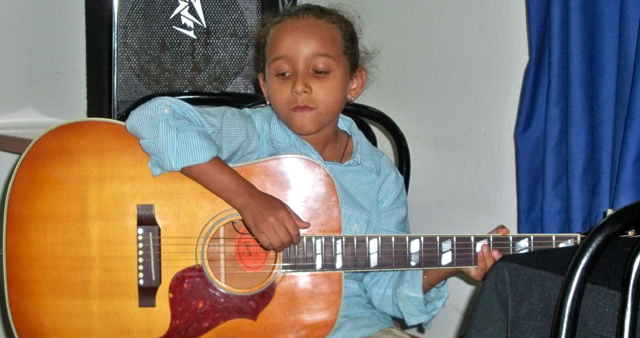 It was a little bit folk, a little bit country, and a little bit calypso at The Coffee House Fundraiser for Queen Louise Home Saturday night at Starfish Patisserie in Wantapana Mall.
Organized by AmeriCorps members and other volunteers, the event featured original poetry and other spoken word presentations plus musical performances by local artists. All of the money raised will help fund travel expenses for the Queen Louise Home children's trip to Disney World in July. Admission was $10 in advance and $12 at the door.
There was standing room only in the bakery filled with people seated on bistro chairs at small round tables with votive candles and bougainvillea sprays. More than 50 people came out to do something different on St. Croix.
Local radio news announcer Ryan Nugent was master of ceremonies. He said it was fitting for the community to come together like they did to help the kids go to Disney World.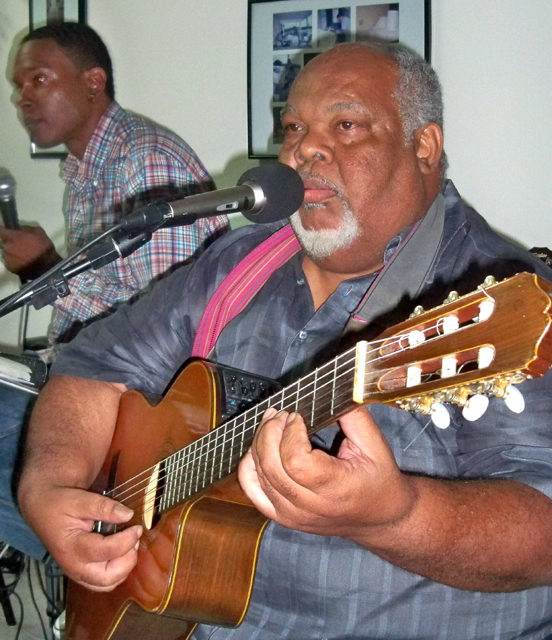 Eugene "Doc" Petersen, a well known local culture bearer, asked people to close their eyes and hearken back to days past and picture street vendors. He then sang old -fashioned Calypso songs about street vendors, produce and donkeys. Then the crowd joined him in singing "Guantanamera."
Mascha Williams sang "Natural Woman" by Carole King and "I Found a Boy" by Adele. Dr. Deborah Bobbitt accompanied Williams on the guitar. Guitarist Thomas Shelley played and sang "Free Wheelin'" and "High and Mighty Blues." Thahila de Jesus, Jake Hikel, Simon Frampton and others also performed.
Jerisa Pierce and Vanelis Rivera read their original poetry. Ethereo Akinshegun had the crowd shouting out "Ashe" instead of "A men" during his reading. Winnie "Oyoko" Loving read from "Spontaneous," her book of poetry.
"When I was asked to sing I didn't know what to expect," said Petersen. "But I thought anything for Queen Louise Home. This has turned into a wonderful evening."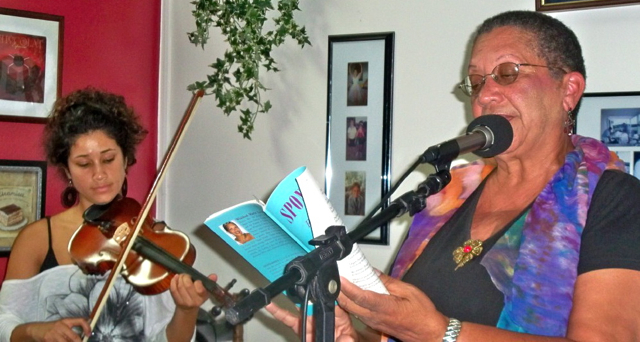 Mariah Shabazz, an AmeriCorps member and social work assistant at Queen Louise Home, came up with the idea for the coffee house and organized the event. Shabazz and the rest of the organizers wanted to provide a venue for local poets and musicians to perform their original works
"This is exactly what we wanted," said Shabazz. "We are so excited it worked out so well. We will be doing another coffee house at Polly's at the Pier in June."
Audience members had the opportunity to purchase sweets made by pastry chef Dennis Gribbin, owner of Starfish Patisserie and venue provider. Original art created by the children and hand crafted jewelry made by some of the AmeriCorps members were also available for sale.
Since 1904 Queen Louise Home has provided a safe haven for children from birth to age 12 who have been abused or neglected.