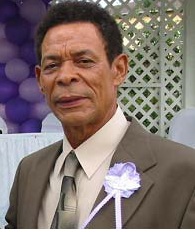 Ezekiel Charles of Estate Strawberry died on Monday, April 4, at the Governor Juan F. Luis Hospital. He was 72 years old.
He is survived by his spouse
, Lena Charles; daughter, Erica Charles-Luke; sons: Elvis Charles, Earl Charles, Shern Maynard, Dwayne Jeffers and Mark McIntosh; 10 grandchildren; godson, Jon Megahy; adopted son, Leonard Megahy; stepdaughters: Doreen Cummings and Laureen Megahy; sisters: Lorna Lewis and Marie LaForce; son-in-law: James Luke; brothers: Alphonso Francis and Felix Joseph; and sister-in-law, Yvonne McIntosh.
He is also survived by nieces: Marie Monlouis, Mary Clercin, Brenda LaForce, Victorine Alphonse,Cecilia Stanislaus, Coral Megahy, Ashley Megahy and Bernita Boxill; nephews: Chico LaForce, Lataniel LaForce and Dillon McIntosh; special friends: Straker, Baker, Walcott, Kirnon, Archibald and Louis families, Bernadette Megahy, Marcel Felix, Francillia Henry, Teresa Francis, Yves Beaubrun, Doris Hercules, Judy Richards, Paul Cadet, Hilary LaForce, Don Charles, Maria Leon, Margaret McDonald, Rosaline Jeremiah, Sarah Walker, Ternar Archibald, Chaddel Charles, June and Beverely; as well as other relatives and friends too numerous to mention.
There will be a viewing held at 10 a.m. and a funeral service at 11 a.m. on Friday, April 15, at Peter's Rest Seventh-day Adventist Church. Interment will follow at the Kingshill Cemetery.
All arrangements are by James Memorial Funeral Home Inc.