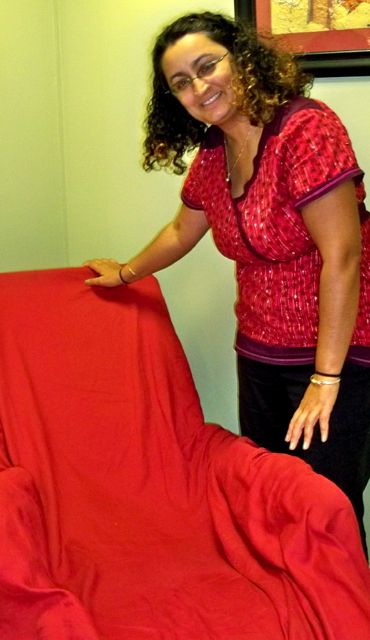 CommuniChi Central follows a business plan that makes acupuncture an affordable type of treatment for everyone.
Serena Sundaram, a licensed acupuncturist, offers high-quality acupuncture in a community atmosphere with rates as low as $20. To offer this rate she streamlines treatment, seeing multiple patients per hour.
The business plan is for the acupuncturist to make a living by doing something she loves and finds interesting, seeing enough clients at a given rate per client to cover expenses. And, she hopes, make a profit.
Sundaram, who has her master's degree in Oriental medicine from Southwest Acupuncture College in New Mexico, says she practices a blend of acupuncture styles, mostly relying on "distal" points in the hands, feet and head to treat problems anywhere in the body. There are 500 generally recognized points for needling.
Sundaram says acupuncture is an excellent complement to Western medicine, but it is not a substitute for it. It is used in chronic or acute pain, insomnia and fatigue, headaches, depression, traumatic injury, anxiety, high blood pressure and cancer treatment support, and much more.
"Acupuncture is better than taking medication that is addictive, for pain management," Sundaram says. "And it is something people could try before surgery. The worst that could happen is it doesn't help enough."
This reporter had the chance to experience acupuncture for the first time at the community clinic. It was a general stress relief treatment, nothing really specific. Patients discuss the suggested course of treatment with the acupuncturist at the beginning of treatment.
Usually treatment is one patient, one table, one cubicle for one hour, but not at the clinic in Island Medical Center Sunny Isle, where treatment is in a common space and can be as long as needed.
In the common room, Sundaram treats patients who are seated very comfortably in zero gravity recliner chairs. There are six chairs draped in cloth of soothing colors Lights are low and instrumental background music is played softly. Whispering is minimal, people may speak softly in the waiting area. Patients are fully clothed.
Sundaram takes a pulse reading as a diagnostic tool and an introduction to treatment through touching and creating a rapport.
Patients are requested to stay still as the very fine gauge needle – 0.18 x 30 mm – is put through a guide tube and inserted under the skin a few millimeters. Patients may feel tingling, pressure or a dull ache.
I felt a dull ache at a spot on my knee near the needles and nothing else. Once the guide tube is out of the way the needle can be adjusted. Sundaram leaves the room and returns a few minutes later to check on patients.
Treatment varies from 20 minutes to an hour or more. If the patient is ready to be unpinned they give a nod, or other prearranged signal.
I felt very relaxed and had almost a floating feeling and did doze off a bit.
Chinese medicine uses the concept of yin and yang, and harmony is achieved when these opposing forces are in balance. Some acupuncturists say it is a balancing mind-body connection.
Sundaram says she was really sick and acupuncture got her well again and that's when her love of acupuncture took root.
She found acupuncture useful and it got her engaged intellectually and creatively. She practiced in Seattle and New Orleans. She opened her St. Croix practice in January. The community model Sundaram uses was developed in Portland, Or.
The fees are on a sliding scale to separate the issues of money and treatment. She says she wants people to come in often enough to get better. Because of the sliding scale, Sundaram doesn't take insurance.
Sundaram says research shows acupuncture is most effective when it is done frequently and regularly.
She suggest patients try acupuncture at least four times, possibly two times a week.
"I come here for pain reduction from a sports injury in my hip area," Nina Cook says. "I started in February coming in two times a week and it really, really helps me. I love it."
The center is open from 1 to 6 p.m. Monday and Wednesday and 9 a.m. to 2 p.m. Tuesday and Thursday. Sundaram can be reached at the center at 692-9238.