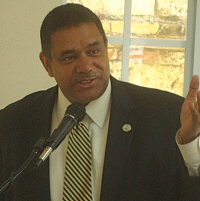 Despite a sluggish world economy that is only slowly recovering from the financial emergency of 2008-9, the U.S. Virgin Islands is poised for a bright future if government and private resources work together, Gov. John deJongh Jr. told a packed audience Friday.
DeJongh spoke at a meeting of Our Town Frederiksted, which convened at the Frederiksted American Legion Post to hear the governor's mostly upbeat message.
DeJongh said the government is facing a potential $75 million deficit for the end of this fiscal year, and a $135 million deficit for the 2012 fiscal year. An austerity package approved by the Senate sill leaves a $16 million deficit for this year, he said, so further hard choices will need to be made in the coming weeks.
Private employers are also feeling the effects of the world economy, he said, with Hovensa reorganizing its work force, the St. Thomas Marriott Frenchman's Reef Beach Resort closing for six months for a major remodeling. That creates uncertainty for government revenues and demands for unemployment services.
But for all that, the governor continued, the territory's long-term future has the potential for growth.
"I really do believe the future looks bright," he said.
The key is to continue government investments in key areas – principally education, law enforcement and emergency management and planning.
"We have to continue to do the things government is supposed to do," he said.
Among the bright points the governor pointed out were:
Three proposed hotel and resort developments on St. Croix, with the Williams & Punch resort completely approved and its backers seeking financing. The latter would create jobs during construction and business for suppliers and contractors, and then a host of tourism jobs.
Plans are in the offing for the proposed sports-complex development at the site of the Frederiksted ballpark, which would both create a venue for athletic events, possibly even a Triple-A baseball club, and become a draw for event-oriented tourism.
Work continues on the Frederiksted Clinic, slated to reopen in October.
St. Croix has the strongest industrial base of any of the U.S. Virgin Islands, he said, and the strongest workforce development programs. These make it particularly well-placed to reap the benefits of economic recovery. He also pointed to the civic organization, Our Town Frederiksted, his hosts for Friday's speech, as an example of how government and the community can work together.
"Our own Frederiksted is a model of community engagement and neighborhood engagement throughout the territory," he said.
Times are tight, he said, and government can't do everything people want it to. But working together, a lot can still be done.
"In order to achieve the things we want to achieve, we have to work together," he said.