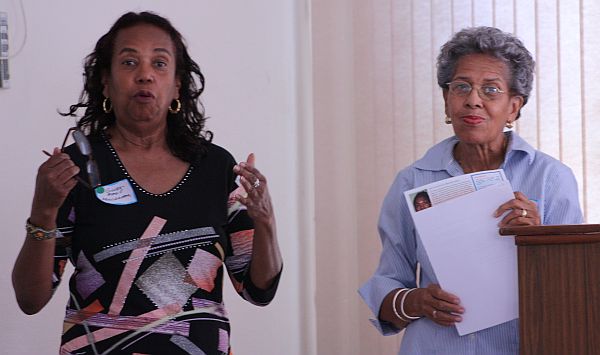 Already one of the more influential watchdog organizations in the community, the League of Women Voters is looking to increase its visibility, and announced during its annual meeting the formation of a new Education Committee and an initiative aimed at lobbying senators on critical V.I. issues.
The turnout at this year's meeting, held over the weekend on St. Thomas, appeared to show the League's commitment to its upcoming agenda. Coming from across the territory, new and returning members packed into Palms Court Harborview Hotel, where everything from elections reform to increased scrutiny over local environmental issues was discussed and approved as platforms for the new year.
Supporting the League's push on the environmental front was Planning and Natural Resources Commissioner Alicia Barnes, who outlined in depth her long- and short-term goals for the department. During her recent confirmation hearing at the Senate, Barnes was encouraged to finally move forward a comprehensive land- and water-use plan — a cause that has been championed for years, and which Barnes said over the weekend that she is ready to pursue in the long term.
DPNR has laid the groundwork for the plan with ongoing efforts to revamp the territory's zoning laws, she said, as League members also spoke about simultaneous efforts being conducted on St. Thomas to develop a "blueprint" for Charlotte Amalie that involves the creation of a form-based code, which stresses urban development even more and would, once complete, be applicable to historic districts across the territory.
"Comprehensive planning will aid in the decision-making process relative to development," Barnes said at the League's meeting. "As such…a comprehensive land- and water-use plan must be adopted. In this regard, the plan should be developed and implemented as a sustainable economic development tool."
Other long-term goals include improved V.I. water quality, collaborative fisheries management (which stresses improved data collection and looks at the impact of nonpoint-source pollution on water quality), and enhancing delivery of services to the department with a focus on minimizing outsourcing.
In the short term, however, Barnes spoke about enhancing the territory's response to environmental emergencies, which includes requiring local agencies tasked with monitoring environmental threats to maintain emergency response plans.
"These plans should outline specific responses to specific emergences and the associated communication protocol," she said. "While DPNR is not a first responder, the agency has response mandates, and it is, in this regard, that the department's role must be more clearly defined."
Other short-term plans include: beefing up employee training and cross training, providing training and assistance to help keep residents applying for permits in compliance with local laws, and streamlining the overall permitting process.
"A review of all major permitting processes has commenced and will be further facilitated via the establishment of an in-house permit evaluation committee," Barnes said. "The committee will review current processes and associated timelines and free structures, and make streamlining recommendations, accordingly. Further, round-table review meetings are proposed for permits that require interdepartmental approval."
A labor management committee has also been set up within the department to help mediate and resolve conflicts, or potential conflicts, and "foster healthy working relationships" among employees.
League members also went into their own plans for monitoring other areas of the government, which includes instituting what was called a "Lobby Day," where the organization would make appointments with various senators to dialogue on "areas of particluar interest," according to League President Gwen-Marie Moolenaar.
Every two years, the League hosts a luncheon that gives the newly elected legislators a chance to respond to a slate of public concerns; so Lobby Day, Moolenaar said, would be held every other year to help keep the officials on their toes.
The V.I. League's newly formed Education Committee will also be participating in the ongoing education study being conducted by the organization's national chapter and will be reporting on and examining local issues relevant to the study, Moolenaar added. The committee will also be keeping tabs on the oprations of the Senate's Committee on Education, Youth and Culture, which is currently chaired by Sen. Janette Millin-Young.
In other news, the League approved a $7,500 budget for the year and held elections, putting Moolenaar (who was serving as interim president) officially into the president's seat, while Phyllis Wallace will continue to serve as first vice president, and Linda Wymer takes over as secretary.
Directors elected to a two-year term were Genevieve Whitaker, Norma Levin, Helen Gjessing and Sharon Coldren.
Continuing board members are: Margaret Quetel, Denyce Singleton and Clovis Emanuel.