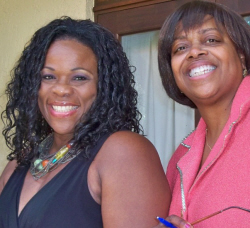 Rev. Dr. Suzan D. Johnson Cook, an accomplished minister, motivator, activist and author, gave a rousing spiritual and business talk Friday at a women's business retreat at Marriott Renaissance Carambola Beach Resort.
Integrity Women in Business Center Inc. (IWIBC) hosted the retreat, attended by around 100 women. IWIBC is a local nonprofit organization that supports local women especially those who own businesses facing challenges. It holds workshops, and offers technical assistance, financial planning and marketing assistance.
Abbelle Bakr, founder of IWIBC and organizer of the retreat, said the purpose of the retreat is to awaken, motivate and guide the spirit in women to continue to feel confident and courageous in pursuing their goals and aspirations.
Johnson Cook, also known as Dr. Sujay, has been in ministry for 30 years. She served with President Bill Clinton as a domestic policy advisor and she was the first woman chaplain in the New York City Police Department.
She spoke of time and knowing when it is time to listen to your calling.
She spoke of the seasons and cycles in our lives. She said to make time for a devotional life – the time when dreams come to you. She said to take time for slowing down and hearing things. Johnson Cook added it is time to put a stop to jealousy and hatred and it is time to celebrate.
"Take time to watch the waves dance," Johnson Cook said. "We must work, but take time to have some fun." She said to get a circle of friends and take time to stay together, pray together and find strength in each other. Her presentation related spiritually to Deborah, one of only five women in the Bible called a prophet.
There were times when Johnson Cook got the audience interacting with each other in unique ways such as milking the udders, which was a comical type of handshake. She had women introducing themselves to the person seated next to them and in a few words tell something positive about themselves.
"I felt as though the things said here today were said directly to me," Jacqueline Heyliger, audience member, said. Millie Calvin, owner of Cultural Creations, said she felt a lot of energy in the room. "I pray everyone will take this message and spread the energy," Calvin said. "There is too much negativity out there – we need more positive things in life."
Abbelle Bakr, founder of Integrity Women in Business Center Inc. and organizer of the retreat, said she heard "Your Call is Calling You" in the documentary "Who Does She Think She Is?" and gave the retreat that name and theme. "I realized in business we need to take time out to get rejuvenated and inspired," Bakr said. Bakr has a financial management consulting business.
Julie Landreaneau, director of St. Mary's Kids Camp, presented a lively workshop on personalities showing how all different personalities can come together and work for the benefit of all.
Bakr presented a workshop on financial planning and Naita Salmon did one on women's health. Genevieve Whitaker, J.D. and Nesha Christian-Hendrickson, Esq., of the Young Professionals Network of the St. Croix Camber of Commerce, also were presenters. Aziza Shabaz, dance instructor, closed out the retreat doing relaxation exercises.
Johnson Cook sold and signed copies of her 10th and latest book, "On Becoming a Woman of Destiny."
"Who are we called to be?" Bakr said. "Will you realize and answer the call?"
Sponsors for the retreat were Business and Professional Women of St. Croix, Hovensa, Inter Island Insurance, Carol Blake-Hodge, Natalie Nelson, Triumphant Management Group and Whitaker Consulting Group.