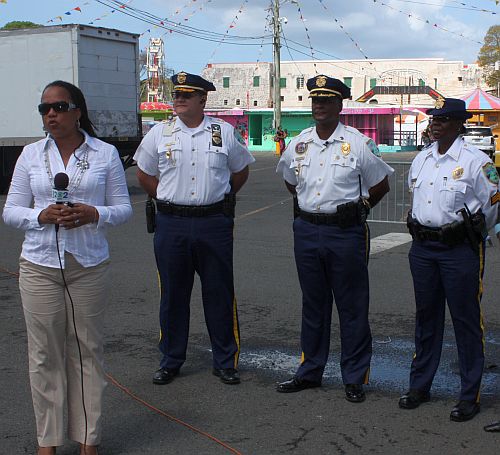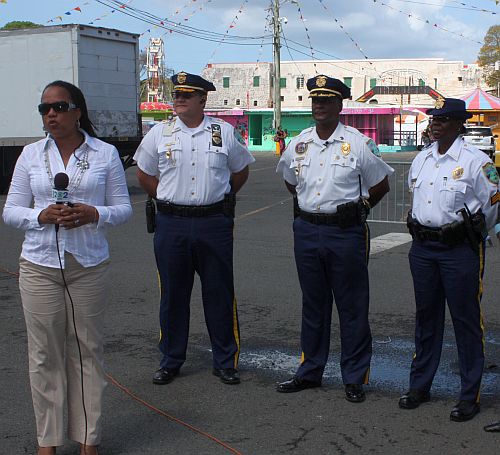 Public safety is the the V.I. Police Department's primary concern when it comes to Carnival, and during a press conference Thursday, officials stressed a zero-tolerance policy on violent, disruptive or reckless behavior.
The department's "rain won't stop the Carnival, but violence will" slogan was reiterated during the press conference, as officials gave a list of Carnival do's and don'ts, along with parking restrictions and parade instructions.
VIPD Public Information Officer Melody Rames said the message has been spread throughout the community and has been especially directed to the 18-30 population to show them that any violence or "disrespectful type of behavior" will immediately be stomped out by the police.
Juvenile Safety
One of the most important issues discussed by police was the need for parents to be responsible for their children before, during and after Carnival events. VIPD's Carnival Coordinator, Sgt. Sherry-Ann Hughes, said that while no incidents have been reported since this year's events started, officers have seen minors, some as young as 9 years old, walking home alone from shows at Lionel Roberts Stadium.
"This is where we're asking the parents to be mindful that they are responsible for their children," Hughes said. "If you cannot attend the functions with your children, then keep your children at home. Do not send them to the programs by themselves without any adults present."
V.I. curfew laws require that children under 16 be accompanied by a responsible parent or guardian if they are out on the public streets after 10 p.m. Police will give children walking alone a ride home if they need it, but parents are warned that they could be charged with neglect, officials said.
"This is a violation of the curfew laws, and will lead to the parents being held responsible and taken before the judge," Hughes said. "And we are definitely aggressively enforcing those rules for this Carnival."
Traffic Safety
Police Traffic Commander Sgt. Rosalyn Jarvis said that parking is restricted in front of fire hydrants, access ramps to sidewalks, and in front of businesses and homes in close proximity to where Carnival events are being held.
"We are allowing parking in normal areas, and on one side of the roadway on Norre Gade and Hospital Gade," she said. Motorists can also park on the waterfront apron, but are asked to make sure their vehicle as at least five to six inches away from the edge of the curb to avoid collisions.
During Carnival horse races, residents are not allowed to park along the gate to the Clinton Phipps Racetrack or along the Bovoni or Nadir roads. Anyone impeding traffic will be ticketed and towed, Jarvis said.
Motorists are also asked to drive "in a safe and prudent manner," being mindful of their speed and people crossing the street. Police said pedestrians should also look both ways before crossing the street, be aware of the traffic and hold their children's hands at all times.
Jarvis said it also important for residents to lock their vehicles and make sure no valuables are visible. VIPD has been conducting a drinking and driving awareness campaign, and residents are also being asked to drive responsibly.
"If you're going to drink, please designate a sober driver," Jarvis said. "If you've had too much, or if you're not sure you are able to operate the vehicle safely, please call a friend or call a taxi." Jarvis said there is also nothing wrong with asking an officer for a ride home.
Anyone with questions on the traffic restrictions can call 774-2211, ext 5514 for more details.
Personal Safety
St. Thomas-Water Island Deputy Police Chief Dwayne DeGraff said the department has conducted pre-Carnival cleanups in an effort to make various areas downtown as safe as possible for residents attending events. Cleanups include sweeps of the parade route, starting at Addelita Cancryn Junior High School, along with Frenchtown, Simmonds Alley, Kronprindsens Gade and Hospital Ground, with a total cleanup of Jah Yard.
On the southern side of Lionel Roberts Stadium, trees have been cut back to let more light through, and the area around the Winston Raymo Recreation Center has also been cleaned up, DeGraff said. In preparation for Carnival horse races, a sweep of the area running from the Frydenhoj Ballpark to the old Nadir gas station has also been conducted.
DeGraff encouraged all residents not to go anywhere alone if they don't have to, but to use a "buddy system" or carpool if they can. DeGraff said protecting one's home by making sure the doors are locked, lighting is working properly and alarms are set, is important, and that residents should let their neighbors know when they are going to be out.
"Plan your event during Carnival with friends," he said. "It doesn't have to be you alone."
DeGraff also cautioned about talking to strangers while taking money out of ATMs.
"If you see someone out there, even if they're very polite, don't go with them," he said. "Walk away, go to another machine."
Carpooling, DeGraff said, also helps ease traffic congestion, and residents are also encouraged to help by using alternate routes or back roads.
J'ouvert and Parade Protocol
The police don't want to have to shut down J'ouvert like they did a few years ago, but will not hesitate to do so if it appears that people are in danger, said District Police Chief Rodney Querrard Sr., who added that instead of going by the "three strike rule" this year, police are going to play it by ear.
"If it takes one strike to stop whatever is going on, depending on the seriousness of the situation, that's what we're going to do," he said. "That's why we're asking everyone to take what we're saying seriously. If we can save one life, it would be worth it."
For J'ouvert, start time for bands is 6 a.m. Drivers with large trucks are asked not to consume alcohol at least eight to 10 hours before operating the vehicles, and during the event, should be aware and alert when moving down the routes.
Jarvis said that during J'ouvert, Diageo will once again be giving free rides home to anyone that's had too much to drink, though the service is not available for those who are severely intoxicated. Their cars will be located on Veterans Drive, in the vicinity of Ron deLugo federal building, she said. Residents using the service may also not be dropped off directly in front of their homes, but nearby, Jarvis said.
Security will also be tight on parade days, and VIPD will once again be putting up gates that will narrow the sidewalks and roadways, making crowded areas, such as Post Office Square, tight for pedestrians. Both resident walking through the areas and vendors setting up around the event are asked to be aware of their surroundings, and to not block anyone's way.
Officials issued a reminder that the deadline for vendors to pick up their permits and submit payments is Friday, April 29.
Finally, officials reminded residents to report any suspicious activity, or anyone seen carrying weapons, to the nearest officer. Along with VIPD, law enforcement officers from various government agencies will be called out to help during events, and Querrard said VIPD is also looking to bring back the helicopter presence it had last year.
"The Police Department's main goal for any event, and that includes Carnival, is safety," he said. "We're asking everyone to do your part. Be the nosy neighbor, be your brother's keeper — these are the things that can help us get through an event like Carnival safely."