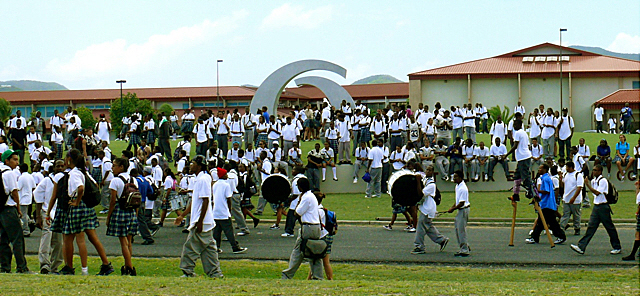 As massive student protests against transferring popular St. Croix Educational Complex Principal Kurt Vialet shut the high school for a second day in a row Friday, students angrily rejected the suggestion of St. Croix School Superintendent Gary Molloy that the protesters were just pawns of adults.
"We want to make it clear it is the students doing this, not the teachers. Teachers did not put us up to this," said Sameer Khaled, a junior, while the school's marching band marched in front of the school, and twirlers and cheerleaders sang "We love Vialet."
Those comments echoed statements made the day before by students, teachers and administrators, that the protest was the work of students.
As on Thursday, Superintendent Molloy was equally adamant in a statement issued by the Department of Education Friday night.
Molloy did not respond to reporter's inquires seeking comment about the situation except to issue a press release through the Department of Education. In it, he said the school has learned of plans, widely circulated by cell phone, to disrupt class again Monday,
Molloy said, "The really sad thing here is that these actions are those which the students have seen perpetrated by adults, truly giving credence to the adage, 'Children learn as they live.' And when we have adults throughout the community who are in positions of leadership and influence supporting these actions to the detriment of our students, it clearly states that there is no valuing of education."
But the students were vehement Friday that the actions are their own. Gathering around where Khaled had spoken, other students energetically agreed with him.
"The teachers had nothing to do with this," said a student who gave her name as Shana.
"This is not about politics," said Jovan Augustin, a senior. "This is about our education."
On the second day of protests, the students were feeling emboldened.
"Everyone should know, this will continue until we get confirmation Mr. Vialet will not be transferred," said Sammy Khaled, twin brother to Sameer and also a junior.
Asked why they were insisting Vialet stay when they did not know who would be coming to replace him, students echoed the praise other students offered Vialet Thursday, and said Vialet's history at the school and deep connections with its students made him irreplaceable.
"He knows everyone's name and cares," said Shana.
"I've had friends who were having problems and he noticed, he talked to them and did everything he could to keep them in school," said Sameer.
They were skeptical about the suggestion that they could not know in advance if a new principal would be as good.
"We all see he is the strongest principal," said Jovan. "If they have someone they were going to bring in to fill his place, stick that person where the problem is that you want Mr. Vialet to fix."
According to the statement issued by the Department of Education, classes resumed as usual Friday morning after Thursday's protest, and at first it seemed as if the unrest was in the past. But following the lunch period, students again walked out of the classes and protested in front of the school. According to the department, administrators, school monitors and school security officers tried to corral the students back to classes, but were unsuccessful in their efforts, causing the administration to again dismiss school early.
Molloy said that this situation is unfortunate, but can be remedied with the assistance of parents. "We urge parents to have serious discussions with their children about the ramifications of their actions. These walkouts can and will affect their grades and impact, with particular concern, seniors who are seeking to graduate in June. Exams are coming up and the more time missed out of the classroom, the less preparation is being done toward successful outcomes."