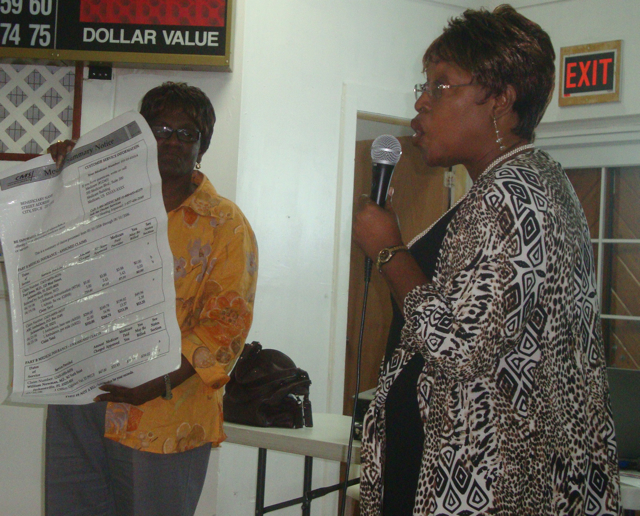 Seniors can help prevent Medicare fraud, and there's a really good reason for them to do so: to keep the program afloat. That's according to Annie Day Henry from the V.I. Senior Medicare Patrol (SMP) program.
"When you protect Medicare you're protecting yourself," she said Tuesday night during a meeting of Rotary West in Frederiksted.
Henry and her SMP associate, Faustina S. Richardson, were the guest speakers at the meeting, talking about how Medicare is structured and why the program was created to combat fraud.
Medicare is the government insurance program that provides health care to about 46 million elderly and disabled Americans. But it also provides a steady income for criminals who abuse it, constantly finding new ways to steal a sizable chunk of the half-trillion dollars that are paid out each year in Medicare benefits. According to Henry, in 2009 alone, fraud took about $48 billion from the program budget.
"I'm a couple of years away from qualifying from Medicare," Henry said. If fraud continues at that level, "There may not be a Medicare program for me."
SMP is a federally funded program through the V.I. Department of Human Services that helps train residents to recognize fraud and what to do if they find it. The program has about a dozen volunteers on St. Croix and about the same number for St. Thomas and St. John, Richardson said. The volunteers make presentations and work with individuals to show them how to be alert.
The first part is easy, Henry said. She asked the audience if any of them had their Medicare cards with them. Several hands went up. Then she asked if anyone there qualified for Medicare but did not have his card with him. One man raised his hand.
"You are a very smart man," Henry told him. To the others, she said she wasn't trying to put them on the spot, but that the card's are "for making payments. You shouldn't carry it with you unless you're making a payment for medical service."
Don't take it to a "free" health fair, she added, because the fair is "free." "You're not going to make a payment, so you don't need it."
People should not carry their Medicare cards with them anymore than they should carry their Social Security card, and for the same reason, Henry said. It carries an individual's Social Security number. With it, another person can steal your identity and ruin your credit.
"Don't make yourself a target," she said.
She held up a large copy of a Medicare quarterly report, a document every Medicare recipient receives every three months. It may look complicated, she said, but it's not, and learning to read it is the most important single step in reining in fraud, according to Henry. The quarterly report shows what doctors, hospitals, pharmacies and other healthcare groups charged Medicare for your services.
Recipients should keep track of all their doctor and hospital visits, how much they are charged and for what services, and compare it to the services recorded on the report. If it shows the doctor charged more, or charged for services not rendered, or double charged, it could mean fraud occurred, she said.
Henry pointed out that for it to be fraud in a criminal sense, there has to be an intention on the part of the billing group or individual to get more money than deserved from Medicare. But even accidental overbilling burdens the system, she said, and recipients should report it immediately.
They can call the health care provider directly to discuss the discrepancy, but if that makes them uncomfortable, they can call Henry at 713-3701, or visit the SMP office at 3011 Golden Rock.