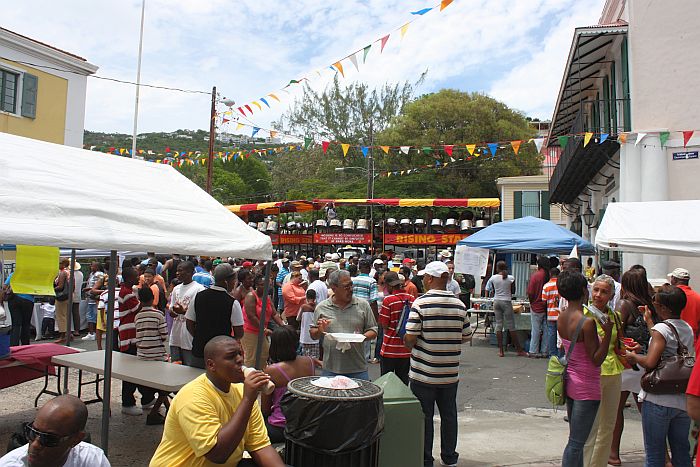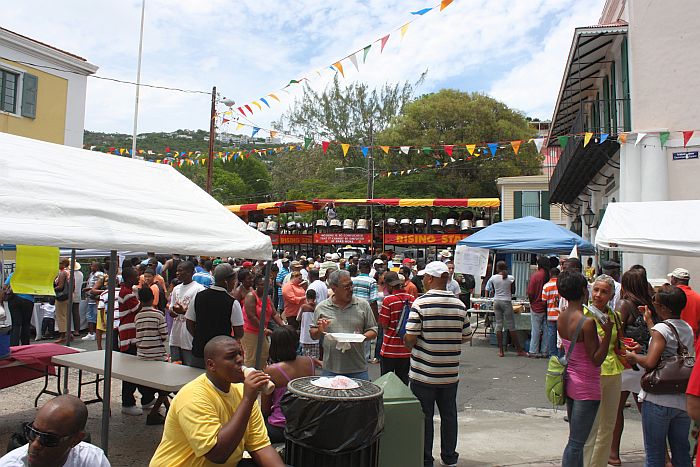 While some of the restaurants downtown were having difficulties filling their lunchtime seats, many of the vendors set up for this year's Cultural and Food Fair were selling out of their dishes by early afternoon, as hundreds packed Emancipation Garden for the event.
Residents could be seen leaving the food booths as early as 10 a.m., laden with styrofoam trays and paper bags. Along with the old favorites — stewed and barbeque chicken, conch and whelks with side dishes running from creamy macaroni and cheese to seasoned peas and rice — menus advertised Wednesday also boasted delicious sweet treats, savory curries with handmade rotis and steaming hot bowls of ital fare.
Event goers also chomped down on cups of healthy snacks from the agricultural booths, which were loaded with fresh veggies and fruits that could be purchased whole or cut up right at the table. On the western side of the garden, booth owner Martha Pacquette spent hours cubing bright orange slices of papaya and pumpkin for customers who kept lining up for a taste at $3 a cup.
"It's been like this just about all morning," she said, talking while serving. "Some of this I grew myself, some of it came from my family's farms. And business is good, so I can't complain today."
Right next door, Eustace James said her family's farm had a good harvest this year, and customers were attracted to the bright green heads of bok choy still glistening with water, and the fresh scent of thyme drifting from the booth. While business was a little slow in the mid-morning, James said she hoped it would pick up by afternoon.
"Last year for the fair, most people came out, but I guess because of the recession, they're being a little more cautious this year," she said. "But we're thankful that we did well with the harvest and for the business we are getting."
Adjacent to Fort Christian, the booth for the Bordeaux farmers' collective, We Grow Food — which won first runner-up in the Plants and Produce competition — featured the familiar faces of the group's president Derrick Hodge and Agriculture Commissioner Louis Petersen. Along with fresh stalks of thyme, their tables also included bundles of mangoes, papaya, collard greens and lemongrass.
"It's going great today," Hodge said. "We're getting a lot of customers today."
The Gladys Abraham School took first place for Produce and Plants this year, with veggies grown right out of the students' garden.
"I'm absolutely ecstatic," Gladys Abraham principal Lisa Hassell-Ford said. "A lot of hard work went into the children's garden. We're constantly out there with them, and the children love what they do. We really want to teach them how to feed themselves."
Along with the healthy, customers also went for the sweet, buying up bunches of tarts, cakes, pastries and local candy.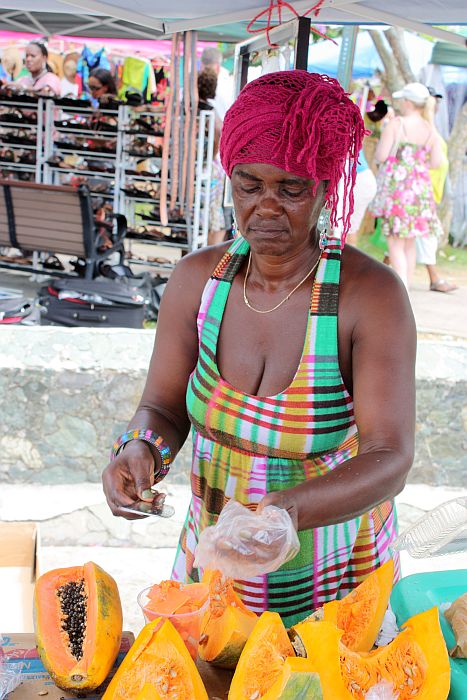 Set up outside Jen's Café, Alice George ran the "Make Mines to Go Tarts" booth for her daughter, Kishma Allen, who she said had stepped out to bring in more merchandise. George said that by noon, all that was left were peach, apple and mango tarts, while the pineapple, coconut and guava had sold out. This was Allen's first time at the fair, George said.
"I'm just helping out," George said. "But this is all hers, and the tarts are homemade. I think business for her is going good, and I'm very proud of her."
Taking first place in the Cakes and Pastries competition this year was Michelle Nibbs, while Adora Malone was first runner-up, and Laurel Hewitt-Sewer was second runner-up.
Other than food, fair goers spent time browsing the many arts and crafts booths set up throughout the Garden, which featured everything from local woodwork to imported jewelry.
At one booth, Christiana Hickson was selling wooden doll furniture — mini cradles and rocking chairs — made by Newton's Furniture, located next to FirstBank on the Waterfront. Inside the cradles, purple and red madras fabric was draped, giving them a local feel and some decoration. Earrings handmade by Hickson also lay to the front of the table, catching many eyes with their varied red, black and green beads.
"This is my favorite to make," Hickson said. "I take the sea beads and some galvanized wire I get from Home Depot, and put them together. I can never make enough — people are always asking for them."
Across the way, Keom Hadaway said his all natural lemongrass oils and body lotion were also selling like hotcakes.
"Anything lemongrass — it goes quick," Hadaway said. Hadaway's line, "Outer Beauty, Inner Peace," also features natural lip balms, camphor rubs and body butters, and is meant to give the relaxing feel of high-end products without the chemicals, he said. Boiling the lemongrass and letting it sit for awhile is all it takes — nothing else added, Hadaway said.
"It's good for you and people love it," he said.
Best Arts and Crafts this year went to Alvin Turnbull, while the St. Thomas-St. John Woodworkers won first runner-up.
Other winners included the Charlotte Amalie High School class of 1972, which won the prize for Best Dressed Participant. O'Neal Pennyfeather was also the second runner-up in the Plants and Produce competition.
The fair this year honors Enid Merchant Donovan, a native of Antigua who has become famous in the territory for her cooking. Donovan has had a booth in the village for at least 20 years, which has featured specialties ranging from homemade ginger beer to red pea soup.