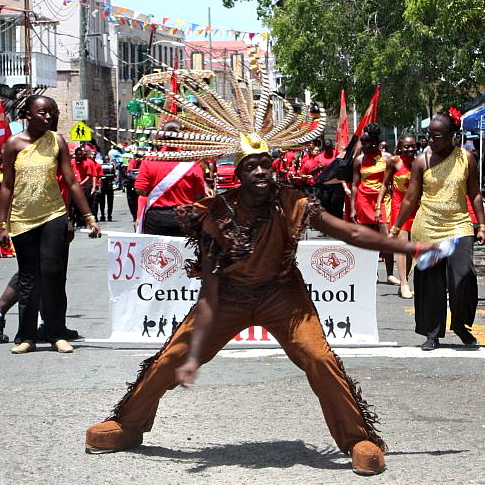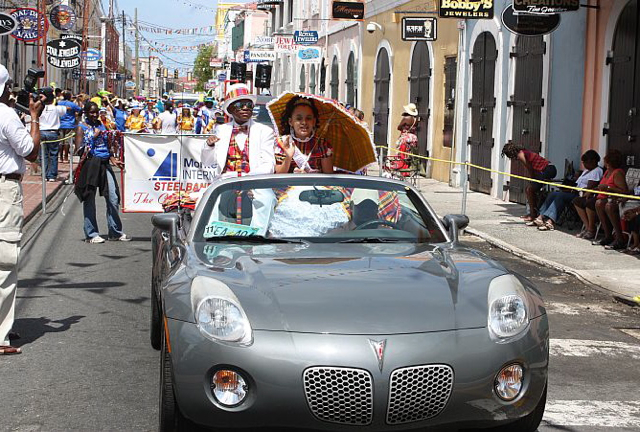 The trolleys carrying steel-pan bands bounced with energy, cultural costumes dazzled and this year's Children's Carnival Parade delighted the packed throng of spectators that lined the route from Market Square to the Lionel Roberts Stadium.
With sunlight filtering through the trees and a light breeze flowing through the streets, it was the perfect day for participants to show the crowds what they were made of. Pearly white smiles flashed from ear to ear as majorettes tossed their batons as high as they could, school drum lines pounded their snares in tight rhythms, and pint-sized troupes emphasized the best parts of Caribbean culture by playing up the music, the traditions and even the sparkling turquoise waters that lay calm in the bay.
One of the first troupes into the square this year, the V.I. Montessori School and International Academy, illustrated this year's Carnival theme with an entry entitled, "Steelband, Calypso and Soca: The Cultural Spirit of the Caribbean, Our Gifts to the World." As usual, the Montessori students were the life of the party as they danced in gold costumes, with the front line pretending to bang on silver steel bands built into the front. The second "calypso" section paid homage to calypso tradition, with students wearing miller or fedora hats and metallic blue vests symbolic of the three-piece suits commonly worn by singers during the competitions. This year's entry included 46 students, from ages six to 15, according to troupe organizer Lisa Aqui.
Coming up behind them, the Lil' Dazzlers Carnival Troupe, while not a large group, were on point with their costumes with an entry called, "At the Water's Edge." On the front line, two-year-old J-Andre Fredericks danced around, dressed as a piece of forest green seaweed, coated in silver and green sequins. Fredericks' mother Jacquelyn said this was her son's first Carnival, and said she was "happy" they were participating this year. "We're having such a wonderful time," she said.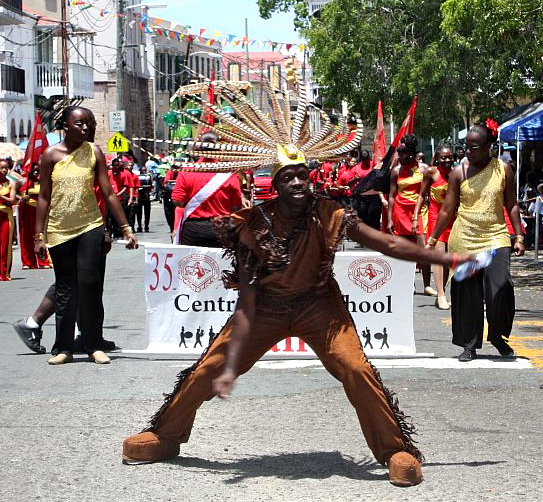 No parade is complete without the drop top convertibles carrying this year's pageant winners, who were adorned with glittering crowns or tiaras, and bold sashes proclaiming their titles. The first pair into the square, this year's Carnival Prince and Princess, J'Nee L. Powell and Tyrell S. Richardson, shared their favorite parts of the festivities so far.
"It's been wonderful this year," said Powell, adding that the Cultural and Food Fair is always her favorite part of Carnival. "I love all the different food, but especially the saltfish pates – they are the best."
Richardson chimed in with his feelings about the annual Queen Selection Show, saying that he likes to see the different cultural costumes the contestants think up, and how they answer their final questions on stage.
Powell and Richardson were followed by their court, along with a line of miniature royalty from St. Croix, St. John and even various local schools.
Bumping and swaying from double-decker trolleys, a number of steel pan bands participated in Friday's parade, most of which were playing Spectrum Band's "Boom," which looks to be a serious contender for Carnival Road March this year.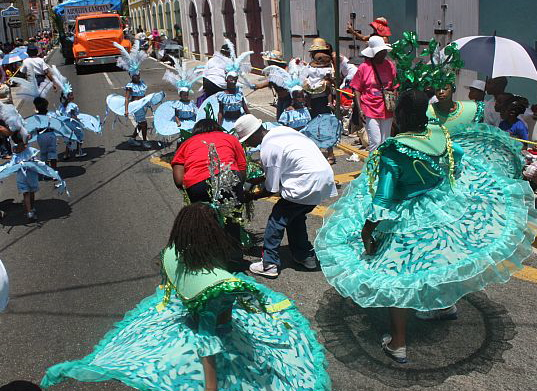 Red was a prominent color in Friday's parade, and further on down the line, the steel pan jammers from Antilles School were also rocking the trolley, while their advisor, Polly Watts, trotted alongside. Watts said this is the group's 16th Children's Parade, and the students who participate go all year long practicing for it.
Watts, herself, has been participating in Carnival for 40 years.
"It feels great," she said. "I'm still here, still dancing. I love Carnival."
Further down the line, the St. Thomas Majorettes were also sporting "fire engine red" costumes, which, dotted with "sunshine yellow," set off their "Cultural Tourism Extravaganza" theme. Heading the group, majorette mascots in curls and matching headdresses rode along in a wooden safari, painted blue and illustrated with scenes of local attractions.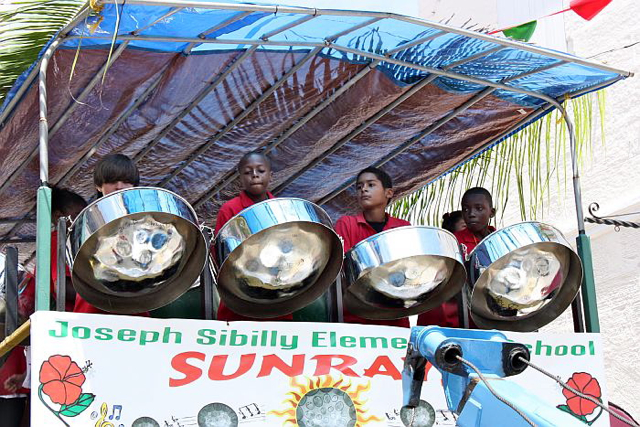 "They've worked so long and hard for this," said Rashida Kuntz, whose seven-year-old daughter Rasheema Nibbs was on board the safari. "I know they had a lot of fun doing this, but now it's up to what the judges have to say."
Along with red, several other groups were also decked out in V.I. colors, sporting the blue, white and yellow on their shoes, skirts, hats and even undershirts as they marched along.
A longtime favorite, the Sebastien Majorettes celebrated their 54th anniversary this year with a tribute to the territory entitled, "We Luv It," accompanied by the Sugar Band and local musician Rancho, whose 2009 hit song inspired the theme.
Ivanna Eudora Kean High School's Marching Band also kept pace with the majorettes, and had the crowd waving as its drum line sounded out the routine. On the sidelines, four-year-old Celina Richardson pointed, as her mother Diana looked, on.
"I like the drums," Richardson said. "They're my favorite. But I also like to go on rides and get prizes."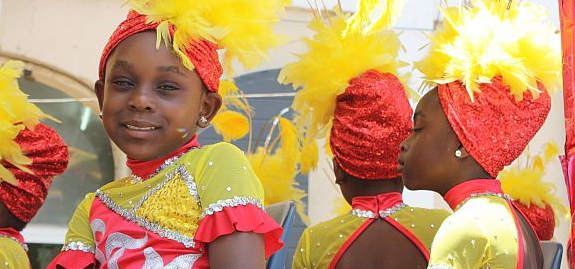 New to the parade this year, the marching band from St. Croix's Central High School also had their routine on lock, with director Stan Joines cheering them on. Joines said he started the band when he came to the school 20 years ago, but it is only recently that the students started marching.
Back in Post Office Square, a beaming Lt. Gov. Gregory R. Francis got ready to make the rounds with his wife Cheryl, who said the day was all about supporting the children.
"We're having so much fun," she said. "This is the children's day, so it's the best day for us. And it's great for us to be out here to support them."
The lieutenant governor also spoke about keeping the children safe, and encouraging them to treat each other, and adults, with kindness and respect.
"We have to teach them right from wrong," he said.
Entering the square at the beginning of Friday's parade, Francis also spoke to the crowd about safety – a message that comes on the heels of Thursday's J'ouvert events, where numerous fights broke out and at least one person was stabbed, causing police to shut down the event later in the morning.
"We all have to take care of one another," Francis said.
The Traditional Indians once again brought up the rear of this year's parade, which finished around 3 p.m.