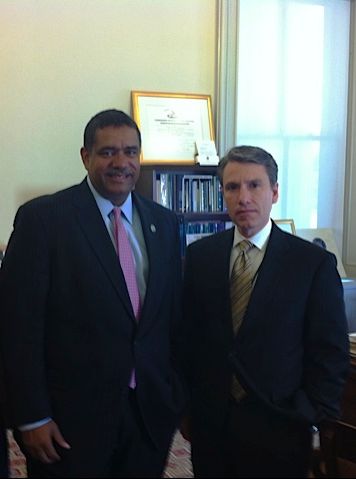 The U.S. Treasury Department is working to finalize changes to the tax residency rules over the next several months that would make it easier for participants in the Economic Development Commission (EDC) program to travel for business purposes, according to Government House.
The news came up while Gov. John deJongh Jr. was in Washington, D.C., meeting this week with Treasury officials to continue pushing them to liberalize its rules governing the EDC's program of tax breaks.
Operating under federal guidelines, the EDC confers substantial tax benefits on select new businesses that open in the territory, reducing most taxes to zero. In exchange, individuals and companies typically must commit $100,000 of capital, employ 10 local residents, buy goods and services from local suppliers and promise to make charitable donations. They must also establish residency and are advised to buy or lease a house and car, obtain a local driver's license and join local clubs, among other things.
Assistant Secretary of the Treasury for Tax Policy Michael Mundaca told the governor that Treasury planned to finish the changes to the residency rules as quickly as possible in order to provide relief for existing beneficiaries and to help restore investor confidence in the program, according to a statement from Government House.
Getting those rules loosened has been a priority since they were handed down in 2004, sending shockwaves through the EDC program. The law repealed the exclusion of extraterritorial income dating back to 1986, Delegate Christensen said at the time. Before, EDC companies received tax breaks on worldwide income, while now, that may be restricted to income generated in the territory. Treasury also tightened up residency rules.
In the statement, deJongh said he believes the current rules are too strict and have caused many EDC companies to leave the U.S. Virgin Islands while discouraging others to relocate to and invest in the territory. DeJongh, his predecessor Gov. Charles Turnbull and Delegate Donna Christensen have all lobbied steadily to loosen the rules since they were imposed.
Last year Mundaca agreed to deJongh's request to establish a process to review residency and income-sourcing rules promulgated under the authority of the American Jobs Creation Act of 2004. This week, Mundaca said Treasury is continuing its review of the income-sourcing rules but expected that would take longer.
"This has been the first time Treasury has worked so closely with us in a thorough review of the tax rules," deJongh said in a statement. "They are trying hard to strike the right balance between legitimate tax enforcement and the need to promote economic development in the territory. I look forward to important changes in the very near future."