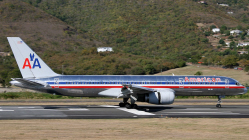 Reservations and flights to all American Airlines destinations, including the U.S. Virgin Islands, will be unaffected by American's voluntary petition for Chapter 11 reorganization in U.S. Bankruptcy Court this week, the company said in a statement.
The airline said it plans to "evaluate" all its operations and service "assuring that our network is as efficient and productive as possible."
The territory has been working to expand flights to the territory, and American Airlines added a second flight from Miami to St. Croix that had been expected to bring 63,000 more passenger seats to the island than last year. So any potential route adjustments are of direct economic interest to the territory.
Unsecured debts listed in American Airlines filing with U.S. Bankruptcy Court for the Southern District of New York total just over $2.3 billion, ranging from $460 million to the Wilmington Trust for 6.25 percent convertible senior notes due in 2014, to the smallest cited debt: $2.2 million to German prepaid fuel supplier Equilon Enterprises.
On the other side of the ledger, the company has roughly $4.1 billion in unrestricted cash and short-term investments, which it says is "is anticipated to be more than sufficient to assure that its vendors, suppliers and other business partners will be paid timely and in full."
Chief Executive Officer Thomas Horton said the company plans to look at all of its operations, mentioning labor costs in particular.
"In recent years, even as the airline industry faced unprecedented challenges, American strengthened our domestic and global network; fortified our alliances with the best partners around the world; launched a transformational fleet deal that will give American the youngest and most efficient fleet in the industry; and invested in our product, service and technology to build a world class customer experience," Horton said.
"But as we have made clear with increasing urgency in recent weeks, we must address our cost structure, including labor costs, to enable us to capitalize on these foundational strengths and secure our future."
Horton took the helm of American Airlines at the end of November, replacing Gerard Arpey, who retired.
According to Horton, American Airlines has a very substantial cost disadvantage compared to its larger competitors, partly because they have all previously reduced their costs and debt through Chapter 11.
The restructuring will have little impact on customers, Horton said.
"Throughout the restructuring process, as always, our customers remain our top priority and they can continue to depend on us for the safe, reliable travel and high quality service they know and expect from us. We intend to maintain a strong presence in domestic and international markets, including our cornerstones in Dallas/Fort Worth, Chicago, New York, Miami and Los Angeles."