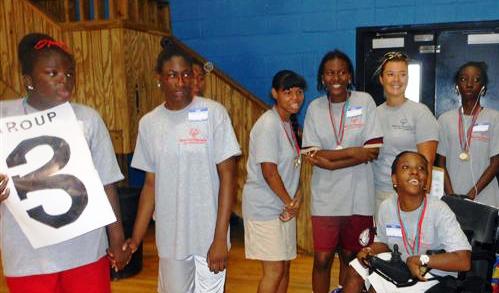 A benevolent sun shone Saturday on St. Thomas' Special Olympics athletes, but the sun wasn't necessary to bolster spirits this week. It simply allowed the youngsters to do what they do best: love each other, cheer each other on, and earn a ribbon or even a medal or two in the process. The open affection the youngsters display for each other lit up the morning.
Last week the Special Olympics meet was unceremoniously washed out after the pomp and circumstance of its opening ceremony. Last week, the athletes followed a school color guard and the JROTC drum corps around the Charlotte Amalie High School track where V.I. First Lady Cecile deJongh greeted the youngsters with encouragement. The Rising Stars Youth Steel Orchestra played and just as the games were about to start, the rains came down sending the athletes scurrying into the gym, where it was determined to postpone the meet until this Saturday.
Special Olympics Director Janice Lee explained that once the games have been opened, they remain open until officially closed. So no pomp this Saturday, just games and more games – basketball, softball throws, 100-meter dashes, long jumps. The youngsters paid no mind to the lack of ceremony – their goal was to get out there with their friends and have fun.
The athletes, between the ages of 13 and 20 are divided into six groups, separated by age and gender.
Group three was led by volunteer speech therapist Andrea Mick, who knew her kids well, and they seemed to flourish under her attention. A vivacious young woman from Kentucky, Mick is a visiting teacher. "I've been her about seven months," she said, "but I can't leave now. I'm planning to extend my contract."
The volunteers appear motivated by the energy and hope of their young charges. It's contagious. They have a very obvious special relationship. The youngsters exhibit no fear, just an occasional shyness before showing their stuff.
However, that's quickly taken care of by their peers, always encouraging each other. Many of the youngsters have known each other for years, in school and at the games.
Shamae Rogers was as excited as Lynisha Lafond, when Lafond won her softball throw medal. "I love you," she told her, "You're my best friend."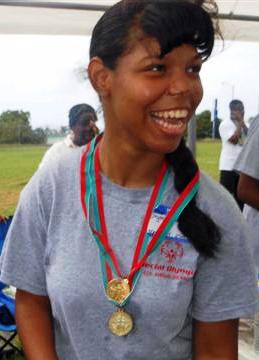 Chrystil Harper, a CAHS student and on one of Mick's teams, raced down the track, smiling from ear to ear in the 25-meter run; forget that no one else showed for that event. Mick cheered her on. "She's so excited," Mick said. "She's been looking forward to this for weeks."
The CAHS campus was shared Saturday with groups of kids from other schools. One bunch of young boys, kickball players, stopped to cheer Harper on as she made her run. "Go, girl!" they yelled. "Go!"
Family Resource Center Director Vivian St. Juste said she couldn't stay away. "To us," she said, "it might seem small, but to them, it's a big thing."
And it is. To everybody, large and small.
Ivan Williams, a big tall guy from Sen. Janette Millen-Young's office, conducted the softball and tennis ball throws, while two volunteers were kept busy measuring the throws, even if it was only a few inches, as it was with wheel-chair bound Rina Monsanto.
Putting Monsanto at ease as she tried to get a grasp on a tennis ball, Williams told her, "Don't get discouraged, Rina. We've got all day."
"I love doing this," Williams said, amidst chasing an errant throw. "Anything with the kids." And about the throw, he laughed: "I need the exercise."
The games wound up in the gym for basketball tosses, where all six teams competed. Special Olympics veterans Kishma Creque and Archie Jennings of the Disability Rights Center and Edwin Forbes, 25-year CAHS teacher and Special Olympics volunteer, brought the ceremonies to an official end in the gym, where final medals were given out.
Monsanto got a medal for her throw, which delighted her and her friends, who jumped up and down, while Shamae Rodgers got a ribbon for her effort. All the athletes get a medal or a ribbon in the events. Nobody goes home empty handed. .
After a march around the gym, the athletes ended the meet with the Special Olympics pledge
"Let me win, but if I cannot win, let me be brave in the attempt."
Lee said 24 athletes will be selected go to St. Croix for the territory championships on May 12. "Everyone else is welcome, parents, friends," she added, "but they have to pay their own way."