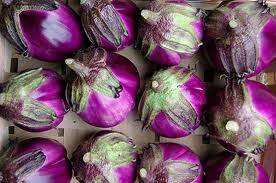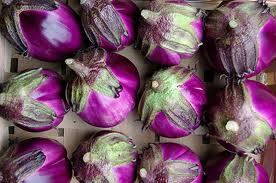 I am accustomed to acquiring the ingredients I want to use for specific recipes, so being a new shareholder in Ridge to Reef Farm's CSA (community supported agriculture) I found myself staring blankly at the eggplant and okra in this week's CSA bag. I don't think I have ever purchased either one on purpose…maybe I made a peanut stew with frozen okra once a couple decades ago, and I do recollect making ratatouille once or twice – again a long time ago.
But regardless of the challenge of using ingredients I am unfamiliar with, I am totally committed to sustainable agriculture, so off I went to Google. Using several different recipes and ideas, here's what I came up with given what I had to work with….and it was delicious!
From the CSA bag:
1 small eggplant (I used the striped one)
1 bag okra
basil
1 jalapeno pepper
From my larder
coconut oil
1 yellow onion, diced
1 14 oz.can diced tomatoes
1 cup frozen coconut meat or a can of coconut milk.
(I buy the meat from the guy in Fort Mylner and freeze it for raw ice cream. Since I didn't have a can of coconut milk, I improvised by blending the meat with about a cup of warm water – voila – coconut milk. )
3 tsp. curry powder
salt
Dice the eggplant in ½ inch dice, salt it liberally and put it in a sieve or colander for 10-15 minutes. This process removes the sour taste.
Sweat the onion and jalapeno in a Dutch oven or deep skillet lightly brushed with coconut oil until the onion is soft.
When the onion is soft, rinse the eggplant and pat it dry and add to onions and jalapeno. Continue to sweat the eggplant until it is partially cooked.
Cut the okra on an angle in ½ inch slices.
When the eggplant is soft, add the okra and can of tomatoes and cook covered for 10-15 minutes over low heat till okra is soft. Add the coconut milk and curry powder and cook for a few more minutes until flavors are blended. Turn off the heat and add fresh basil allowing it to wilt.
I served this with long grain brown rice and a cucumber – watermelon salad with mint vinaigrette. Perfect!!!!
I look forward to my next CSA cooking adventure. Until then – be healthy. It's your life!